Editorial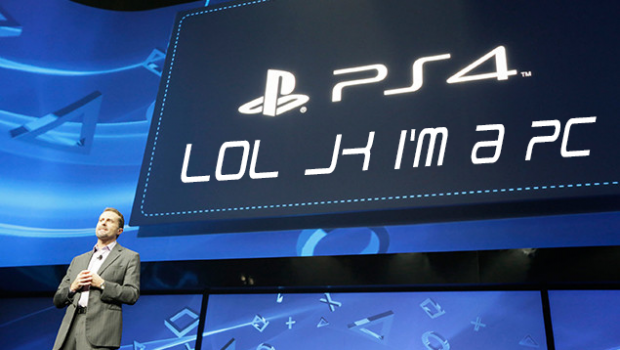 Published on February 25th, 2013 | by Jonathan Beck
26
You Can Build a PS4, But Why Would You Want To?
A writer over at Forbes, Erik Kain, has posted an article titled You Can't Build a PS4: Why Sony's Next Console Is Truly Next-Gen And Your PC Isn't. It appears to be a response to one of their other writers who put forward that you can build a PC currently that would be similar to the PS4's rumored internal hardware. I'm not sure if Mr. Kain has suffered some sort of head injury, or if he is moonlighting as a paid Sony reviewer, but the things this article spells out as "fact" are just blatantly untrue. So from someone who actually knows how a computer works, lets set the record straight.
RAM: Why GDDR5 has the "G" in front of it.
His first point makes it out as though the fact that Sony is using GDDR5 as the RAM for both the CPU and the GPU is some how a benefit. Here's the problem with that – While GDDR5 does have a much higher bandwidth availability (primarily needed for translating things like complex polygons and high resolution textures, or calculating things like physics) it also has a significantly high latency. Standard DDR3 is designed for CPUs at a lower latency, so it can do things like send information  back and forth as fast as possible. It generally isn't dealing with large physics objects or polygons, so it has to do a lot of things very quickly which is why it needs lower latency RAM. The "G" in GDDR5 is for Graphics. It's Graphics RAM for a reason. It's actually a detriment to the CPU to have to try and work with RAM it isn't natively designed to use. Not to mention that GDDR5 is actually just a derivative of DDR3, but you can read more about this here and here.
One Chip to Rule them All, Or why shared RAM is still a bad idea.
He also makes a big statement saying that the hardware inside the PS4 isn't something the standard consumer can get their hands on. What he doesn't seam to realize, is that the processor in the PS4 is likely a custom revision of the AMD A10 5800k APU. He mentions it as its code name "Jaguar" and he also mentions that PC builders simply cannot do a CPU/GPU on a single chip configuration. I think Intel and AMD would like to have  a conversation with him on that one, because CPU/GPU single die chips have been around in the PC market for a very, very long time. The reason gamers don't user them? It's the same reason you don't hire a plumber to do brain surgery. A CPU is very good a things like math, AI mapping, pathing, you know, CPU based things. A GPU is good at things like Textures, Polygons, Physics, and other things related to visuals or other types of heavy lifting. The reason they're better when they're not on the same chip? They each have access to their own pool of RAM designed for its specific function. Not to mention the fact he's listing the PCI-e chipset link as a disadvantage. There really is no disadvantage there – current PCI-e Rev. 3 can handle up to 8 GigaTransfers per second, and Rev. 4.0 doubles that to 16 GigaTransfers per second. Aka, more than you can saturate even using a TriSLI Titan setup.
You actually hamstring yourself when you put them both on a chip. When they have to share resources, they're limited in what they can do with whats available. Considering today's video cards have anywhere from 1 – 6GB of GDDR5 on the card, and usually your system will have anywhere from 4 – 32GB of DDR3, this lets them work together very smoothly. No one who seriously plays PC games uses an on chip solution for CPU and GPU.
The other issue with running them both on one chip? Heat. With split CPU and GPU, each has its own cooling unit and neither's computation really affect how well the other one can work. When you share a chip, you also share all the heat you generate. You only have one hunk of copper (or more likely aluminum) to disperse said heat. I don't know if anyone remembers the Xbox 360 launch or not, but that design had a shared heatsink as well.  That led to a lot of cardboard coffins for Xboxes and a lot of repair costs for Microsoft. Not only is the performance subpar, you're also running a higher chance of damaging your hardware with poor TDP management.
Windows? You need stinking Windows.
Here's why. You can use Linux like he mentions, in fact our own Sean uses Linux as his daily driver because he's smarter than we are. He's even had success emulating Windows games with other free software like Wine or Crossover. Steam is also Linux native at this point, and more developers are lining up to support it all the time. However, he's listing the expense of Windows as a detractor. While yes, it is annoying to have to pay for an operating system, you know what comes with it? A fucking computer. When you pay for Windows, your box now has things like an actual web browser, the ability to do more things than just play games. It also has the DirectX Platform, which basically every game uses, and defines a set of requirements for devs to follow. Kind of like a game console, only infinitely scalable. A Ps4 will probably be great at media, and as good at games as my last generation i7 build was, but it isn't going to help you write your thesis, or produce YouTube content, or run Photoshop, or any of the other things many, many gamers do. He also fails to mention (again) that while the APU in the PS4 might be custom, it's still x86. The next Xbox is also likely going to be x86 based, and you know what that means? PC Ports are now the easiest thing in the world, because there is no port, there's slightly modify code and recompile. Aside from first party exclusive titles like Gran Turismo or Halo, it's about to be a great time for PC gaming because as a developer, you'd be a fool not to release a PC version of your game.
Show me the money? I'd rather show you how a computer works.
On top of all this, he references that for a gaming PC capable of competing with the PS4 the magic price point is $1000.00. Not only does someone else at Forbes show you that isn't true, but perhaps you've heard of our build guides? Maybe you don't want to take us, or Forbes seriously, Well PC Gamer has a nice break down of PC vs PS4 internals for you right here. The $500.00 build is more than enough competition, and if you can scale to the other ones, all the better. Not to mention the fact when you buy a PC at that cost, you get to pick every part that goes into it, and it will likely last longer than the PS4, and still do everything it does and more. If you actually want to know what to expect inside the new PS4, Anandtech has you covered. They know what they're talking about. Hardware is kind of their thing.
I almost think this guy wrote the article simply to draw ire from the PC Gaming community. He is so clearly uneducated it's a disgrace. However I'm not sure why I'm surprised by this coming from a Forbes article. They hire under qualified, dispassionate writers who aren't required to fact check, or apparently even know what they're talking about, before an article goes live. If you want to play games on a PS4, go right ahead, but don't tell me your new console is truly "next gen" and my PC isn't, when you're using the parts that would have built a high end gaming computer in 2010. Now, if you'll excuse me, I have to go back to playing games, editing videos, manipulating photos, sending emails and IMs, all from my not PS4.
Update
Mr. Kain has posted a brand new article today at Forbes titled PS4 vs PC: Where The Wild Things Are which clarifies several points he was trying to make yesterday, and maybe didn't illustrate clearly. It's a good article, and he does make his points much clearer. I'm glad to see he looked at the critiques (not just by us, but many others on his Twitter Feed) and used this as a learning experience. I may have been harsh on Erik yesterday, and in the event he comes back to read this article, I'm glad to see your new one, and I apologize if I was overly harsh.
Update 2
In a move that will surprise absolutely no one, the head of AMD's marketing, John Taylor has announced that AMD has intentions to release a slightly modified version of the APU that will be powering the PS4 to public consumption. What this likely means is that instead of 4 CPU cores and 8 GPU cores, it will be slightly more balanced between CPU and GPU. It will also not feature any Sony proprietary technology, so it isn't like you'll be buying PS4 discs and popping them into your home PC (at least not until a hacker figures out how to make that happen). It's an interesting move, and one we've never seen from a console generation before. You've never been able to order the same, or nearly the same, silicon that was powering a home gaming console and build a PC with it. Sony and AMD are changing that up.