Editorial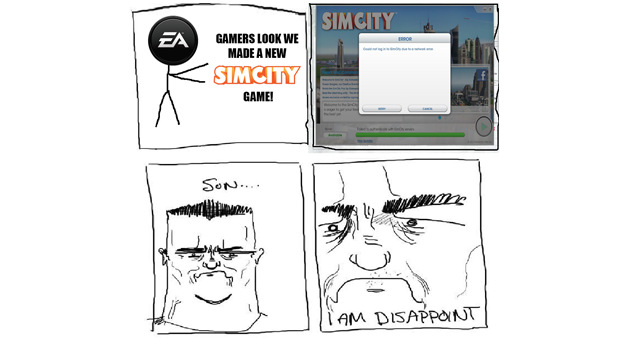 Published on March 8th, 2013 | by Jonathan Beck
23
SimCity – Why This Is My Last EA Game
I'm going to preface this editorial by saying if you came here expecting me to fly off the handle, go nuts, kick ass and take names, you're about to be disappointed. I specifically waited on writing this article so I didn't do exactly that. Check twitter if you want to see me hoot and holler.
I don't know if you've heard yet, but SimCity is having some problems. You may have seen my twitter page blow up several times regarding the issues EA is currently facing. That's out of my system now, and I still have yet to be able to log in to the game. At this point, all I have left is disappointment and a little regret in my purchase. I'm disappointed in EA & Maxis to be sure, but also in myself, for not seeing this coming a mile away.
We all knew there were going to be issues with the launch of SimCity. There's yet to be a game that features this kind of always online DRM that didn't launch with issues. EA of all people thought they could change that, and successfully launch SimCity. Their "beta" (see also: Marketing Stunt) gave me no issues, so I figured they'd taken enough precaution and really loaded up their server back end to make sure they could support the load. I hadn't even heard there were issues getting in to the beta until the launch happened so I assumed, like a fool, that everything would be okay. Then we all know what happened. The game launched, and fell flat on its face. Not because it's a bad game, far from it actually, it's fantastic when you can get in.
To put it bluntly, the launch was a Chernobyl level meltdown. First, there was no preload period for the game, which caused the servers to crumble under the weight of everyone with a PC trying to download it at once. It was showing up as unavailable in certain regions, and then as it launched in more places around the globe, the stress got worse, until EA literally took the entire back-end offline to deploy a series of patches. Those patches disabled leaderboards, friends list, and the ability to play the game on Cheetah speed. Now not only can you not play the game, but they're stripping features out of a title you've paid for.
They further insulted gamers by announcing the addition of 2 additional servers, one each for US East and US West, as if that would somehow have an impact. The game, at the time of writing this, 72 hours after launch, is still unplayable. I haven't been able to log in for 3 days. Even when I could get logged in, the regions don't self-replicate. If you start a city on US East 1, then log in to US East 2, your game is gone. I hope you enjoyed the tutorial as well, because it shows up on every new server you join. The team at Polygon is so taken aback by the tragedy of this launch, they've revised their review score twice. From a glowing 9.5, to an 8.0 and today, to a 4.0. I'm not even comfortable doing a review for this game as I haven't really gotten a chance to play it.
It would be bad if EA just couldn't get their servers in order, but they've been downright hostile to their customers. I'm sure everyone has seen this image of someone talking to EA's Origin support and attempting to get a refund for their copy of the game. Not only does the support tech refuse the refund, but says if the return is disputed it will result in an account ban. The official Origin Twitter has since stated that they won't be banning accounts for attempted refunds. A rare response from what may be the worst social media team in the gaming industry. This is the same team that refers you to register a complaint on the black hole that is their forums. There, it will go completely ignored while they respond to one of the 6 people who have been able to get in and play the game. EA as a company could not look less caring in this situation. Refusing any kind of refund, or hell, even maybe some free DLC or a voucher for another Origin game at this point. It's gotten so bad that yesterday Amazon pulled the digital version of their game from its site and warned users of the down server time. They've since put it back up, but as a PSA, don't buy it. At least not until they work out the issues. It must be great to be the head of Public Relations at EA, because you make big money to make your company look absolutely terrible to the people you're trying to sell products to.
So why did I wait three days to finally say something official about this? First off I wanted to cool down from the white hot, seething nerd rage I was engulfed in. Secondly because I wanted to see if EA could fix this mess in a reasonable amount of time. I, like everyone else who loves SimCity, want to love this game. Even when EA announced that it was going to have the asinine "always on DRM" that required you to connect to the internet to play what is essentially a single player game, I sucked it up. It's SimCity after all. I grew up on this game and all its variations. The hours I have spent in SimTower border on the obscene. I didn't care what hoops I had to jump through, I just wanted to build cities and watch my citizens shower their praise down upon me. When you can get in and play the newest iteration, it is truly something excellent. While I may not think the always online functions of SimCity are needed, they do add an interesting community element if you plan to play with friends. I can say with complete honestly that we at KBMOD could not wait to start a region together and get in the game. Sadly, we haven't been able to get really started on that yet.
What really is the most disappointing thing is, those features don't add enough to validate this kind of problem. While in theory it's interesting for you to team up with a friend and share power and resources, it's a lot more interesting to actually play the game you paid for. Some paid a very high price to get extra content for the game that they also can't access. I'm frustrated with a 60 dollar investment, I can't imagine how upset the Digital Deluxe buyers are. SimCity at its core is still a single player game, you can fully enjoy it playing alone, or you could if it would launch. That's why this failed launch is even more disappointing than the now infamous Diablo III Error 37 debacle. Games like Diablo should be played in a group, it enhances the experience.
Server issues aside, they couldn't effectively do something like implement an offline mode at this point. The city sizes are limited quite a bit, and you essentially have to build in a region with others to make your city successful. Your other option of course would be to start your own region and build all the cities yourself, but it seems that would get tedious very quickly. There's really only one effective way I could see to fix this and not require a constant connection to their servers. Let gamers host their own regions. We've been doing it for decades now, between dedicated servers for every shooter under the sun, to persistent Minecraft servers, hell some people run their own WoW servers much to Blizzard's dismay. It isn't a perfect solution obviously, because you'd still always have to play on someone's server as the game is currently designed. However if Maxis and EA had a little foresight, and gone in with the idea that you could play the game alone or with a group, it could have been built to offer advantages to playing together but still offered the core game when playing alone.
What this all boils down to is this is likely my last EA game purchase, and I'm sure I'm not the only one thinking this right now. It will also make me think long and hard about pre-ordering a game, not just from EA, but in general. Pre-order bonuses get more ridiculous every year, because we keep letting them. Every time you buy a $120.00 legendary edition of something, you tell a game publisher that they can get away with charging you that kind of money. I know you've been told it before, and you've likely ignored it just like I did, but you truly vote with your wallet. If we keep sitting here and taking the abuse, they're going to keep on dishing it out.
There's going to be a big shift in our industry in the next decade, and I think this launch will likely be remembered as one of those "beginning of the end" situations for the old paradigm. Those that keep clinging to the old ways are doomed to fail by them. We'll see where the chips fall, but I can tell you right now, I've got an hour into a broken, $60.00, SimCity, and 55 hours into a $2.50 Indie title called The Binding of Isaac. Things are going to change, and EA is about to be left far, far behind. I can't imagine this is the last time they screw up, or maybe it is, because they might not be around much longer.