Battlestations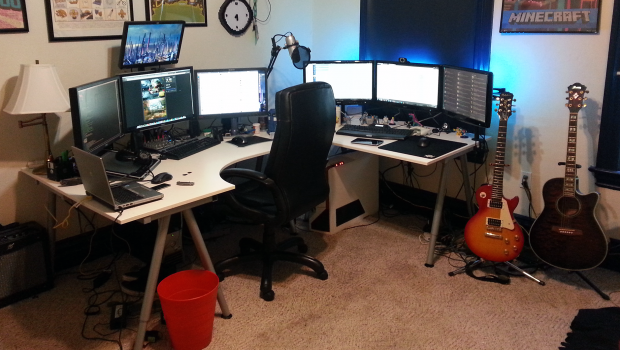 Published on September 20th, 2013 | by Jonathan Beck
11
Bro Cave: Hexidecimal v3.5
This week I'm going to finally update my own cave. I've been meaning to do this since we moved into our new house, and in honesty there was an iteration of my office before this one that I never got a chance to post. Changes are plentiful and there's a new system in my mix. Read on for all the details.
Intro
Hey everyone, it's that time again. Time for an update on the craziness that is my working office at home. While my main PC is relatively the same as it was last update, I've added another PC into the mix, rearranged how things are laid out, and even added additional monitors, (I know, crazy). We'll start with my gaming rig.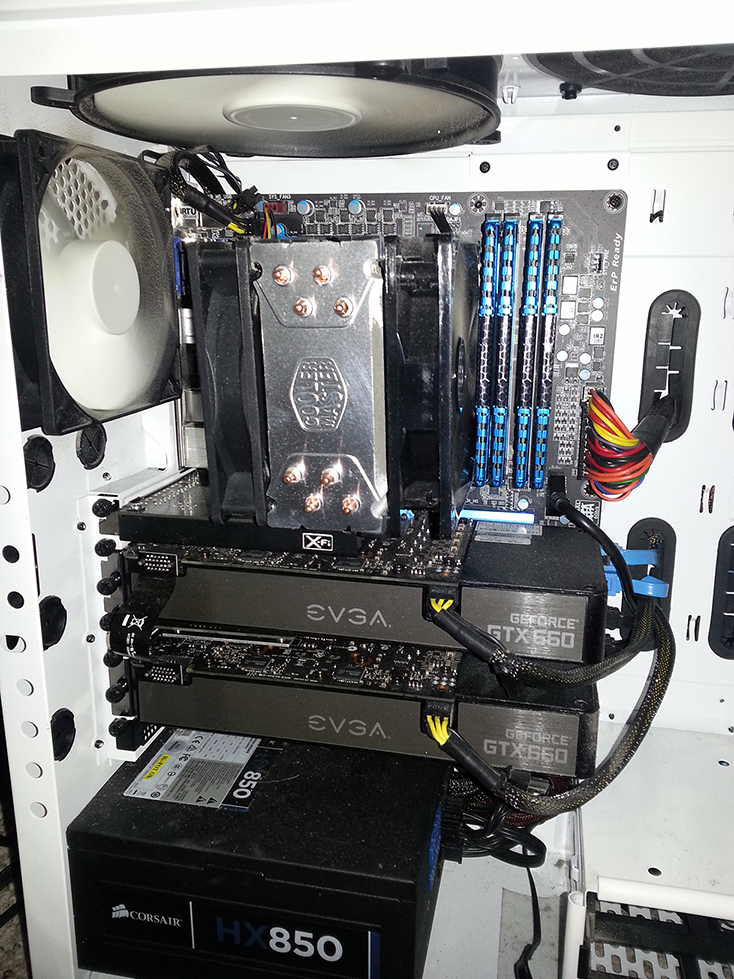 The Specs I – PoisonIvy
This is my gaming rig, only slightly changed from my previous cave. I swapped out the HD6870 Crossfire setup for a GTX660 SLI config. A nice speed boost, and I don't get the trials and tribulations of running a Crossfire array. This is the most dust I've ever seen in this case (NZXT Phantom Crafted Full Tower) and it's time for a cleaning.
CPU: Intel IvyBridge Core i7 3770k @ 4.2 Ghz
Cooler: Coolermaster Hyper212 EVO
Motherboard: Gigabyte GA-Z77X-D3H
RAM: 16GB Corsair Dominator DDR3 1600
GPU: 2x nVidia EVGA GTX660 Superclocked SLI
SSD: 2x Crucial M4 128GB RAID0
HDD: 2x WD320 Caviar Blue RAID0 | 1x Seagate 2TB
Sound: Creative X-Fi Fatal1ty Titanium HD Professional | Behringer Xenyx 1202FX Mixer | Grado SR225i Headphones | JBL Monster III Speakers
Monitors: 3x Acer H233H 1080p 23″ Monitors
Capture: AverMedia LiveGamer HD
Keyboard & Mouse: Logitech G500 Mouse | Logitech G510 Keyboard
Accessories: Blue Yeti Broadcast Microphone | Generic Mic Mount | Logitech C615 1080p Webcam | Logitech Driving Force GT Racing Wheel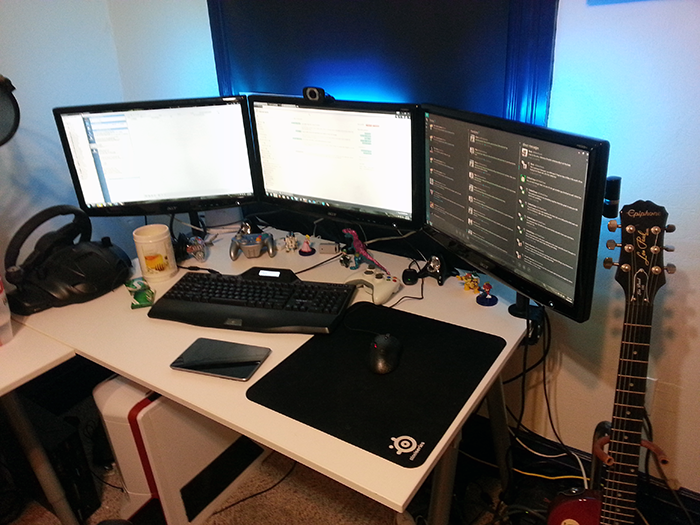 The reason for the change was primarily that I was tired of having to wipe my gaming machine due to glut from non gaming related tasks. Applications I use for my day job interfere with gaming in full screen sometimes, and made reformatting something I had to do more than I wanted. I thought if I could isolate this machine to primarily gaming and have another system for every day junk that I had a clean image to restore to, it'd be a lot less headaches. Enter system two.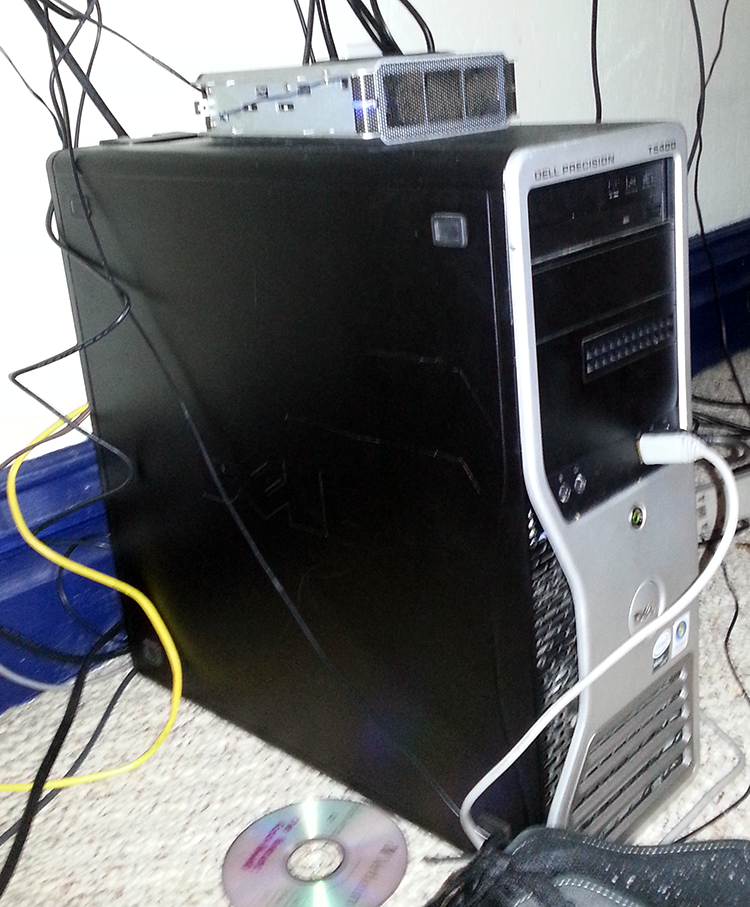 The Specs II – HackPro
CPU: 2x Intel Xeon  E5450 @ 3.0GHz
Cooler: 2x Stock Intel Xeon Coolers
Motherboard: Dell RW203 Motherboard
RAM: 12GB ECC DDR2 800
GPU: AMD XFX HD6870 Black Edition
SSD: Samsung 830 64gb
HDD: Seagate Baracuda 750GB | WD500 Caviar Green (Time Machine Drive)
Sound: Creative X-fi USB 1095HD | Behringer Xenyx 1202FX Mixer | Grado SR225i Headphones | JBL Monster III Speakers
Monitors: 2x Dell 24″, 1x Lenovo 22″, 1x HP 17″
Keyboard & Mouse: HP Standard Desktop Keyboard | Logitech MX Revolution Mouse
Accessories: Logitech C310 720p Webcam | Monoprice 12×9 Graphics Tablet
This is actually a Dell Precision T5400 Workstation/Server. For a while it acted as my FreeNAS box. It was a dumpster rescue. Needed a little RAM, and it only had one of the Xeons in it when it came into my possession. Managed to pick up the second CPU and Heatsink on eBay for 75 dollars, and the RAM for about 30 bucks. When I started this whole rebuild I thought about what I wanted and decided this would be better served as another desktop for me. Foxconn actually builds these machines as well as the Mid 2008 MacPro. They're nearly identical inside. I threw the latest Mountain Lion 10.8.5 on it in about 20 minutes and it automatically recognized the board as a MacPro board.
It also has a Windows 7 x64 Professional VM on it so I can test things for my day job in both environments at once. I'd been out of the habit of using OS X on a daily basis, and while a lot is exactly the same as it always was I wanted a machine in the office I could use to keep myself familiar with the OS. I do most of my web surfing, Photoshop, twitter nonsense on this machine. Overkill to be sure, but for around 100 bucks it was worth rebuilding. The HD6870 even lets it play games, and about half my Steam library is now OS X compatible.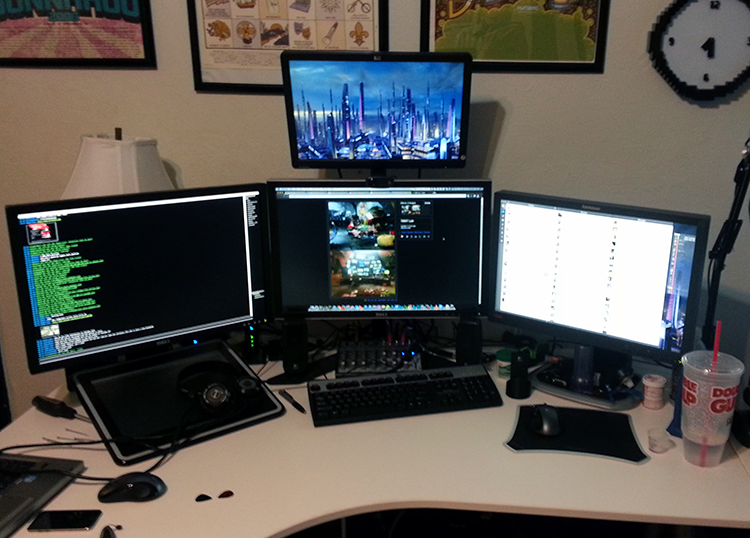 The Extras
When we moved into the new house, my parents bought us a new TV as a housewarming gift, so the old Vizio 32″ moved up to my office. It gave me a chance to clear all my console equipment off my desk and onto its own dedicated space. My PS3 and all the games, along with both my Xbox 360's (one of which is currently in pieces) all live with the TV. When Ginny got a new laptop this year her old one got repurposed as my HTPC in the office. If I end up with a PS4 it will probably live on my desk so I can do streaming from it.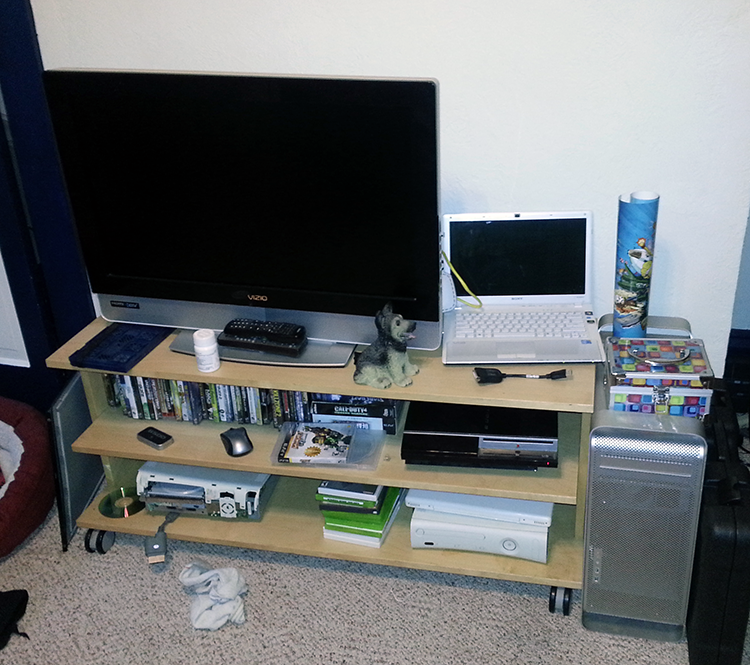 There's also guitars as usual. Below are two of them, my primary acoustic and my electric. The acoustic is an Ibanez Half Body that I got when I graduated high school, the electric is an Epiphone Les Paul I bought 2 years ago while I was laid up after having my knee replaced. There's an amp by my desk but I mostly use Amplitube 3 & a Behringer USB Guitar link to plug into the HackPro and tinker with it through my headphones. Amplitube offers a lot of modeling that my small amp doesn't.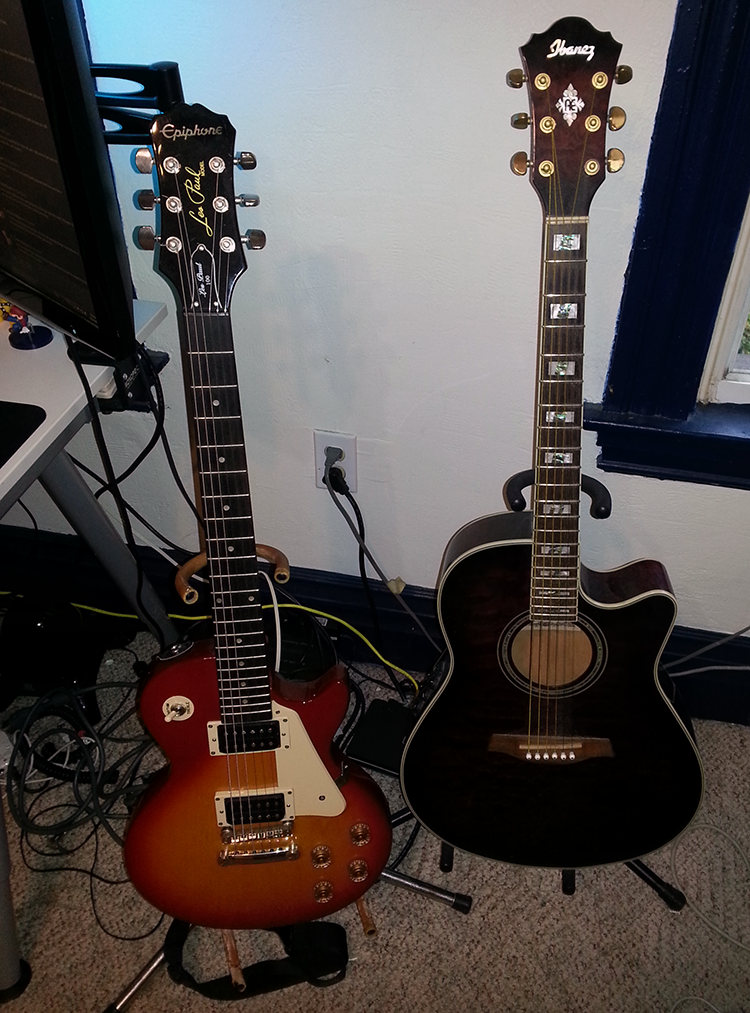 So that's basically the new office since we've purchased our first home. I'm sure I probably left a few things out, but they're likely not important.
You can catch me Wednesdays on the KBMOD Twitch Channel at 9PM EST for The Bearded Gamer, or you can always follow me on Twitter @Hexidecimal. You can also submit your own cave on our forums for a chance to get it added to the collection here at KBMOD and have it on the front page! Something you're curious about in my setup? Let me know in the comments section below!
Note: Over the coming months we're aiming to update all the KBMOD Contributor Bro Caves. If you want to see someone specific's cave, make sure you let them know about it!