Reviews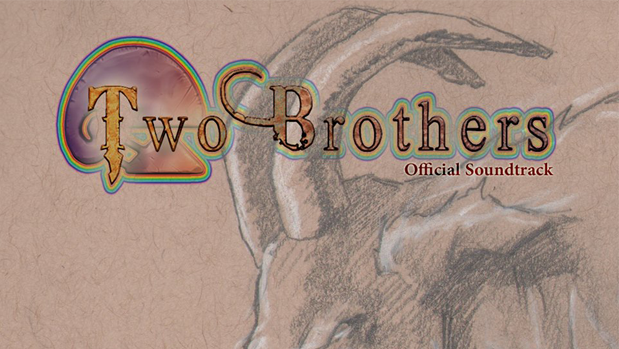 Published on September 13th, 2013 | by Jonathan Beck
0
Review: Two Brothers Soundtrack
It's no secret I'm a bit smitten with Ackk Studios upcoming title Two Brothers. I loved what I saw at PAX East this year, then we had Andrew Allanson on my weekly Twitch show to walk us through the developer preview and talk about the game and its influences. So a couple of weeks ago when Andrew messaged me and asked if I'd be interested in hearing the 91 track deluxe edition of the game's soundtrack, I jumped at the opportunity. He'd sent me a 9 track preview earlier this year, so I knew I was in for a treat. What I didn't expect was a love letter to every action adventure and JRPG you've ever played.
The Two Brothers soundtrack is a gargantuan thing. Clocking in at just under 4 hours of music, you aren't likely to sit down and listen to it all in one session. It features a mix of chiptunes, synthesizers, real instruments and vocals both natural and auto-tuned. While the entire piece is an original composition, it features some of the most grin inducing references to your favorite games from the past. "Bivares Theme" has subtle nods to the string pieces of Final Fantasy VII's opening prelude, while "Bivares Crosses Over" draws inspiration from the Shinra Corporation theme.
Other tracks like "Holding up the World" could be the title track to Daft Punk's next album. It's robotic vocals and mixture of chiptunes make it instantly memorable. It's also impossible to talk about this album without mentioning "Hot Springs", which features a guest vocal from one of the team's girlfriends that shows a rather risque side of her vocal register.
My only complaint might be that the track listing is too long. I've listened to the entire offering several times now, but never all at once. However when talking to Andrew, his synopsis was "We wanted to create the most epic soundtrack available in an indie title." I could only respond with "It would seem you've done that in spades." The soundtrack for Two Brothers is elaborate and enchanting. It's a slow burn that's going to take a long time for you to fully digest, but if you like game soundtracks, I'd be hard pressed to offer you a better one. Full of original content, and drawing from the most memorable games of previous generations, it will give other composers something to aim for when they score their companies next title.
The Two Brothers soundtrack was composed by Twitter users @AllanonA, @amanfr01, and @Vapour_Rumours. If you like the work they do, be sure to follow them. You can pre-order Two Brothers here.