Featured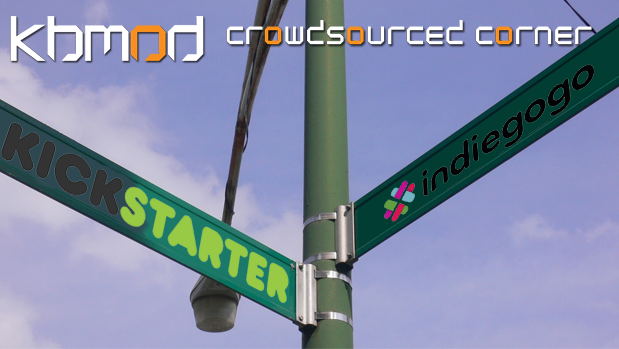 Published on October 2nd, 2013 | by Jonathan Beck
1
Crowdsourced Corner: October 2013
Welcome back to KBMOD's Crowdsourced Corner. This month has some interesting new projects to consider for your backing, but first, let's take a look back at the projects we talked about last month and see which ones flourished, and which ones failed miserably.
The Winners
Starcraft Universe barely skated in over their initial goal, with a final total of $84,918. If you were a backer, stay tuned to their page, and keep an eye on Battle.net for when the mod goes live, and congrats on picking a winner. This one was literally down to the last minutes of funding for success.
This comes as no surprise. Not only were they already funded when we talked about them last month, but they've crushed their goal and finished their campaign with a staggering $4,031,550 (this includes PayPal donations). You can all join me in looking forward to an Unreal Engine powered Japanese platforming game. They also snagged the composer of the soundtrack for Mega Man 2 to do a whole new score.
Definitely the oddest game from last month, but I'm glad to see it was not only funded, but met several of it's stretch goals as well! Not only can you expect an expanded game, but mobile version, arcade games, and more dynamic content.
The Losers
Sadly this one never gained any real traction, and made only 10% of the money it was searching for to fund the game. There appears to be no mention of seeking funding via alternate means, or relaunching their Kickstarter efforts.
This game not getting funded is genuinely surprising to me. I know a lot of people who were big fans of the Advance Wars series, and there are huge followings for things like Final Fantasy Tactics & Fire Emblem. This seemed like a sure thing, but after several weeks, and very little support, the developers actually cancelled their Kickstarter effort. Sad to see this one go unfunded, and hopefully they'll find support elsewhere.
This Month's Contenders
This month we've got some new promising projects to check out, including one that has already obliterated it's goal, but you need to know about it anyway. Without further ado, here's what you should be checking out this month
While already significantly past it's original goal, and deep into stretch goal territory, Hyper Light Drifter is a game that the creator's are saying plays "like the best parts of Link to the Past and Diablo; evolved". How do you read that sentence and not throw all of your money at the computer. With the buy in as low as $10, you have no reason not to back the project.
Think first person FTL where you and 4 friends command a starship together to find a lost colony of untold power and value. With procedurally generated galaxies, every play through is unique, and the focus on co-op gameplay should make for an interesting experience. Their Kickstarter effort has just started, and while their goal is lofty for a small company, they have game play to show off and what appears to be a solid plan. Definitely worth taking a look.
This game just looks hilarious. Since last month we couldn't help get a tactical strategy game funded, let's give one that appears to be a little more fleshed out a chance. The game puts you in the role of a ComiCon attendee fighting your way off the ruined con floor. Battling monsters, and meeting up with real life cosplayers as NPC, (Jessica Nigri cameo please?) it mixes humor and tactical combat into a really interesting package. With three weeks left, they're about a third of the way to their goal. Chances are high they'll hit their funding target, but get over there and help them anyway.
Last year Paragon Studios had to pull the plug on City of Heroes/Villians, much to the chagrin of it's admittedly dwindling player base. Missing Worlds Media has launched a Kickstarter to create a spiritual successor to the much loved CoH franchise dubbed "City of Titans". Missing Worlds Media is made up of passionate fans of the original game who aren't ready to let a superhero MMO die. They're already about a third of the way to their goal, and judging by how passionate these people are about this game I will be truly stunned if they don't meet, and then surpass the funding they're searching for. This is absolutely one you need to keep your eye on.
And now for your "What the fuck?" campaign of the year…
Cow Girl Farmer – Funding Goal: Roughly $10,000
While I'm not advocating you back this campaign, it truly baffles me someone is trying to get this game made. You take on the role of a farmer of anime cow-girls, and your goal is to raise them and fill their breasts with as much milk as possible. Actually please don't fund this game. Any game that's treating women as some form of livestock is messed up enough, but apparently BE or Breast Expansion is a thing that people want to write about, and make a game around. I don't even know what else to say about this thing… just don't.
That's it for this month's round up! Next month we'll take a look back and see which of these projects was successful, and which weren't. Have a Kickstarter project you'd like to see featured? You can always email us or find me on twitter @Hexidecimal. Did you back one of the games seen here? Let us know if you picked a winner in the comments!
As a reminder, IndieGoGo projects do not function the same way Kickstarter projects do. While a Kickstarter is only charged to your account in the event it hits the originally set funding goal, IndieGoGo projects are given any of the money raised, whether they hit their goal or not. Be careful before you click that backer button.