Hardware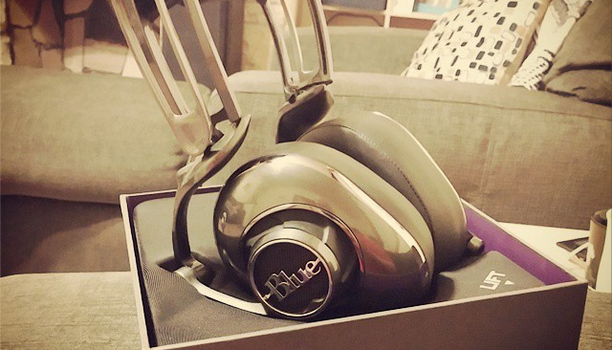 Published on September 26th, 2014 | by Jonathan Beck
3
Review: Blue Mo-Fi Headphones
As someone with a bit of a headphone fetish, and someone who uses Blue's microphone products, I was excited when they announced the Mo-Fi, Blue's first foray into the headphone world. When they said I could have a pair to run through the paces and review for KBMOD, I was ecstatic. Blue's Mo-Fi headphones are marketed as the best mobile Hi-Fi solution for a generation of listeners tied to their iPhones and Android devices. They come with a built in amplifier to help devices like your phone or iPod deliver fuller, richer sound. In an already crowded market, Blue hopes to stand out above the competition.
Let's see how the Mo-Fis stack up!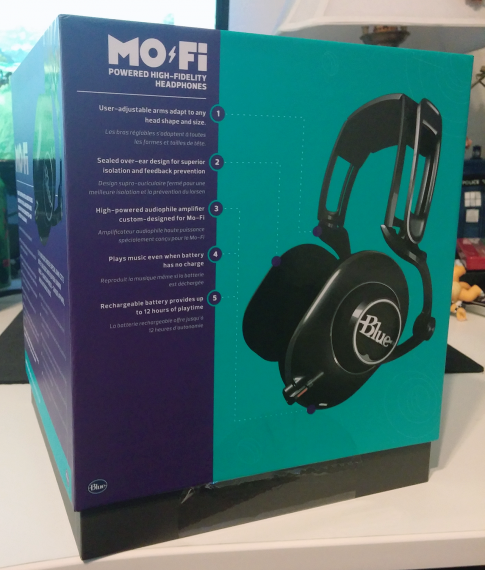 Build Quality, Packaging, Initial Impressions
When I got the Mo-Fis, the first thing I noticed was the sheer size. The box they come in is large, and when you open it the headphones are sitting upright. It's a fancy piece of packaging, best described as making the headphones look more like a prize or award rather than an actual listening device. You also get a carrying case, 3.5mm to 1/4″ adapter, two different lengths of 3.5mm cable, a micro USB cable, a wall plug for charging the internal amp, and an adapter for airplane use.
Not only are the headphones large, they are heavy. Made of aluminum and weighing in just around one pound, you're going to notice that you're wearing them. My daily drivers are a pair of Grado SR225s that most of the time I don't even realize I'm wearing. The Mo-Fis are a very stark contrast. Thankfully, the padding on both the cups and the headband is ample, so even the additional weight rests comfortably on your head. These things are built like a tank and will travel well. I wouldn't be afraid to put them in a carry-on bag or a suitcase for a trip.
I appreciate the fact that Blue has included two different lengths of 3.5mm cable. The longer stays tethered to my mixer at home, the shorter includes in-line controls and tags along with my LG G2. Strangely, I could not get the volume control on this cable to work with my phone, but tapping the play/pause button had the expected results. A double tap tracks your playlist forward. What's stranger is that none of the controls worked on a 4th gen iPod running iOS 6, yet a new iPhone 5S running iOS7 everything worked as expected. Seeing as Blue is targeting a better mobile experience, the inclusion of both cables was a smart choice, but the functionality seems to be a bit of a crapshoot on the mobile cable.
Sound Quality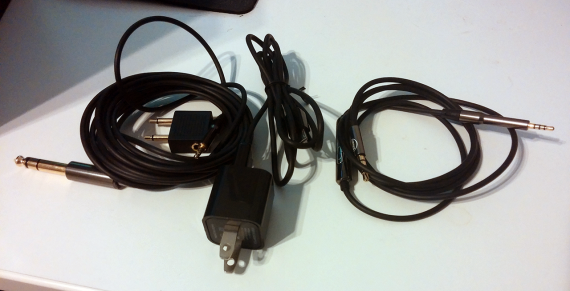 The Blue Mo-Fi has three different modes: Passive, On and On+.
Let's just get this out of the way right off the bat: These headphones sound good in Passive mode. This mode completely disables the onboard amp and lets your source drive the headphones. It's my preferred mode and I'll delve into why shortly. I run my audio at my desk through a Creative X-Fi Titanium and a Behringer Xenyx 1202FX mixer. This is not super high end gear, it's consumer level audio equipment but the sound card has a nice Digital to Analog converter and the mixer drives anything I own.
Everything I listened to musically in Passive mode, from Frank Sinatra to Queens of the Stone Age to Yo-Yo Ma, sounded excellent and mostly even. There's ample detail in the high end and mids, the bass is warm but not overstated. For a set of cans that's closed, you also get a better sense of instrument presence than others I own or have used. You can pick out where instruments were positioned in relation to the microphones in live performances, you can hear how a track was mixed and balanced well. In honesty, if Blue were to release an amp free version of these headphones around the $200.00 price point, they'd be a complete knock out.
The draw on these headphones however, is the built in amplifier. When you open them, there's a small warning tag that tells you to turn your device down before switching into On or On+ mode because it's going to get loud. They're not lying.
If you're not familiar, an amp is needed when your source can't provide enough power to the headphones you're listening to. Some headphones need a lot of power to drive, some don't, amps make up the middle ground for the ones that do.
After listening through several sessions with the amplifier on and my source cranked down, I was convinced that this was the headphone to sway me to the land of mobile amplifiers. Then I thought about what amplifiers are designed to do. I turned it back off, and turned my source volume back to where I'd normally listen with other headphones.
It could be the sources I'm using, it could be that my ears can't tell the difference but Passive mode at normal volumes sounded very similar to On mode at a reduced volume. When switching to On+ mode however, the bass is noticeably more pronounced. I'm not using equipment out of the ordinary to test these. My LG G2 and a 2013 Macbook Pro both produced the same results.
None of that is to say they sound bad. They don't, and I want to make that clear. They produce an accurate, mostly balanced sound in both Passive and On mode, and offer a nice bass boost in On+. In addition, the battery for the amp lasted through two full days of listening for me before it needed recharged. When the cans are closed together, the amp turns off and conserves battery which is a plus. Several times during testing I walked away from them with the amp on.
Final Impressions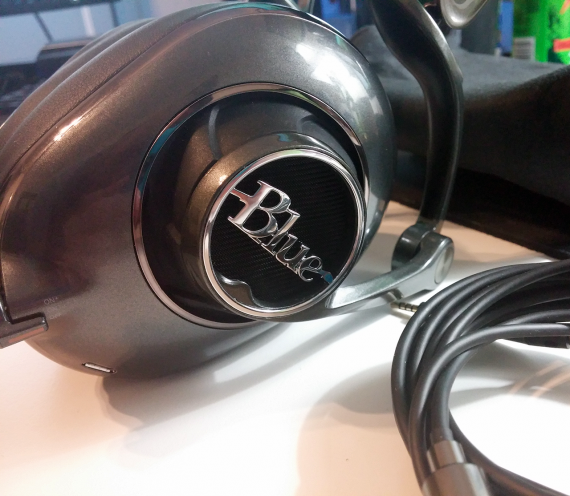 The question now becomes are the Mo-Fi worth their considerable price tag? $349.99 is a big investment when it comes to headphones. Considering the number of people I see daily with Beats on their head, there's clearly a large consumer base willing to part with that cash. For less than the price of Beats Pros, you're going to get a much cleaner listening experience, and a pair of headphones that work well for all types of music. If you're someone that does the bulk of their listening on a mobile device that can't properly power headphones, there is no other all in one package on the market, and the craftsmanship on these alone is enviable.
If you're someone who rarely uses one of those devices, and listens exclusively through a PC or a home sound system, the decision becomes more difficult. There are lots of headphones out there and you'll likely not need the amp that Blue is offering. I found myself using them exclusively in Passive mode while listening at home, and I thoroughly enjoyed their sound. I will likely continue to use these as my closed back cans of choice because they just make music sound good.
Considering that Blue is clearly targeting the mobile market with the Mo-Fi branding, these headphones are a bit of a mixed bag. I found no issues driving them properly on my devices without the internal amp, but the added bass of On+ mode sounded tight and defined when you need an extra kick. If you're a mobile listener that wants flexibility and a durable pair of cans on the go, these are a great option. If you're a home listener, or someone who's doing track mastering or hyper analytical listening, there are a plethora of options at this price range that might be better suited to your needs.
Pros
Amazing build quality
Solid first effort into high end listening
Multiple cables for different listening scenarios
Amp battery more than enough for a typical days listening
Passive sound mode is clear, crisp and well defined
Cons
Pricey
Amp only seems to make a noticeable difference in On+ mode
Inline controls are hit or miss
Blue Mo-Fi headphones provided by Blue Microphones for review and testing purposes.