Featured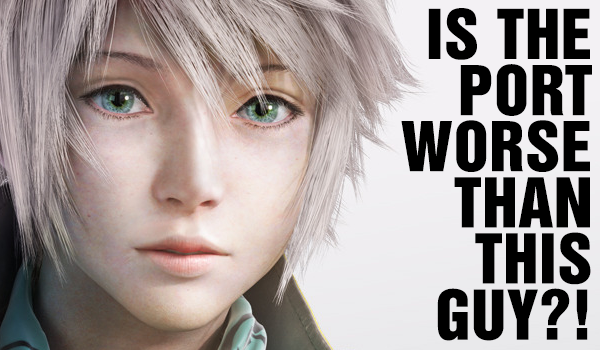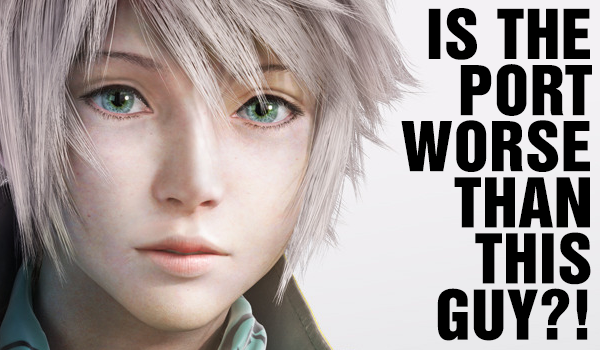 Published on October 10th, 2014 | by AjayLikesGaming
1
KBMOD PORT AUTHORITY: Final Fantasy XIII
The KBMOD Port Authority is a new feature we will run now and then detailing the good and bad of PC ports.  Hopefully this can help you make a more informed decision when purchasing titles!
By the end of the 90's, PC gaming in Japan crashed with the likes of Nintendo and Sony leading the industry with their home consoles. Over the past decade, the PC was reduced to little but visual novels or MMOs and the notion of a 'real' Japanese game getting a PC release became non-existent.
After the success of the Dark Souls port petition, the industry slowly began to take notice, with companies such as Konami bringing their flagship series Metal Gear Solid over to the platform.
Unfortunately, with a distinct lack of experience with said platform, Japanese ports have garnered a reputation for being notoriously poor. Pitiful keyboard & mouse support, resolution locks and FPS caps are almost expected at this point.
With the entirety of the Final Fantasy XIII trilogy planned to release on the platform over the next year, one might expect Square Enix to have really taken some care with this one.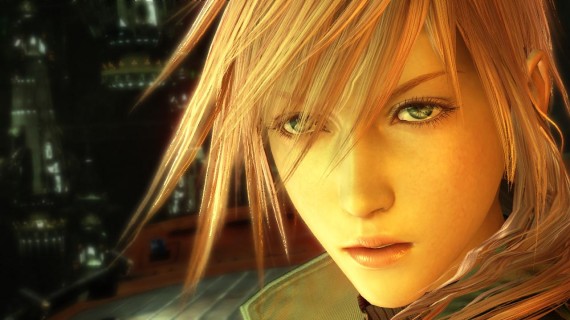 SYSTEM REQUIREMENTS
MINIMUM
RECOMMENDED

OS: Windows® XP SP2 or later 
Processor: 2GHz Dual Core CPU 
Memory: 1 GB RAM 
Graphics: NVIDIA® Geforce® 8 Series/ ATI Radeon™ HD 2000 series VRAM 256MB or later 
DirectX: Version 9.0c 
Hard Drive: 60 GB available space 
Sound Card: Sound card compatible with DirectX® 9.0c 

 

OS: Windows® Vista/ 7/ 8 
Processor: Intel® Core™ 2 Quad (2.66 GHz)/ AMD Phenom™ II X4 (2.8 GHz) processor 
Memory: 1 GB RAM 
Graphics: NVIDIA® Geforce® GTX™ 460/ ATI Radeon™ HD 5870 
DirectX: Version 11 
Hard Drive: 60 GB available space 
Sound Card: DirectX 11 compatible sound card 

 
System requirements are reasonable for a 2009 title. Be aware that this game requires 60GB of space unpacked.
VISUAL OPTIONS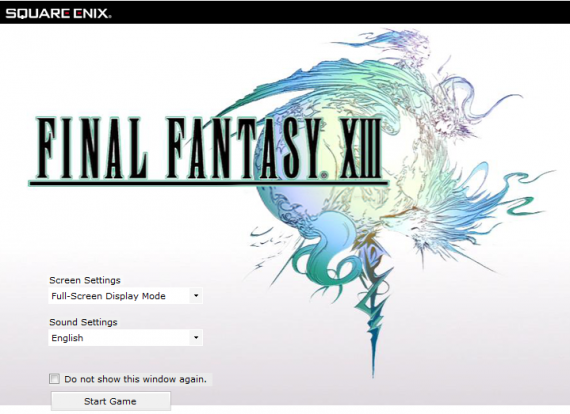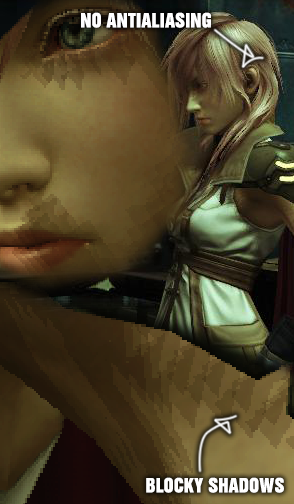 Plain and simple…there are none. 
No, seriously, there are quite literally no graphical options outside of choosing between fullscreen and windowed mode.
To make matters worse, the game features a locked internal rendering resolution of 1280×720 with, and what appears to be no antialiasing whatsoever. A disappointing downgrade from the PS3 and Xbox 360 versions' implementation of 2xMSAA.
Visually, it is very close to its console counterpart. Textures are wildly inconsistent with characters' clothing featuring an acceptable level of detail while environments take on a rather muddy appearance. Similarly, shadows appear blocky and jagged during many portions of the game which, much like the AA implementation, was not an issue on its console release.
One can only theorise that this is either a byproduct of a developer entirely unfamiliar with the platform or simply a distinct lack of care.
PERFORMANCE
Avg: 58 – Min: 34 – Max: 61
Fortunately, while the consoles versions run at 30fps, the PC port has been 'upgraded' to a locked 60fps. A vast improvement?
Unsurprisingly, the answer is a resounding 'no'. The game features such poor optimisation that even small particle effects cause the FPS to tank into the mid 30s resulting in horrendous stutter for those without wonderful GSYNC monitors.
Being tested on an i7 2600K and a GTX680, this type of performance is simply unacceptable and, quite frankly, inexplicable. Running at 720p with low-res shadows and no AA, this should have absolutely no issues on any modern system. Once again, this is more evidence of the sheer lack of familiarity and care put into this port.
Much like the abysmal port of Dark Souls, it will be down to the community to fix these issues. Fortunately Durante (of DSfix fame) has taken to the cause, posting a screenshot of the game running at 3200×1800 after only 40 minutes of  playing the game. Within the next two hours, he released a pre-alpha fix that allows for resolutions up to 3840×2160,
KEYBOARD & MOUSE SUPPORT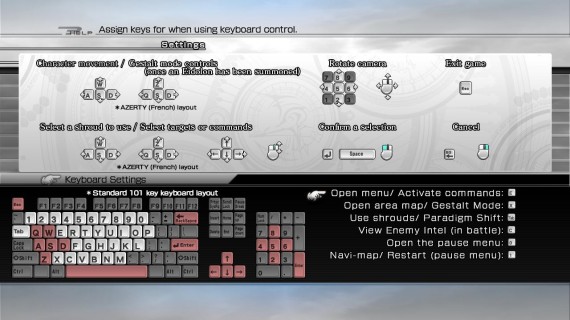 Final Fantasy XIII features an incredibly simple control scheme and as such, the key bindings reflect that adequately. You are limited to rebinding the keys on your keyboard only, however. Mouse 1 and 2 are predefined and locked as 'accept' and 'back' while Mouse 4, 5 and scroll-click are unbindable entirely.
There are no sensitivity options for the camera and it features inherent mouse acceleration as well a very imprecise and floaty feel to movement too. As such, you may find your camera will bug out when you attempt to turn your character around quickly.
Despite this, the game is very much playable with a keyboard and mouse due to its incredibly simple nature. Navigating through menus is rather easy; using a combination of the scroll wheel and mouse 1 and 2. Likewise, the standard WASD bind for movement is perfectly fine too.
While I do heavily recommend a controller, those who lack one should not be entirely discouraged. The mouse control is undeniably shoddy though the game's linear and passive gameplay should heavily reduce the need to move the mouse in a manner that would trigger the bugs presented above.
Just…don't hit 'ESC' or you'll find yourself staring at your desktop wondering what the hell just happened.
AUDIO AND GENERAL SETTINGS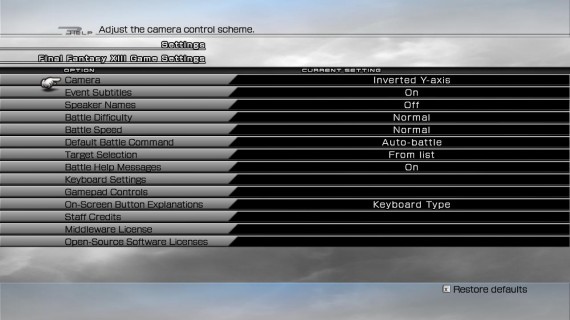 The highlight of the port, and something that die-hard fans of the series should appreciate, is the inclusion of the original Japanese audio track and English subtitles. Prior to this port, the only version of the game that featured this option was the Hong Kong release that has since gone out of print. While it would have been better to offer this as an optional download, due to its inclusion bloating the total file size by an extra 20Gb, it is certainly something to commend the team on including.
Supporting button prompts for both gamepad and keyboard & mouse, it is unfortunately not automatically chosen based on input. Instead, the option has been relegated to a rather strangely named 'On-Screen Button Explanations' sub-menu within the settings.
CONCLUSION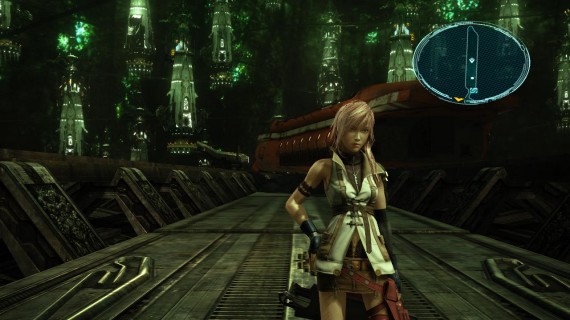 Final Fantasy XIII's port is abysmal, lazy, uncared for and…unsurprising. The games industry in Japan is in desperate need of education on the PC platform. While developers such as Konami are taking steps to prove to PC gamers that they understand the market, ports like these only serve to hinder the progress.
With XIII-2 and Lightning Returns set for release over the upcoming months, one can only hope the outcry is loud enough to reach Square Enix and force some positive change. When a hobbyist modder can offer up adequate fixes in under an hour, it begs the question of whether it really is a lack of understanding that produces this standard of port.
As it stands, this is a release not even recommendable to the most diehard of fans. It will be entirely down to further community support to determine the viability of a purchase unless Square offer up something of their own.
It certainly seems unlikely.
For a selection of up to date fixes and improvements for this title, head over to the PCGamingWiki article.