Featured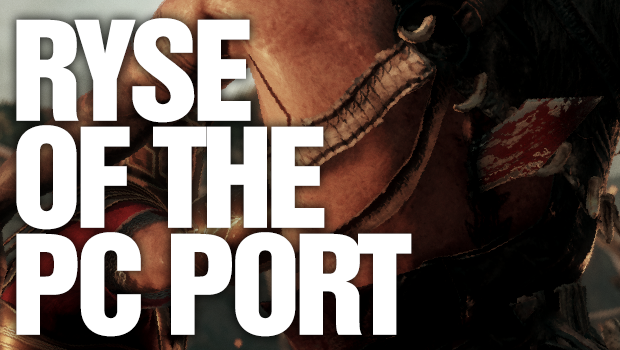 Published on October 11th, 2014 | by AjayLikesGaming
0
KBMOD PORT AUTHORITY – Ryse: Son of Rome
KBMOD's Port Authority is a rundown of the PC-centric features on games ported to PC.  Hopefully this will help you make a decision on purchases as well as bring more information to light on the porting process.
PC gamers were somewhat baffled by Crytek's decision to lock off Ryse: Son of Rome to the Xbox One. Being a company so well established in PC gaming history, it was a strange move given the game's use of the brand new CryEngine. Why not allow users to take full advantage of the wonderful new visuals touted with the engine?
Fortunately, one year later, Crytek's dealings with Microsoft have seemingly come to a close and Ryse has finally made its way to the PC. Though the game is a rather forgettable but moderately enjoyable effort, it's an important title that marks the first game using the new CryEngine to hit the platform.
Using an i7 2600K and a single GTX 680 (SLI has yet to be supported), let's see whether Crytek's promise of a solid port rings true.
SYSTEM REQUIREMENTS
MINIMUM

RECOMMENDED

OS: Windows Vista SP1, Windows 7 or Windows 8 (64bit)
Processor: Dual core with HyperThreading technology or quad core CPU (4+ logical processors)
Memory: 4 GB RAM
Graphics: DirectX 11 graphics card with 1 GB video RAM
DirectX: Version 11
Hard Drive: 26 GB available space
Sound Card: DirectX compatible Sound Card with latest drivers

OS: Windows Vista SP1, Windows 7 or Windows 8 (64bit)
Processor: Quad Core or Six Core CPU (6+ logical processors)
Memory: 8 GB RAM
Graphics: DirectX 11 graphics card with 2 GB video RAM
DirectX: Version 11
Hard Drive: 26 GB available space
Sound Card: DirectX compatible Sound Card with latest drivers
PERFORMANCE & OPTIMISATION
Ryse: Son of Rome is a gorgeous game packed to the brim with high end features that will give even the toughest systems a run for their money. Staggering particle effects, wonderful depth of field and truly awesome animations really bring Rome to life in a convincing manner. I can only commend Crytek for upholding their reputation for consistently pushing out technically stunning presentations.
This comes at a real cost, however. Though the game sports rather modest minimum requirements, the differences between high and low are very small. While it's plain to see that softer shadows become slightly more jagged and costume cosmetics are heavily reduced, the changes aren't as dramatic as some would like. As such, those with weaker GPUs will be looking to lower their resolution or make use of the game's native FPS cap.

Intel i7 2600K @ 4.4Ghz – EVGA GTX 680 SC Signature II – Corsair Vengeance DDR3  16GB
HIGH
Avg: 40.584 – Min: 33 – Max: 48
LOW
Avg: 68.437 – Min: 57 – Max: 123
Captured during a high action, heavily populated section. FPS increased by 10-15 frames in smaller, sparsely populated areas.  
The options menu shows an acceptable level of control to the standard many expect from solid ports. Shaders, LoD, shadows, particles and even animation quality are all editable through the advanced menu.
One of the better and more unexpected inclusions is the 'native upscaling' option. For many users with multiple monitors, setting a game's resolution to one lower than the monitor's native one renders the other screens entirely useless. The native upscaling option allows the player to set the game's internal rendering resolution without changing the output display's instead. A very handy feature for a game that will undoubtedly force many to reduce their resolutions.
On the opposite side of scaling, the game features supersampling of up to 4x your base resolution. Though only the smallest number of users will have rigs beefy enough to handle this, it's a great inclusion that future proofs the game for many years to come.
Simply put, Ryse: Son of Rome is utterly gorgeous and entirely justifies its high system requirements. While it's certainly true that more control over the graphical settings would have been nice (especially from a Crytek game), the optimisation is good enough to a degree that it should allow most users to make the most of the game on their system.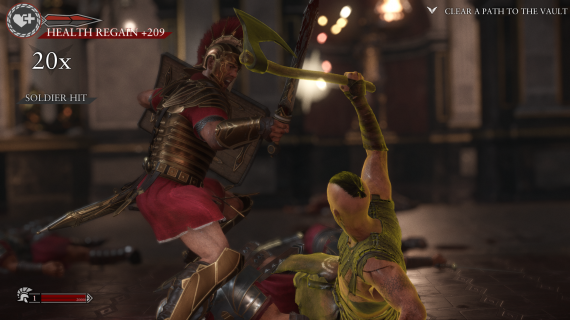 KEYBOARD & MOUSE SUPPORT
To state the obvious, this game is best played with a controller. Its roots as an Xbox One exclusive are very clear and the UI is very much designed with a pad layout in mind. Though the game is playable with a keyboard & mouse (and a menu that features fully functional free-mouse navigation), there are some huge oversights that will certainly impact some players.
Keys are not rebindable though the game offers two preset layouts that are more than functional. This is all well and good for a majority of players though it does isolate those with disabilities who require very precise setups. It's a strange exclusion and one I hope will either be patched or helped along by third party tools or config edits.
However, the most glaring flaw is the way in which the game's QTEs are handled. During executions, the enemy is highlighted with a colour corresponding to a button on the gamepad (see above). Unfortunately, this doesn't change based on input device. Keyboard & mouse users will find themselves struggling to learn what key each colour is supposed to represent.
Though I fully understand this was done to retain the unobtrusive command prompts, it simply doesn't produce the same level of fluidity with a keyboard & mouse as it does with a controller.
Perhaps it would have been better to retain the E3 build's UI and replace the pad layout with keys.
CONCLUSION
Though the game itself is only a short but moderately enjoyable romp through Rome, this port is more than acceptable. While it's a real shame Crytek neglected to include some very basic features, the game's visual presentation is utterly stunning and showcases some of the most beautiful character models and environments I've ever seen.
While the price tag of £35 ($39.99) is perhaps a little steep for the game's length, I do recommend this purchase to users looking to push their rigs to the limit.