Reviews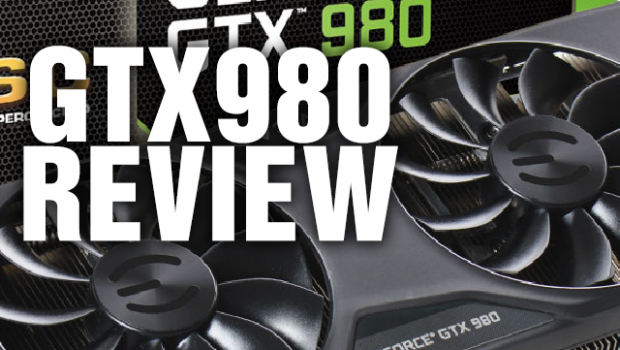 Published on October 17th, 2014 | by AjayLikesGaming
1
REVIEW: EVGA GTX 980 SuperClocked ACX 2.0
This is a KBMOD community post by Murray Bateman.  If you want to help shape content and take a larger role in the community here at KBMOD, submit your article idea for consideration to [email protected].
The GTX 980 is arguably the fastest single-GPU card on the market today with the closest competitor being another NVIDIA option; the $1000 Titan Black. At a more comfortable price of around $600, the 980 is a card more likely to make its way into computers at home. Price is far from the only reason though, and with Maxwell architecture's focus on power efficiency, the 980 sure packs a punch.
Having recently got my hands on the new EVGA GTX 980 SuperClocked edition (sporting their brand new ACX 2.0 heatsink and cooler), it's time to put it to the test against my previous GTX 670 SLI build.
TECH SPECS
| | |
| --- | --- |
| Performance | NVIDIA GTX 9802048 CUDA Cores1266 MHz Base Clock1367 MHz Boost Clock162GT/s Texture Fill Rate |
| Memory | 4096 MB, 256 bit GDDR57010 MHz (effective)224.3 GB/s Memory Bandwidth |
| Interface | PCI-E 3.0 16xDVI-I, DisplayPort, DisplayPort, DisplayPort, HDMI |
| Resolution & Refresh | Max Monitors Supported: 4240Hz Max Refresh RateMax Analog : 2048×1536Max Digital : 4096×2160 |
| Dimensions | Height: 4.376in – 111.15mmLength: 10.5in – 266.7mmWidth: Dual Slot |
| Operating System Support | Windows 8 32/64bitWindows 7 32/64bitWindows Vista 32/64bit |
| Requirements | Minimum of a 500 Watt power supply.Two available 6-pin PCI-E power connectorsTotal Power Draw : 165 Watts |
Information from: http://www.evga.com/products/product.aspx?pn=04g-p4-2983-kr
FIRST IMPRESSIONS
After some severe stock issues in the United Kingdom, the card finally reached my door with EVGA's ever-so-familiar packaging staring back at me. Featuring an abundance of features slapped across the back, it was begging to be opened.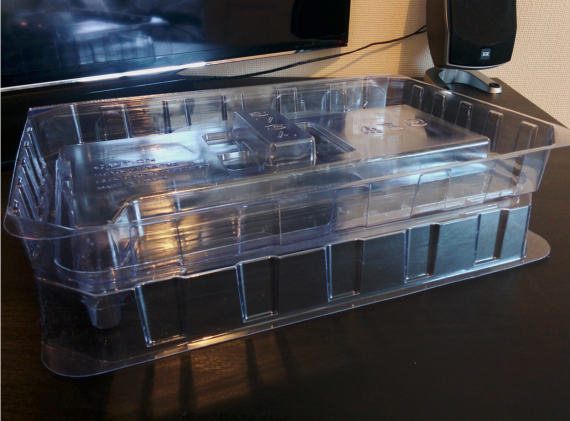 Inside the box, EVGA has includes its standard package of stickers, two molex to 6-pin PCI-E power adapters and the ever-present DVI-to-VGA adapter to add to the endless pile in my drawer (I wonder when they'll stop including these…). Likewise, Mr. Non-descript Video Game Guy is plastered across a poster featuring the deepest creases known the mankind. That's certainly not going anywhere near my wall!
Despite the outerbox's great design, the GPU's packaging leaves a lot to be desired. The card is housed in nothing but a tight plastic case which, while not flimsy, doesn't leave me feeling all that comfortable. A return to the EVGA's previous foam packaging solution is certainly needed.
Regardless, the card was unharmed and looks absolutely stunning!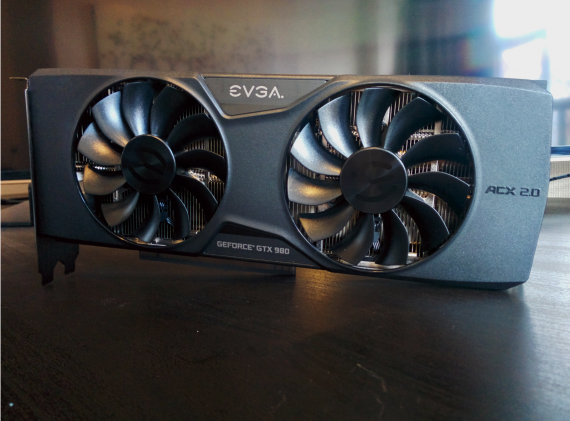 With the subtle redesign that the 2.0 version of the ACX cooler offers over its predecessor, the card's absolute beauty cannot be overstated. Though the pictures may not do it justice, a simple glance in person really reiterates EVGA's consistent accomplishments in design. The two fans look like they can move a colossal amount of air alongside an equally impressive heatsink. The aesthetics and design simply ooze quality.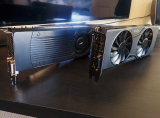 When placed alongside one of my old MSI 670s, it's clear to see which sports the better aesthetics and, more importantly, which looks to offer the superior cooling solution.
Though gorgeous, the EVGA GTX 980 SC ACX 2.0 does lose a few points for its lack of backplate. While the PCB look isn't bad, the reference GTX 980 does come with a backplate as standard. Fortunately, EVGA will soon be releasing a backplate for the 900 series though this does require manual installation which some may not feel confident in doing. Aesthetics aside, a backplate does offer a greater peace of mind when it comes to cleaning. Despite this, the exposed PCB of the EVGA 980 does feature a dark blue finish that nicely matches the rest of the card's design.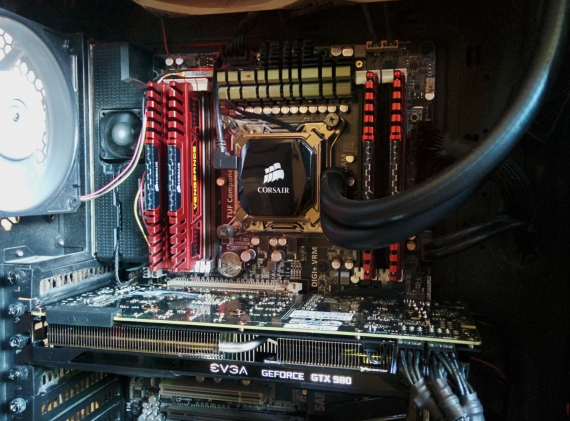 Once inside and hooked up to the two 6-pin PCI-E connectors, the card quite literally shines with a subtle EVGA GTX980 logo engraved into the side. Matched up with the white LED of Corsair's H100i cooler, the card really does add to the overall aesthetics of my build. It's a welcome edition that rivals and improves upon the green LED of NVIDIA's reference design.
From having a two-card setup for the past few years, the case does look quite empty with just a single card in there. Perhaps I'll have to start saving for a second one…
PERFORMANCE
Using GPU-Z, we can take a closer look at some of the more detailed specs of the card. With a base clock of 1266Mhz and a boost clock of 1367Mhz, it's very apparent that this card is going pack one hell of a punch.
Though the shader count of 2048 may seem rather low (over 800 less than the 780Ti, and nearly 300 less than even the 780), this isn't exactly a downfall. The brand new Maxwell 28nm architecture offers far more 'bang for your buck' than previous cards so performance loss is totally nonexistent.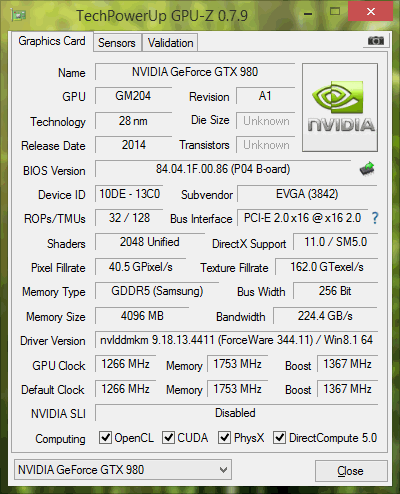 With the technical specifics out of the way, it was time to get down to the part that most gamers care about…benchmarks!
Using an i7-3930K at 3.8Ghz, the card was tested at 1080p using the Extreme (X) preset in 3D Mark 11. Up against 4 different setups; a single 670, 2 SLI'd 670s, a 780ti, and a reference 980 running at stock speeds, let's see how it performed.
The power efficient EVGA 980 SC ACX 2.0 came top with an impressive X score of 6245. Enthusiasts have pushed this much further with their own clocks but for a factory overclocked card this is exceptional.
Though the SLI'd 670s did outperform the reference 980, it's worth taking into consideration that many games do not utilise SLI to their full advantage (not to mention general annoyance it brings). In many instances, you'll find the 980 far outperforming the 670s. If you're considering one or the other, I highly recommend a single card solution.
Games perform remarkably well with titles such as CS:GO and League of Legends pulling 700fps and 300fps respectively on their highest settings. Demanding titles also perform great with Shadow of Mordor achieving a hefty 130fps at medium-high settings and 90fps on ultra. Likewise, the effect-filled and AMD-focused, Tomb Raider achieved an impressive 60fps in its benchmark using the incredibly intensive TressFX setting. Alien: Isolation is perhaps the most impressive of all, managing to pull a good 200+fps using the game's secret ultra-high settings unlocked via a set of config commands.
EVGA's 980 SC ACX 2.0 truly offers the best bang-for-your-buck single card performance on the market currently.
THE COOLER
The absolute highlight of the product is without a doubt the ACX 2.0 cooler. EVGA has chosen a rather unconventional design; choosing to reverse the fans' rotation. While they may seem like they're going backwards, this design actually allows them to spread more air over the heatsink while also running at a much quieter volume.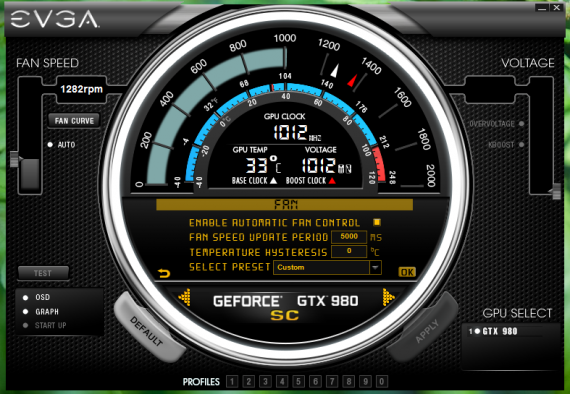 Using EVGA's own Precision X 15 software to manage the fan speeds and overclock, I set up a custom fan curve based on my own preference of noise levels vs. performance. This effectively involved running the fans slowly at low temperatures and ramping them up should the GPU get too hot (which, rest assured, it simply doesn't do).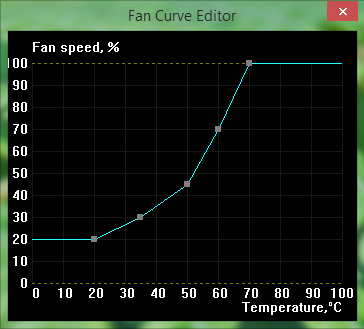 With the fan curve set and the card overclocked to 1404Mhz, I never once found the temperatures reaching higher than 56°C (132F) during normal gaming. This meant the fans ran extremely quietly at only 59% of their total speed.
Taking it to the extreme, I pushed the fan speeds up to 100% to see just how cool the card would run. Despite being extremely noisey, the 980 never once reached 45°C (113F). While the noise levels aren't exactly the practical, the performance is undeniably fantastic.
Lastly, the card idles at around 25°C at a mere 25% fan speed. The ACX 2.0 cooler is absolutely remarkable.
One thing to note, and something I didn't particularly like, is the way the cooler is set to work by default. Out of the box, the fans do not spin when the card is ilding and only kick in should the GPU become too warm. While this means the card makes absolutely no noise at all, it does leave the idle temperatures at around 50°C.
Though others may feel differently, I was not comfortable letting the card idle at those temperatures. While the card is safe at this temperature, I would highly recommend users download PrecisionX and make use of the fan curve editor to ensure the fans are at least spinning a moderate amount at all times.
If you have the fans, it doesn't hurt to use them!
OVERALL THOUGHTS
With so many factors to consider when buying a new graphics card, it's often difficult to decide precisely which to go for. Fortunately, the GTX 900 series shines in just about every field. Its highly power efficient architecture comes at no detriment to the monstrous performance and, considering its only rivals are over $300 more expensive, it's definitely an incredibly affordable option.
While high-end 700 series users will be fine, those still running a single 600 series card should view the 980 as a very appealing upgrade option. Though opting for an SLI solution may work out cheaper, the performance increase and general single card benefits are greater with the 980. Moreover, with a power draw so small for the 900 series, there should be no need to buy a new PSU either.
Though those with high-end 600/low end 700 series SLI setups will mostly see similar performance from the 980, the sidegrade offers the same aforementioned benefits of a single card solution along with the opportunity for SLI expansion in the future.
The EVGA 980 SC ACX 2.0 is gorgeous, quiet, and most importantly, it performs magnificently across current high-end games. Offering the SLI-performance of old on a single card is astounding and NVIDIA should be commended for this series of cards.

Although their reference card does offers adequate cooling, enthusiasts should strongly consider EVGA's ACX 2.0 range for one of the best cooling solutions currently on the market.
Verdict: HIGHLY RECOMMENDED. 
Murray is a 22 year old Computer Games Design student. He likes long walks, relaxing baths, and listening to people's problems. He is looking for a long term relationship.  Follow him on Twitter!