Business

Published on January 30th, 2015 | by ryankapsar
0
Policy and Games: FCC Ups Definition of Broadband
Policy and Games is a look at tech policy and the gaming world.  The views expressed in these articles are those of the author and do not necessarily reflect the views of KBMOD or any of its contributors.
Today, the FCC issued a new definition for broadband internet speed. Until now, broadband was legally defined as minimum speeds of 4 mbps download with 1 mbps upload. However, with the FCC's vote today, broadband is now defined as 25 mbps down with 3 mbps up. The vote to change the definition passed 3-2.
According to one report, as many as 41 million people will go from having access to broadband to not having access to broadband. Furthermore, due technological constraints on DSL, many areas will lose ISP options that are able to sell internet speeds classified as broadband. As you can see below, for speeds at the new broadband level, nearly 75% of Americans have one or no option for a broadband provider.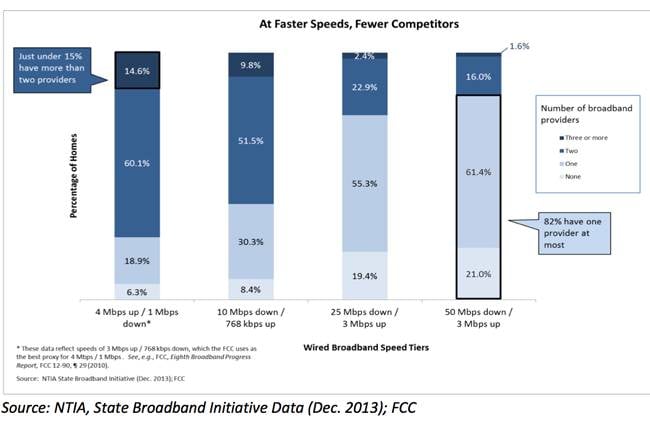 The differences between upload and download are a result of legacy technology. Because the majority of internet content is consumed rather than created and uploaded (although this is changing with video and picture uploads to Facebook, Twitter, etc…), phone companies designed technology that allowed faster download than upload. This allowed for a higher percentage of the total capacity of the line to be dedicated to download rather than upload. This is called Asynchronous DSL and is typically how DSL is deployed. Keeping speeds asynchronous like this is likely an attempt to allow companies to get some last-gasp technological gains out of their existing copper DSL lines. Fiber and cable don't suffer from these same restraints because they have more capacity. In the case of fiber, you can use different wave lengths of light, which means that upload and download traffic can't interfere with each other.
The goal of this redefinition is to encourage new economic activities through higher internet speeds. As it stands, the US is currently 11th worldwide with an average speed of 10.5 mbps. Moving the definition of broadband to 25 mbps means that our lowest speed broadband is higher than the South Korean average at 23.6 and would very likely push the US much higher in the rankings.
This is going to be a highly beneficial move for many commercial applications like telemedicine; which will require the average American to have significantly higher internet speeds for that to be effective. According to at least one paper, increasing broadband access can have a 0.3% increase in GDP – more than covering the investment in internet infrastructure to be able to sell broadband. Furthermore, these higher speeds will have significant benefits for gamers – shorter download times for games, reduced latency, and higher quality streams to and from Twitch and other sites.
This will have a serious impact on Comcast and their plans to merge with Time Warner Cable. This new definition will put the combined company at 54.9% of the broadband market. Legally, no company is able to capture more than 30% of the market, meaning that the combined company would have to shed 24.9% of their most profitable customers. This might make the merger no longer beneficial to the two organizations.