Battlestations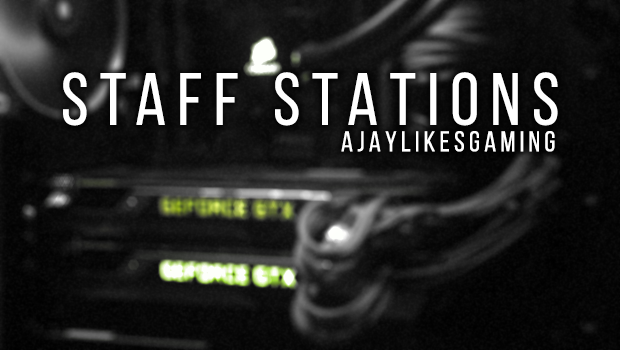 Published on January 5th, 2015 | by AjayLikesGaming
13
Staff Stations – AjayLikesGaming
It's a very weird feeling to be writing a Bro Cave post as part of the 'staff' for this site. KBMOD was solely responsible for my entry into the PC gaming world back in 2011. After watching John play CoD4 ProMod and listening to the podcast weekly, I just had to be a part of this community. My first ever contribution to the site was a community Bro Cave submission (a goldmine of cringey memes and unbearable ignorance). Fortunately, with a little time, I clued myself up and a little over a year later I submitted yet another post detailing my upgrades and the first part of my 'journey' into this peculiar subculture.
Going into 2015, I now write, edit and occasionally (when pigs fly, oceans divide, and Gabe eats a salad) stream for KBMOD. The hobby of PC gaming has became part of my daily routine and has helped spawn a whole host of wonderful opportunities that will hopefully lead to this becoming part of my professional life, too.
So, thanks KBMOD and thanks to the community for being so welcoming all those years ago!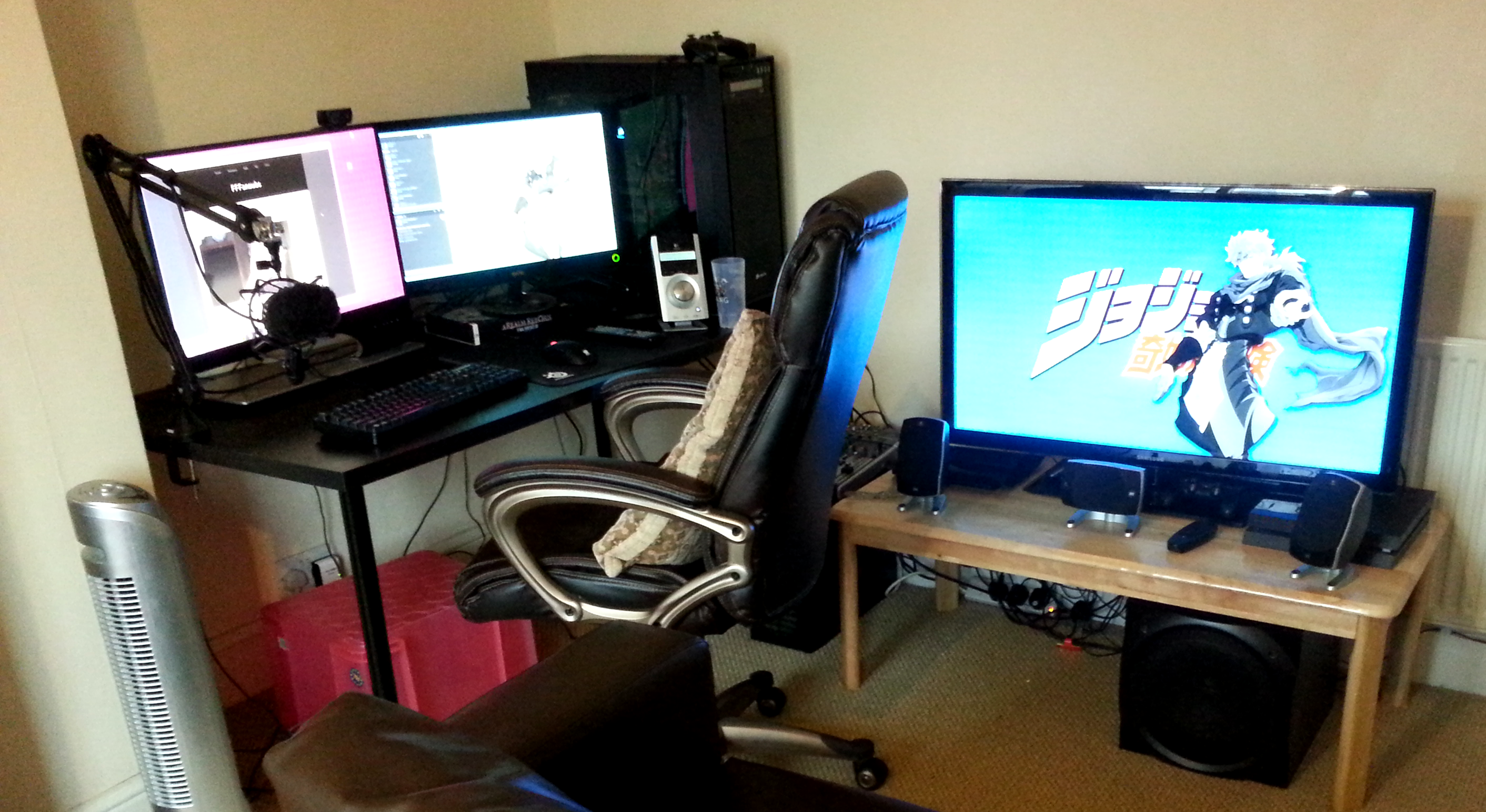 Mushy sentimentalism aside, let's talk hardware.
Main PC:
Peripherals & Extras:
CPU: Intel i7 5820K
CPU Cooler: Corsair H100i
MOBO: MSI X99S SLI Plus
RAM: Corsair Vengeance DDR4 16GB
GPU: 2 x Inno3D GTX980 in SLI
PSU: Corsair AX860 860W
Sound Card: Creative Sound Blaster Z
Case: Corsair 750D
Storage: 1 x 96GB SSD, 1 x 250GB SSD, 1 x 2TB HDD, 1 x 3TB HDD
Headphones: Beyerdynamic DT770 Pro
Keyboard: Steelseries 6Gv2
Mouse: Zowie EC1 eVo
Mic: Rode Procaster XLR // Antlion ModMic (for headset)
Mixer: XENYX X1622USB
Monitors: Samsung SA950D 120Hz 27″ // BenQ VW2420H 60Hz 24″ // Samsung UE40D5520
Webcam: Logitech C902 HD
Desperate to finally get rid of the 2600K that'd been sat in my PC for over 3 years, the wait for Haswell-E felt like an eternity. Of course, the X99 platform necessitates a huge upgrade given the new socket type and DDR4 slots. With that in mind, I felt like I should go big or go home. If I'm spending this much money already, I may as well make this a build that I can leave alone for many years to come.
So that's exactly what I did! Everything but the storage was entirely replaced with new parts. The 2600K became a 5820K, the 16GB of DDR3 became DDR4, the SLI 680s became 980s, the H60 became an H100i and the case and motherboard were upgraded to accommodate the new hardware. Throw in some blue fans and cables and it's starting to look pretty nice! Oh…and uh, my PSU gave up so I bought a Corsair one since apparently my build is a giant advertisement for them.
Always buy reputable PSUs, folks!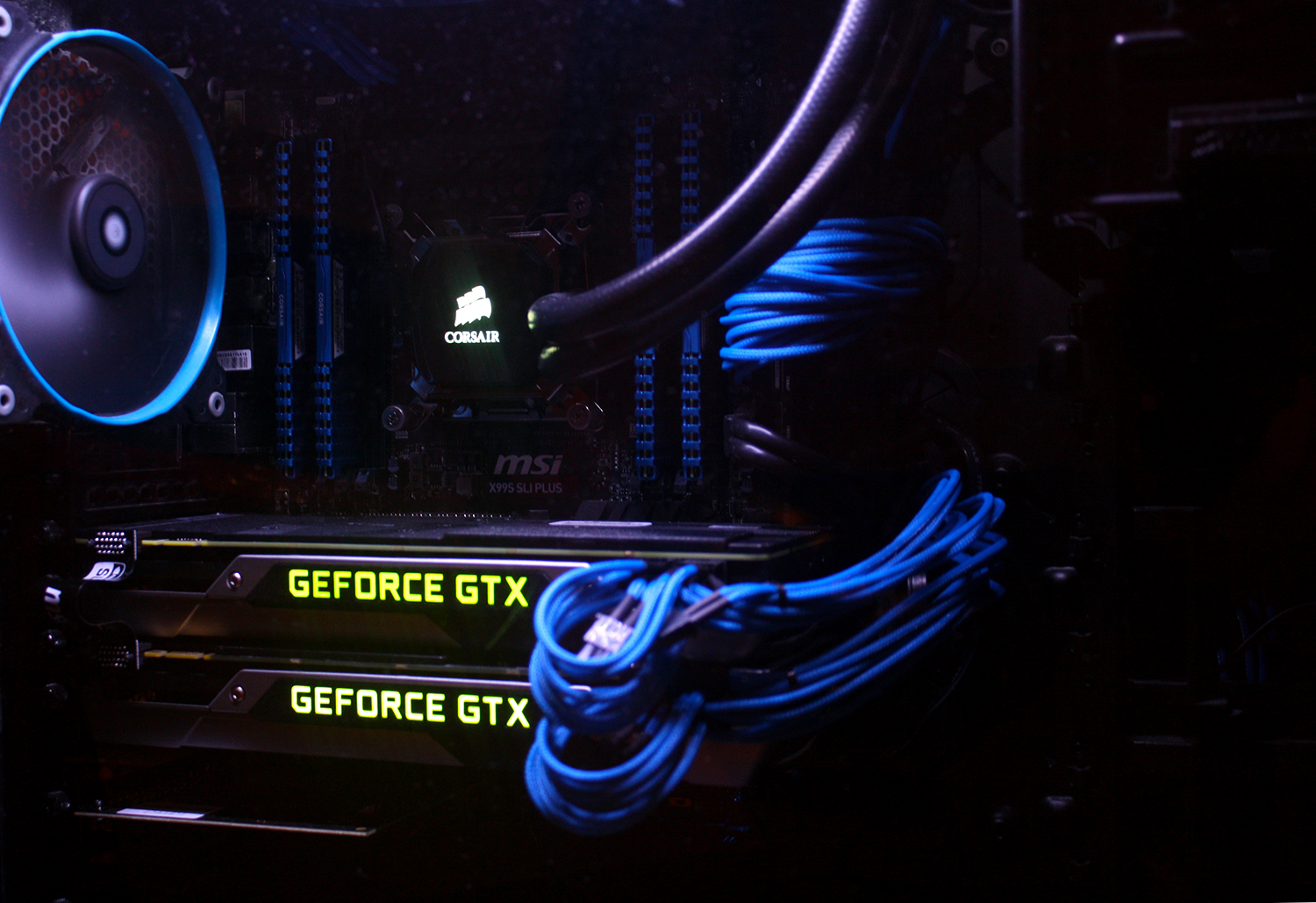 With extremely demanding games such as The Witcher 3: The Wild Hunt and Batman: Arkham Knight approaching, I had to come up with some way to enlarge my ePeen suppress my fears of ever having to actually turn down graphic settings. Oh god!
Moreover, as someone with a 120Hz monitor, the dream is to achieve at least 120fps in as many games as possible. So, although these cards are total overkill for 60Hz 1080p gaming, they do help me make the most of my hardware when it comes to achieving those dream frame rates. Plus, the Asus ROG Swift PG278Q is sure looking tasty so it's nice to have some extra horsepower should I ever make the jump above 1080p.
So far, it's been an excellent purchase; running games to my expectations and also allowing me to downsample older titles for a slight bump in image quality. I guess the only negative is the fact the 'GeForce GTX' logo is luminous green in amongst my lovely blue colour scheme. First world problems, right?
It's becoming increasingly clear that gamers prefer to consume their news and reviews through more contemporary means such as video and streaming. Although I recently shifted in the opposite direction (frustratingly), I felt it was important to retain the necessary hardware for when I inevitably have to shift back or come to a happy medium in between.
I picked up the Rode Procaster; a rather robust, dynamic microphone at a reasonable price. This is fed into the XENYX X1622USB mixer which works as a reasonably solid audio interface alongside offering compression and EQ on the fly for livestreaming.
On the listening side of things, I have the Beyerdynamic DT770 Pros; a closed back headphone with a slight V-shape sound that suits my preferences perfectly. This is complimented by the Logitech Z5500 5.1 system for when I want to crank it, kick back, and enjoy a good film (or anime…definitely anime).
This is all pushed into the Creative Sound Blaster Z sound card (which is a real piece of shit and nobody should buy it). It's being replaced ASAP.
Lastly, after the scroll wheel gave out, I swapped out my old Razer Deathadder for the Zowie EC1 eVo. It is a wonderful mouse that is near enough identical in shape to the Deathadder but offers a far superior sensor and no need for any extra drivers or software!
The strange DPI steps were slightly off-putting but with the help of http://www.mouse-sensitivity.com, it was incredibly easy to calculate and fix my sensitivities across almost all of my games (or at least the ones that require precision).
With the amount of reformatting and reinstalling that I've had to do with this build due to two faulty motherboards, I cannot reiterate enough the convenience of having a mouse that remembers your DPI and polling rate between PCs.
And that's my Bro Cave as of 2015! It's been a crazy few years and, though it may sound sad to some, most of it has been spent at this PC either working away or simply 'hanging out' with friends. From making videos on Machinima Respawn to streaming and writing articles for this very site, it's been a wonderful time and I hope it will continue onward into the future.
Once again, thanks for being such an awesome and friendly community and perpetuating this wonderful attitude. I look forward to seeing your own submissions over the next year and I hope you enjoy the rest of our Staff Caves, also.
Let us know what you think of our builds in the comment section below and be sure to follow us on Twitter at @KBMODGaming for the latest on all things KBMOD!