Battlestations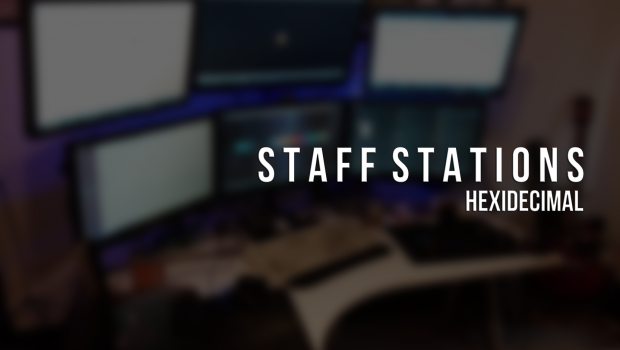 Published on January 20th, 2015 | by Jonathan Beck
5
Staff Stations – Hexidecimal
We've seen my setup evolve for the past few years through several different iterations, and it's changed once again. Late last year, I decided I wanted to "downsize" my desk, which I have technically done. I moved my secondary desk across the room as a workbench of sorts and consolidated my monitors and stream setup to my main workspace. In the process, I started expanding upwards instead of outwards and the result is this hex-monitor monster setup I use now.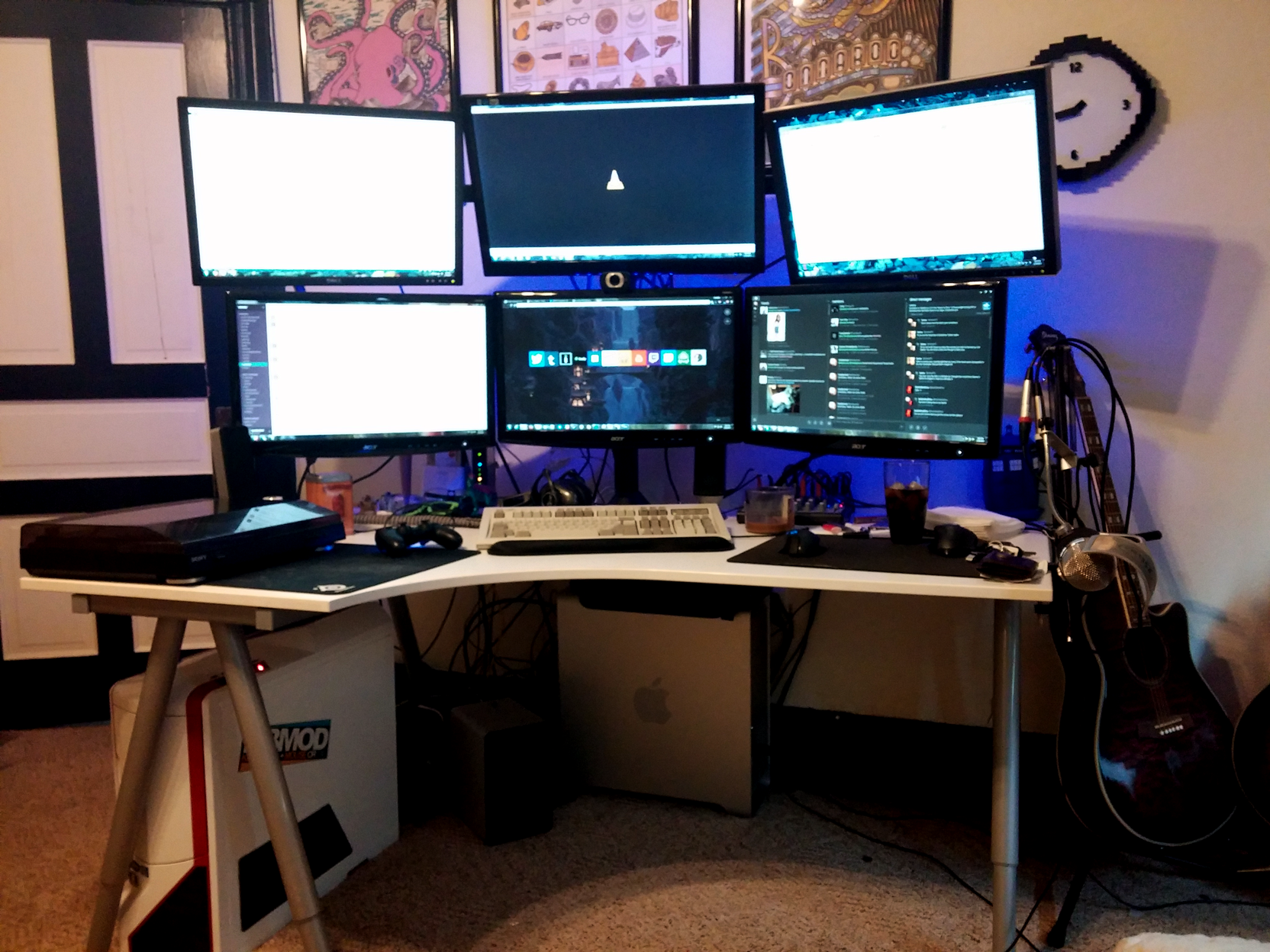 Since the last time I updated my setup, the core components of my main PC have only changed slightly. I've ditched the SLI GTX660 setup in favor of a single GTX970. I've also since abandoned membrane and mechanical keyboards in favor of good, old fashioned buckling springs. Nothing beats the feeling of typing on a Model M. There's been a bit of peripheral shuffle as well; I've jumped up to the Blue Yeti Pro and swapped out my Grado SR225s for Mo-Fis. I also stepped up to the Logitech G502 mouse once my G500 finally gave up the ghost.
Here's the full run down:
Main PC – PoisonIvy
Stream PC – MacPro (Mid 2009)
Peripherals & Extras
CPU: Intel i7 3770k
CPU Cooler: Hyper 212 Evo
MOBO: Gigabyte GA-Z77X-D3H
RAM: Corsair Vengeance DDR3 16GB
GPU: Gigabyte G1 GTX970
PSU: Corsair HX850
Sound Card: X-Fi Fatal1ty HD
Case: NZXT Phantom Full Tower
Storage: 2 x Crucial M4 128GB SSD RAID0, 2 x WD Blue 320GB RAID0, 2 x Seagate 2TB
CPU: Intel Xeon W3525 
MOBO: MacPro Main Board
RAM: 6GB DDR3 ECC
GPU: eVGA GTX660
Sound Card: Creative X-Fi Surround
Storage: 1 x 240GB Intel SSD, 1 x Seagate 1TB
Capture: AverMedia LiveGamer HD
Headphones: Blue Mo-Fi Keyboard: IBM Model M
Mouse: Logitech G502
Mic: Blue Yeti Pro
Mixer: XENYX 1202FX
Monitors: 3 x Acer H233H, 1 x AOC 27", 2 x Dell 24"
Webcam: Logitech C615
Etc: Sony PS-LX250H Turntable
The biggest change in this setup is the Stream PC. Making the jump from a very old Dell Precision T5400 Workstation to a more modern MacPro was like night and day. The old system ran hot and could only just hit 60FPS on a 720p stream. Now, I have no issues with framerate and my office isn't 15 degrees warmer than the rest of my house. I'm not really a fan of dual keyboards on my desk so I use Synergy to network my keyboard and mouse across both systems. I do keep a wireless mouse plugged in for scene switching without tabbing out of my game, however.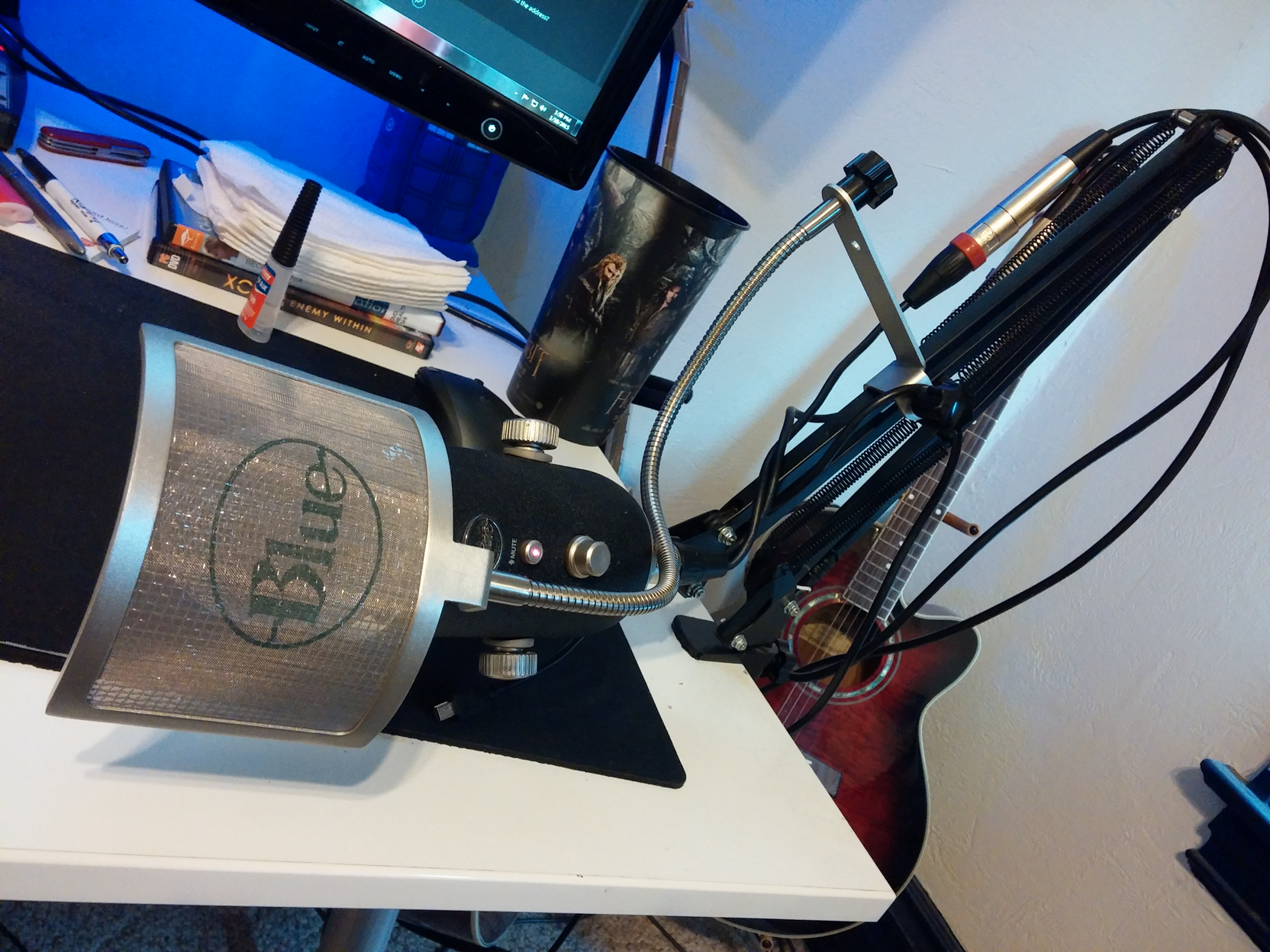 The audio changes have been sweeping for me this update. Blue was kind enough to let me review their Mo-Fi headphones and I haven't quit using them since. Switching up to the Yeti Pro has also simplified my microphone setup for my Stream PC. Now, I don't have to swap USB cables back and forth and I can run everything through my mixer.
What audio nerd doesn't have a turntable in their office? In the middle of last year I inherited my parents' vinyl collection and have since started filling it out with my own records. As a result, we are now a two-turntable home. Sean was kind enough to give me the first taste with an old Kenwood turntable that I've fixed up and put in my bedroom. Another friend handed me a working Sony turntable that has moved into my office, too. I run the new table through my mixer and Mo-Fis. It's my favorite way to listen to music.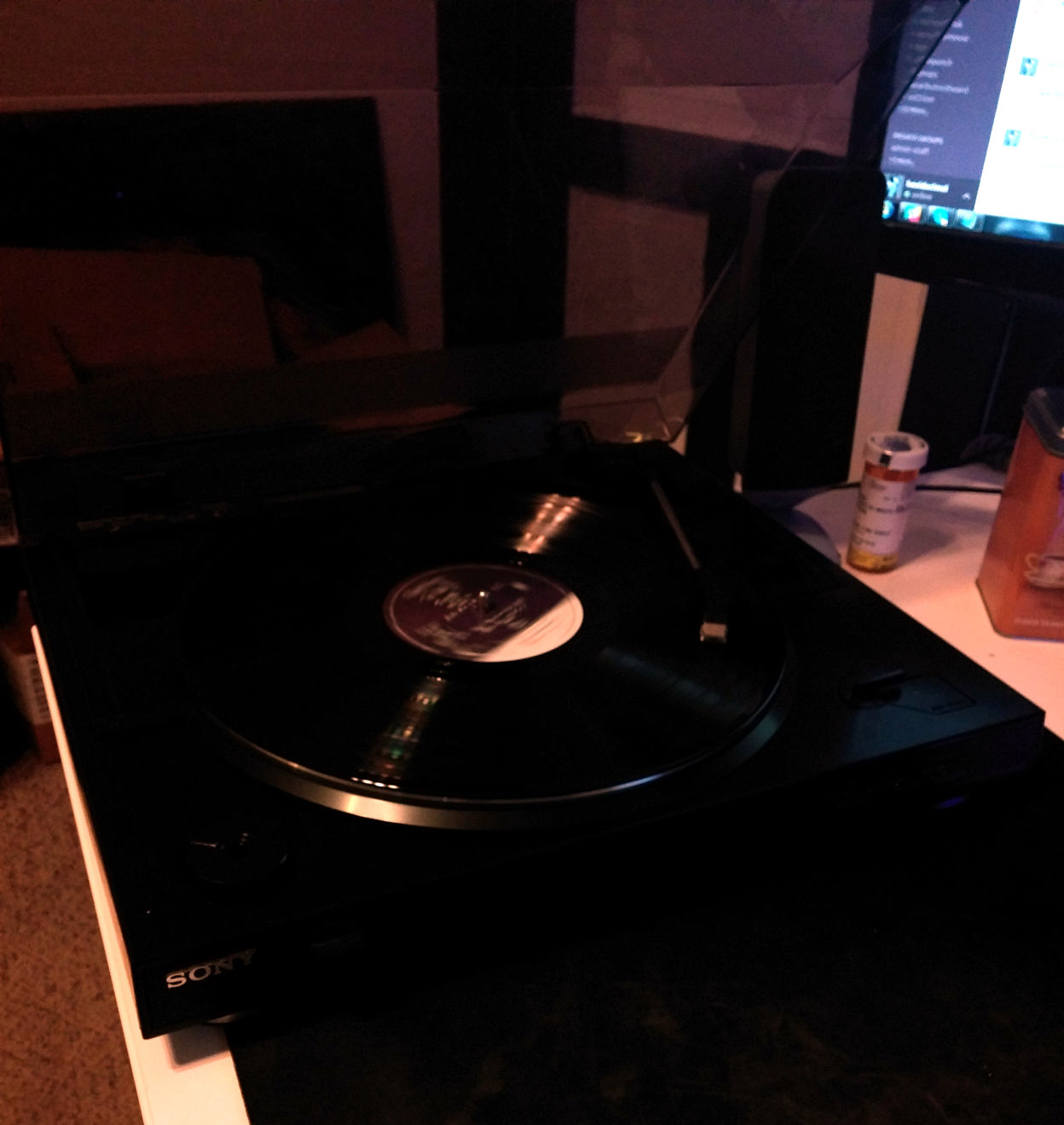 Where my TV and console gear used to live, I now have a workbench. I re-purposed my secondary desk with the original intention of having a space to work on a system without interfering with my main rig. Ultimately, it's just become a place for old Nintendo consoles and my collection of laptops. It isn't used often, but on the rare occasion I have to work on a machine, it's nice to have some separate space to work with.
Finally, there's the monitor setup change. I will admit that 6 monitors is excessive and, in day-to-day use, it isn't necessary at all. However, when you're live streaming and have the ability to monitor OBS, chat, Twitter, watch a Penguins game, and never have any information obstructed, it's a treat to use. It has also proved useful when I'm writing articles because I have have a large amount of reference material open at the same time and quickly accessible.
So there it is, my setup for 2015. It's unlikely that anything significant will change in my setup this year now that I've jumped to a new GPU, but who knows? We're going to try and get all of the Staff Stations updated and on the site this year, so let us know who you want to see post theirs next.
Let us know what you think of our builds in the comment section below and be sure to follow us on Twitter at @KBMODGaming for the latest on all things KBMOD!