Reviews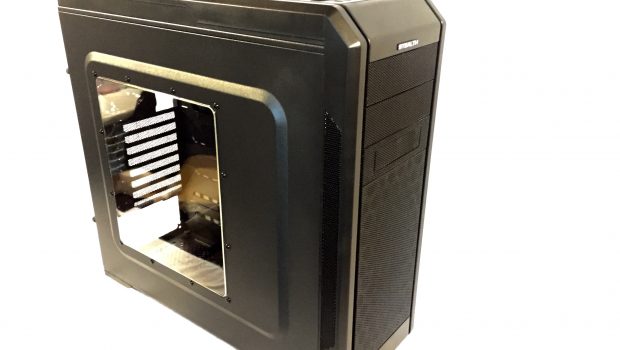 Published on June 25th, 2015 | by Jonathan Beck
0
Review – Rosewill Stealth
Disclaimer: A review sample of this product was provided by Rosewill
Form Factor Support
ATX Mid Tower
Case Materials
 SECC Steel
Dimensions (HxWxD)
 19.68″ x 8.26″ x 19.68″
Weight
15.45 lbs
Storage options
Supports 8x 3.5in or 2.5in drives
Pre-installed Fans

2x Front 120mm Fan

1x Rear 120mm Fan

2x Top 120mm Fan

Front Panel Features
2x USB 3.0 1x USB2.0, headphone, microphone, SATA HDD Dock
MSRP: $79.99
First Impressions & Aesthetics
Coming from a case that's designed to stand out, the Rosewill Stealth was a pleasant change. The black matte finished steel is a stark contrast to my old NZXT Phantom in red and white. Aside from the red LED fans that come equipped in the case, this is a very low-key chassis.
The window is a nice touch, especially if you're planning on doing any internal lighting, or if you've hopped on the GeForce bandwagon and picked up one of their shiny new GTX series cards that can pulse and glow on command.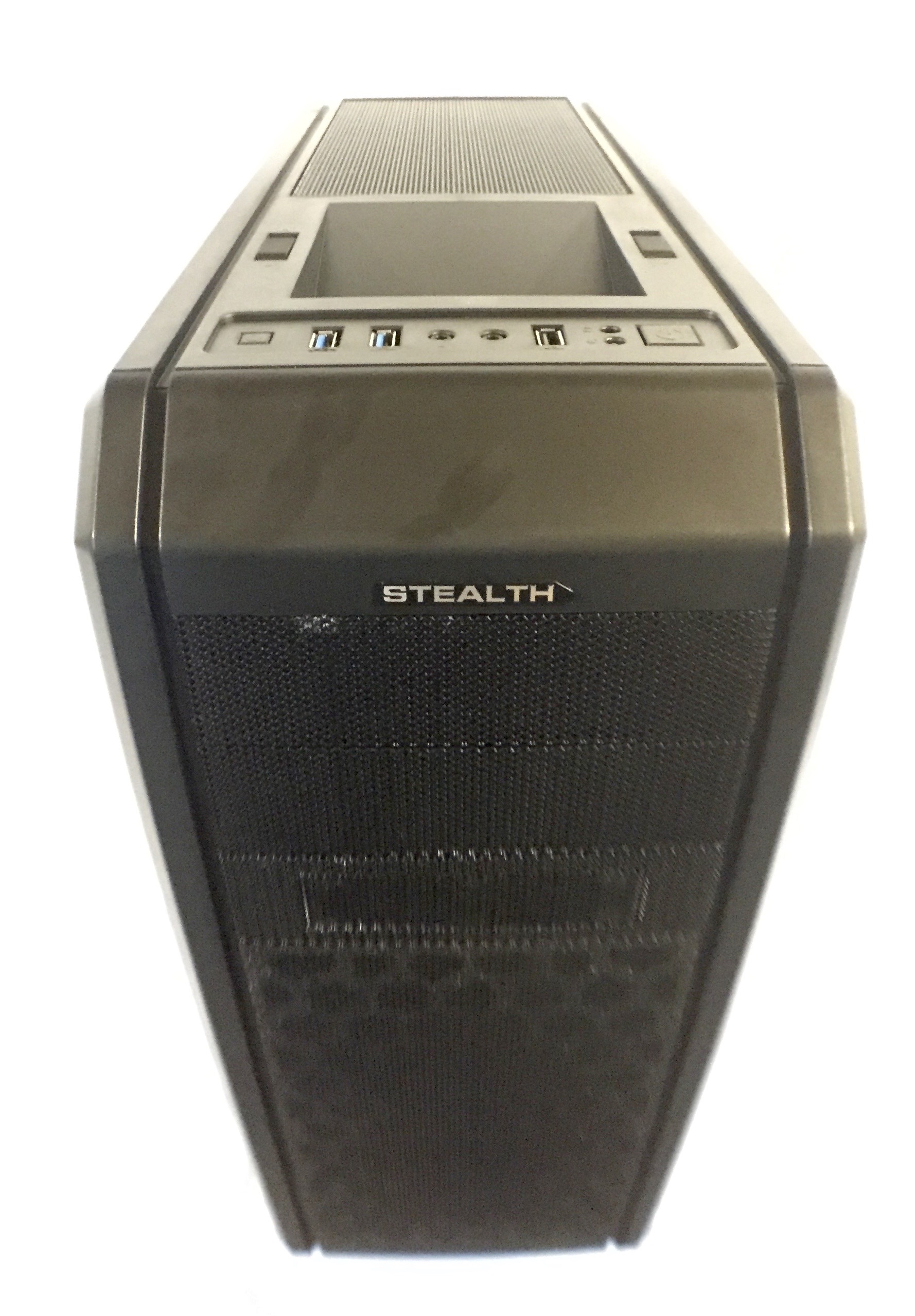 Aside from a subtle "STEALTH" branding on the front, everything else is either a plastic mesh or the aforementioned steel panels. Those plastic meshes, however, hold one of the nicest things about this case; a simple push at their top center removes them to reveal your air filters, and provides easy access to the case fans for cleaning. Not having to completely pull off the front of the case to clean it is a real positive.
The interior follows suit with matte black steel and plastic for the drive trays, alongside a bottom mount space for the PSU of your choosing.
Functionality & Performance
For my build time with this case, I transplanted my current gaming rig, which consists of an Intel i7 3770K, Gigabyte GeForce GTX970, 4 SSDs, and 3 HDDs, along with 16GB of Corsair Vengeance DDR3 and a Cooler Master Hyper 212 Evo.
That's a lot of hardware to cram into a mid-tower, and I was pleased to find I had room to spare. I'll be honest, one of my primary concerns moving from a full to a mid tower was just where I was going to stick all the SSDs and HDDs that I use in my build.
With 8 internal mounts that support both 2.5" and 3.5" drives without using an adapter kit, I had no problem slotting them in and getting them wired up. A pair of Rosewill's red LED 120mm fans, which I subsequently swapped out for a pair of plain black fans, cool all 8 drive bays. The fans that came with the case just don't match the blue and black color scheme I'm using in this build, and they're also a touch loud for my taste.
There was also ample clearance for my Gigabyte G1 GTX970, which is one of the longer revisions of the 970. In fact, I should have plenty of space to add a second one later this year.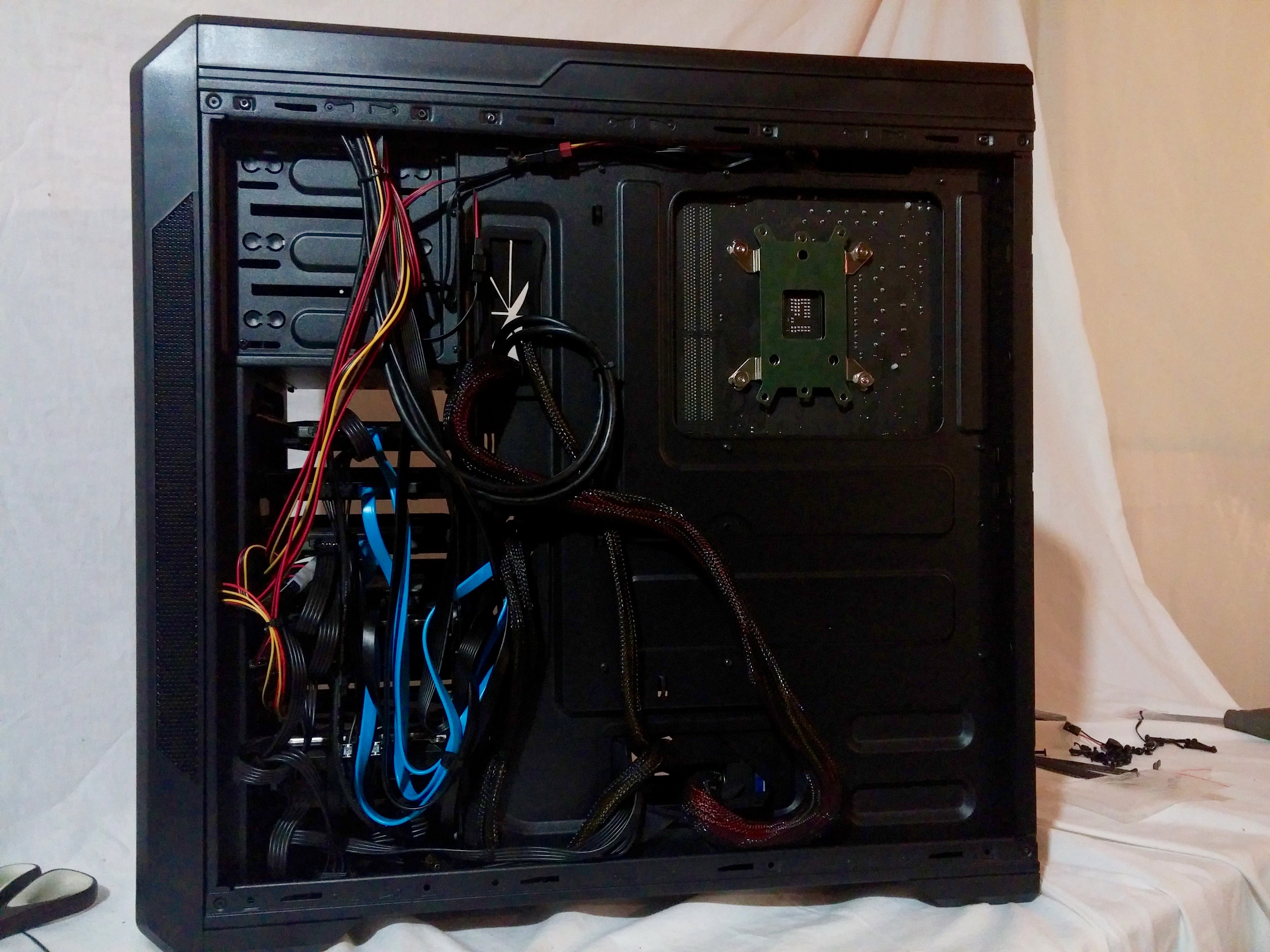 The case is also set up for behind-the-motherboard-tray cable management, and it works well enough. I managed to hide all my cables behind the motherboard and get them tied off properly, even managing to get the rear panel to close without much issue.
I would have really liked to have seen some more cable tie points behind the motherboard to make tying back the 24-pin power a bit easier, however. It would also have been nice to have a slot in the top left of the motherboard tray to route the 12-pin power connector to. As it is, I ended up running that connection up and around my motherboard and out of the way of the fans.
Value
For $79.99, you're getting a lot of value in the Stealth. The drive mounts support both 2.5" and 3.5" drives, eliminating the need for any adapter kits for your SSDs. The built-in fan controls let you run your systems as quietly as you'd like, without the need for adding in a separate controller. It doesn't hurt that Rosewill has loaded up the case with fans either.
My personal favorite, however, is the top SATA HDD dock. I move data around pretty frequently, and until now, I was using an external USB 3.0 dock. Now, I just slot a drive into the top of my case and go, eliminating the need for yet another peripheral.
For the Future
I really enjoyed building in this case, but I do have a couple of things I'd like to see changed in future revisions:
First of all, it would be excellent if the front panel cabling didn't drop directly behind the drive cages. It made routing my SATA power and data to my drives a bit of a hassle, and there was no good way to work around it.
As I mentioned previously, a couple of additional cable tie points would be excellent for cable management, as well.
Final Thoughts
Having not built in a mid-tower for several years now, I was pleasantly surprised at how roomy and versatile this case was. My build was previously in the NZXT Phantom Crafted, which is a monster of a case, and I wasn't sure all my gear was actually going to fit inside this smaller option.
I had room to spare, and hopefully enough to add another GPU at some point down the road. The case is very easy to build in, with ample space for drives and GPUs, and the beefiest of air coolers.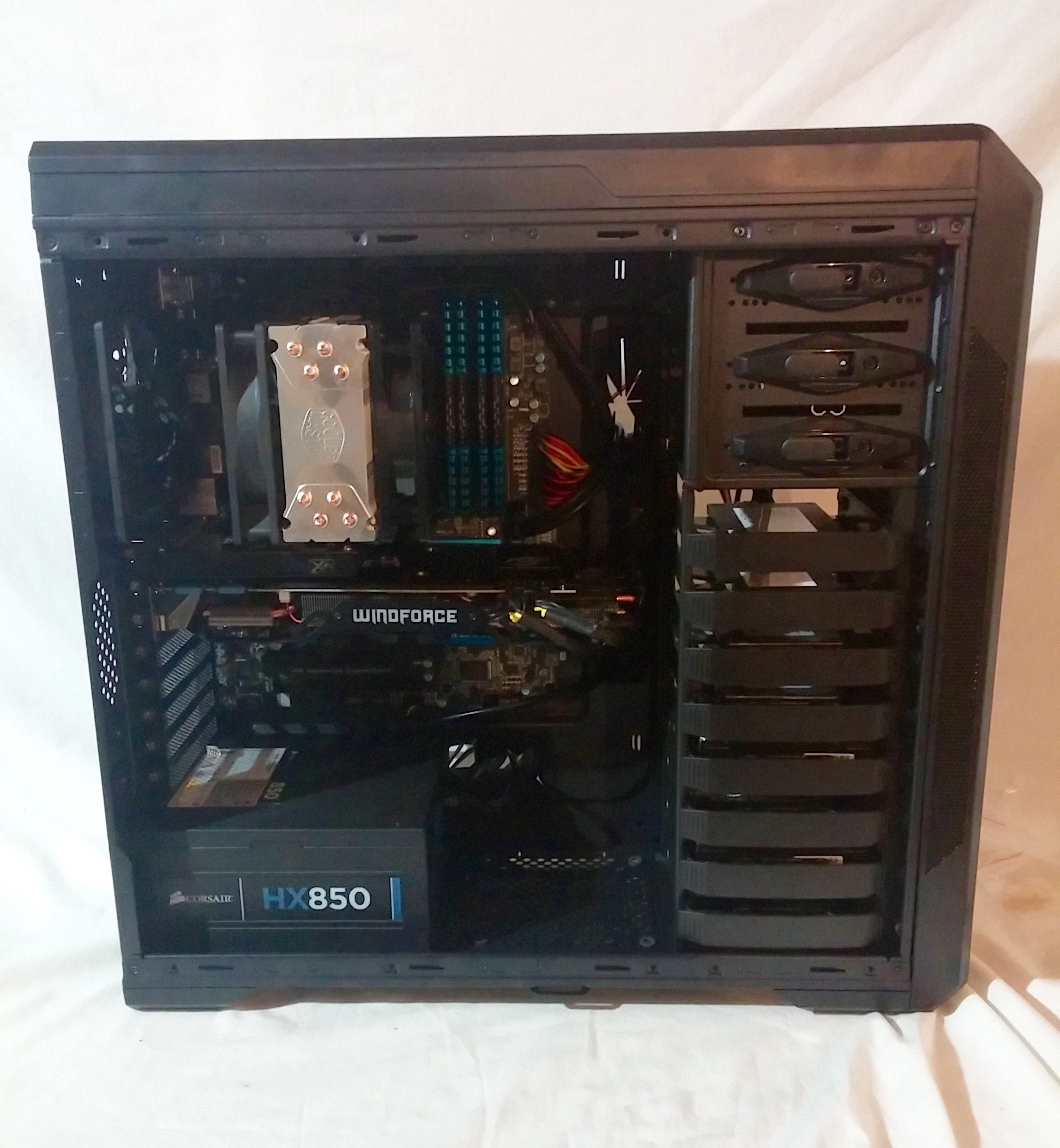 Not only that, the added features of the fan controller and the SATA drive dock add real value to this case. You get all-metal construction, you don't have to buy a separate drive dock, and you've got plenty of space to build. Throw in the fact that all the drive trays support SSDs or HDDs, and you'd be hard pressed to find better value in another mid-tower case. I would happily build in this case again, and recommend it if you're looking for a mid-tower to start your next build.
Summary: A great value Mid-Tower Case. Versatile drive cages and an integrated SATA dock, with plenty of room to build in makes it an easy recommendation.