Port Report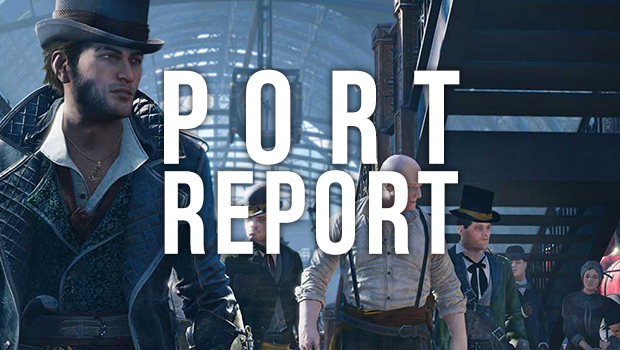 Published on November 19th, 2015 | by AjayLikesGaming
0
Port Report: Assassin's Creed Syndicate
Assassin's Creed Unity is one of the best looking games of all time, but it released with a plethora of performance issues and gamebreaking bugs. Its visuals scaled so poorly that even the lowest settings brought systems to their knees. It aimed too high and failed to accommodate the average gamer.
Assassin's Creed Syndicate scales its visuals back significantly, and promises to cater to a wide range of systems. With reports of spotty performance on the consoles, let's take a look at just how well the PC version fares.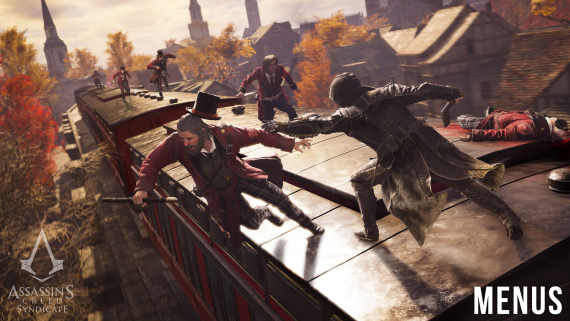 From the outset, things appear rather reasonable; full mouse control for the menus, detailed HUD customisation, separate audio sliders, and even a gore toggle for the more sensitive gamers.

As we move into the control options, things only improve. Players can adjust their camera and aim sensitivity individually, as well as control the level of mouse acceleration (with the default being 'off'). Surprisingly, Ubisoft have also catered to left-handed gamers, alongside allowing the inversion of the X and Y axis independently.
Offering up a startling level of control, players can bind different key layouts for combat, navigation, and vehicles separately. Moreover, the days of contextual inputs are almost over, as the game separates up a majority of the different moves. With the ability to also bind buttons like Mouse 4 and 5, there's very little to criticise in this area.
Somewhat surprisingly, the biggest complaint involves the freedom offered to controller users. Without even a set of prebound layouts to choose from, the lack of any freedom in this area is disappointing. Though many will find the default layout just fine, there are many disabled gamers out there who strongly rely on this feature. It would be nice to see Ubisoft include this in the future.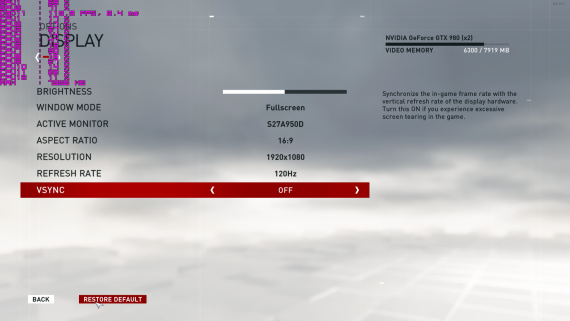 The first of the two graphics menus is "Display", which handles the various monitor-related options. In there, you can find the usual settings for resolution, VSync, refresh rate, and the various window modes.
Joining the basics is the inclusion of an "active monitor" setting – something that is seldom found in games these days. This setting allows players to change which monitor the game displays on, on the fly. This is extremely helpful for gamers who like to switch between the couch and the TV during playthroughs. As someone who often has to change their default display within Windows for this reason, this is a really wonderful inclusion.
Good job, Ubisoft!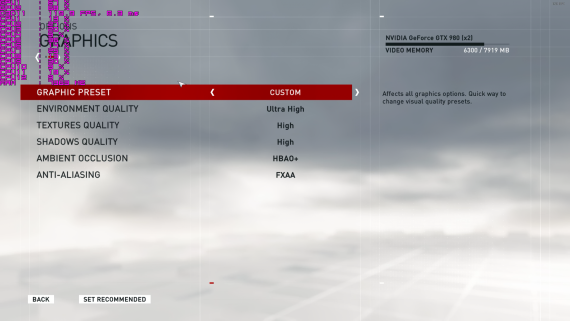 Unfortunately, the second of the two menus isn't quite as praiseworthy. Offering only five meagre options, the level of control one might expect to follow such praise just isn't there.
Some options combine multiple features under one heading, leaving no room for precise customisation.  Environment quality, for example, combines asset complexity and draw distance together, meaning those with weaker rigs are forced to reduce their visuals far more than they may have wanted. Likewise, every antialiasing method has FXAA tied to it, regardless of whether you opt for MSAA or TXAA. Considering many find FXAA very blurry, this is likely to be a source of much frustration.
On a more positive note, the inclusion of a VRAM monitor is very useful for determining which settings best suit your rig. Combined with some very detailed tool tips, this is one of the most accessible menus out there. Less tech-savvy users who didn't find the automated settings sufficient should have little issue fine-tuning their experience.
This isn't a terrible menu, by any stretch of the imagination, but the grouping of many effects leaves it as one of the weakest parts of such an impressive array of options.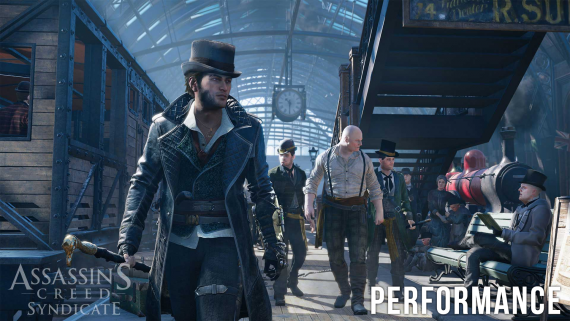 Assassin's Creed Syndicate is far less visually appealing than its predecessor; lighting, texture quality, and character models are significantly lower in this sequel. The city of London features a much sparser population than the packed streets of Paris, and the draw distance seems much reduced, even on the highest settings.
This does mean Syndicate runs rather well, however. The following benchmarks were created using the latest NVIDIA drivers as of 19/11/15, and were performed on a i7 5820K, 16GB DDR4, and 2xGTX980s.
MAX SETTINGS (MSAA2x + FXAA) – 35-45FPS (No AA – 45-60fps)
Shadows (PCSS), Ambient Occlusion (HBAO+), AA (FXAA) – 50-80FPS
Shadows (High), Ambient Occlusion (HBAO+), AA (FXAA) – 80-100FPS
Shadows (Low), Ambient Occlusion (Off), AA (FXAA) – 90-120FPS
LOWEST SETTINGS (FXAA) – 100-125FPS
From these benchmarks, it's clear to see that shadows and anti-aliasing are the most intensive settings in the game. Simply turning off antialiasing on max settings produced a good 10-20FPS difference on the whole. Likewise, turning shadows down to high increased the FPS by a further 20 frames.
Most players will want to use FXAA for the smallest footprint AA method. Avoiding PCSS (and HBAO+ for weaker rigs) will also be a must. It appears Ubisoft's maximum settings are geared towards dual card set-ups, in particular. Thankfully, on top the performance scaling well, the difference in visuals isn't huge enough to ruin the experience.
Though something is clearly awry with the antialiasing implementation, it's good to see the game scaling rather nicely. After Unity barely changed upon lowering its settings, Syndicate responds appropriately, and should hopefully provide a smooth performance on a variety of systems.
Despite reasonable performance across the board, one holdover from the console version of the game remains. Regardless of your frame rate, the game's cloth physics are locked at 30fps, meaning they stutter around like a slideshow while you wander around enjoying buttery smooth gameplay.
It's hard to believe this is an oversight on Ubisoft's part, but it's incredibly distracting, and frankly, unacceptable. Considering both of the main characters feature rather flowy outfits, this glaring issue is an eyesore in an otherwise middling port.
Assassins's Creed Syndicate's PC version is a step above Unity's, but a plethora of bizarre issues leave it a few notches under what many PC gamers will consider acceptable. Its options outside of graphics are plentiful, and its scaling is certainly nothing to ignore, but with poor AA implementation, and physics bugs plaguing the experience, it's not something I feel comfortable recommending just yet.
Ubisoft have certainly shown that they do tend to their games after release, but it's frustrating that a PC port launching almost a month after its console counterpart isn't up to the standard it should be.
Look forward to the full review coming in the next few days!