Editorial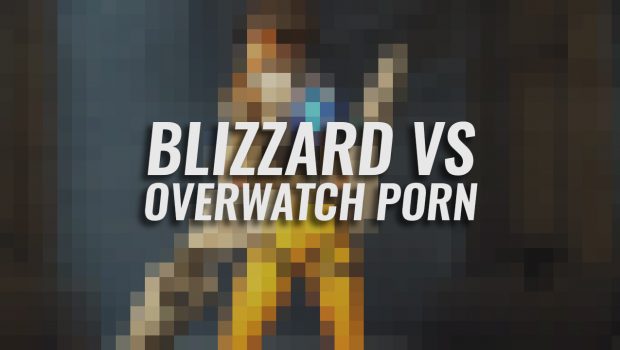 Published on June 9th, 2016 | by ryankapsar
0
Blizzard v. Overwatch Porn: Is the internet for Porn?
This week there's been a plethora of articles discussing Overwatch porn. So, obviously KBMOD has to jump on this latest meme while it's still fresh. However, we're going to take a different tact with this. We do believe that copyright owners do have a right to protect their content; however, as content creators, meme lovers, and video game lovers, copyright issues have been front and center for us. So it's important for us to take a look at this issue from that perspective, which hasn't really been discussed online anywhere. The closest is Jimiquisition, who partially gave me the idea for this topic. However, he essentially automatically agreed with Blizzard which is somewhat surprising as he's been pretty harsh in the past on DMCA.
Blizzard has had a long history with porn. I remember when the above video came out it was associated with World of Warcraft. Having never played it personally, I'm not entirely sure if it's true. However, it's 10 years old now and has been up on YouTube with about a million views. People at Blizzard have definitely seen it.
Why do I call this out? Because this is an easy case of fair use for both the models used in the cartoon and the music. The song is from a Broadway musical called Avenue Q, which used Muppet-like characters to discuss some pretty complicated social issues. It's fair use because the two together are creating something new, while still giving credit to the source material. Another reason is that it is pretty easy to side with the Copyright owner for cases where Copyright infringement involve pornography.
In fact, in my Twitch Does Creative Writing stream, we used tele-dildonics in "For Whom the Dil Dos" to show the risks of encryption back doors. The underlying rationale is a good one, trying to catch predators looking at child porn using the information that Advanced Dildonix collects from their dildos. This is a common trope to put a common question in a situation that forces the reader/viewer to grapple with something that might seem a straight forward answer in a different situation.
I think that this is the case with Overwatch porn. So what's the case for and against Fair use?
Case for Fair Use
Fair Use is a simple concept. We have the right to use culturally relevant ideas and pieces of culture in other new pieces of work. Music is the most frequent place we find fair use, as sampling is an example of fair use. Many legal cases of sampling have resulted in something of a rule where it has to be a short clip. The length is actually unclear, but has been settled, right or wrong, at less than 30 seconds of a song. This length is famously used by Girl Talk in his albums.
Satire is another area where Fair Use has a lot of room for maneuverability. South Park uses this in the extreme in the episode including both the Jonas Brothers and Mickey Mouse. It's clear, even in this short clip, that the mouse is Mickey, even using his laugh.
It's likely that Disney was not happy about this episode, since it really mocks both Disney and Mickey Mouse. This is important because Disney really protects Mickey Mouse. In fact, many detractors to the length of the US copyright regime called the 1998 extension the Mickey Mouse Protection Act, because it extended the protection of Mickey Mouse for Disney.
There are many cases like this; however, I think some of the more important ones are the porn movies that have been made that are obvious riffs on movies like Mission Impossible. Given that Star Wars has lost when suing over parody porn, it makes it pretty obvious that parody is covered by fair use, which means the biggest question about the Overwatch porn videos is "Are they parody?"
Case Against Fair Use
Some of these porns actually use Blizzard models. These models are 100% covered by copyright. They have the right to the code that created the model and they own the rights to the art and look of each character. There is no question that in the case where the models are used that Blizzard owns the underlying models. In the cases where the models were created as replications, these fall more closely to fan art or fan fiction rather than direct copies.
When looking at fan fiction, it's clear that for the most part authors ignore any other author that isn't trying to monetize their works. In the case of Twilight, the most famous fanfict writer turned it into 50 Shades of Grey. This is important because, while many of these works are in fact transformative, the current rulings argue that they cannot be commercial. It is unclear if there have been sales related to these works of fanfiction porn.
Similarly, there have been some serious contentious issues with fan made movies. Most recently, two Star Trek fan movies were sued by Paramount for copyright infringement including the Klingon language. Originally, the first movie was essentially ignored until the sequel was put on Kickstarter. The movies definitely would be transformative even though they would be using a character that appeared in The Original Series, meaning that Paramount should own the rights to that character. Furthermore, since Klingon was a language written for and by Star Trek, the language would be owned by Paramount, too (despite universal elements of language). The only reason why this didn't go through was the massive negative fan reaction and J. J. Abrams stepping in.
Fair Use: Verdict
I think that, given the information here, regardless of the negative image that Overwatch Porn may end up giving this situation, it really is covered by fair use. The work is transformative and noncommercial. Even if the porn companies serving the material are commercial entities, the creator of the work isn't trying to profit from the OW Porn. I feel sympathetic for Blizzard but there's a perverse love for these characters that the fans feel a great deal of lust for seeing.
Final Notes: I do think that even the non-commercial portion is really up for grabs in cases like this. Girl Talk has used fair use to make money and a great deal of content creators have as well. The biggest reason why most people do not pursue the defense of fair use cases is because they do not have the means to make the defense. I think it's important that we as a community of content creators support efforts to defend fair use no matter what the content. This happens to large and small content creators including H3H3, who when being sued over fair use a fellow YouTuber, Phillip DeFranco, launched a gofundme. This has resulted in a defense fund called FUPA managed by a real set of lawyers. In fact a number of YouTubers have pitched to support this, which is a fantastic way for the community to come together and protect itself.