Battlestations
Published on March 23rd, 2012 | by Bob
7
Bro Cave: Boston_Rob
This week we feature a bro cave that doubles as a "home office" from forum member Boston_Rob.  I use the term "home office" loosely because I'm jealous that he gets to "work" from home. Also can't help but notice that he might have a nice view.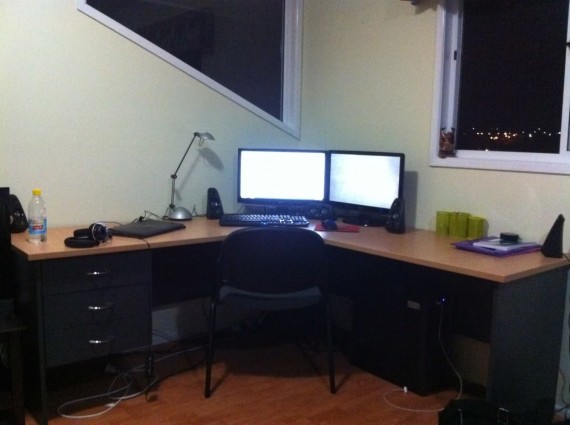 Hi team and welcome to my cave,
My history in gaming began on an old school sega. I got addicted to gaming while playing Sonic, Shane Warne Cricket and old school Mortal Kombat. I stayed on this system for quit some time. I had friends who had PCs that played Duke Nukem and I was blown away. Sadly, despite my interest in PC gaming, I wasn't able to get a PC that could play games for quit some time. For years, I played Diablo 2 on my friends PC. He had two computers and we played LAN games for days. This was probably the best times that I have had gaming and I am cutting myself waiting for Diablo 3. I recall that one day I tried to run Battlefield 2 on my parents PC – It turns out that I needed 128mb video memory to run the game and I only had 8 mb of memory and so I was denied PC gaming again. I was NOT happy.
I continued to play console for several years whilst having limited time on the PC. I went through my Halo phase, Call of Duty phase and spent years on Rugby 2009. About 2 years ago, I was able to pick up a job which allowed me to work exclusively online from home. I worked this job on a shitty laptop for about a year. After this, I convinced myself that it was a time for a major system upgrade and this brings me to my current system: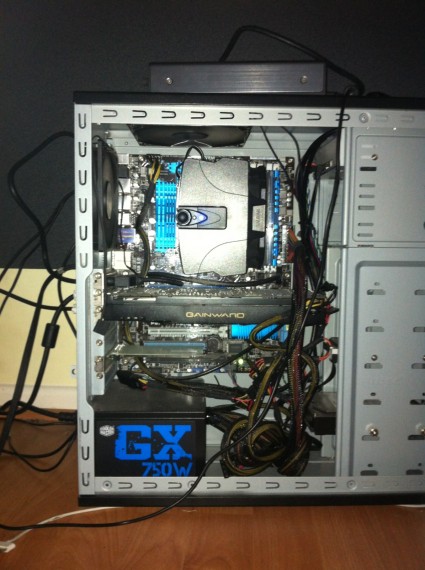 CPU: Intel i5-2500k
Mobo: Asus P67 Pro
Case: Antec 300
Ram: G Skill Ripjaws X 8GB
CPU Cooler: Zalman CNPS10X Extreme Cooler
Power Supply: CoolerMaster GX750W PSU 80+
GPU: Gainward GTX 570 'GLH'
SSD: OCZ 120G Vertex II E Series SSD
Hard Drive: Samsung 1TB Spinpoint F3 SATA II 7200RPM 32M
Monitor: LG W2253TQ-PF BLK Glossy 21.5 Wide 2ms DVI 50000:1 x 2
Wireless card: TP-Link TL-WN951N Wireless N PCI Adapter
Mouse: Razer Death Adder 
Keyboard: Razer Black Widow
Speakers: Logitech Z506 Surround Speakers 5.1
I decided to go with this build because I work over a simple flash based instant messenger system. Therefore, I required a 2500k to make sure that MS calculator worked at optimum speed (Editor note: well duh). Also I needed the GTX 570 to make sure that I got maximum FPS when I am talking to clients and reading word documents in HD (Editor note: I hate Word in SD too). Luckily for me, this setup allows me to pc game as well 
. I tried to clean up my wires in my case by running them through the openings in the back panel of the case but realized that I couldn't. I am currently playing Battlefield 3 and whatever other single player games I can get my hands on while I work (The Sims, Sim City, Hitman, Portal). I like to embrace the whole idea of 'bro cave' and so I am also rather happy with the rest of my room.  I actually spend most of my time on my second system working. I have this set up in front of a TV so I can not work whilst I not work whilst I pretend to work.
TV: Sony Bravia 40 inch TV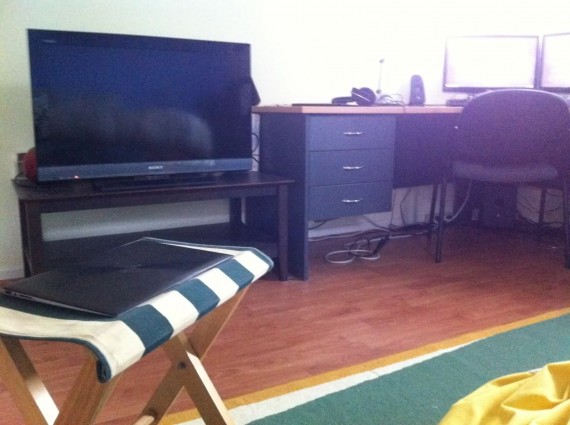 Laptop: Asus UX31 Ultrabook. i5 processor with 4gb of ram and a 120 GB SSD.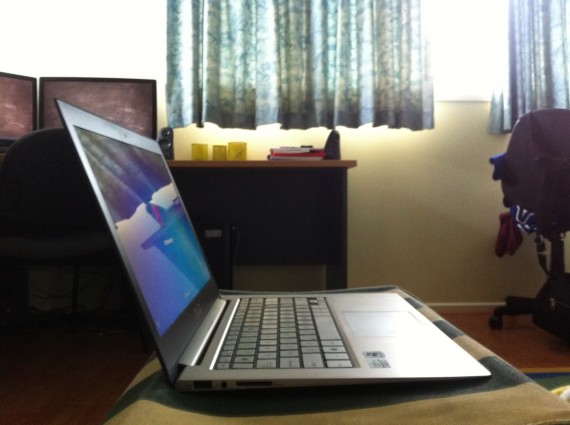 The ultrabook is great for working on the go. It was rather expensive but it has a long battery life and it allows me to work all over the place. In terms of upgrading my cave, I would love to get more beans for my bean bag. I have this in front of my TV and that shit is getting uncomfortable. Also, I would love to grab a better case so that I can clean up my wires. I don't plan on any major upgrades in a while but an extra 8gb of ram would be nice to make sure that I can run Facebook, MS Calculator and Word at the same time.
Cheers buds.