Battlestations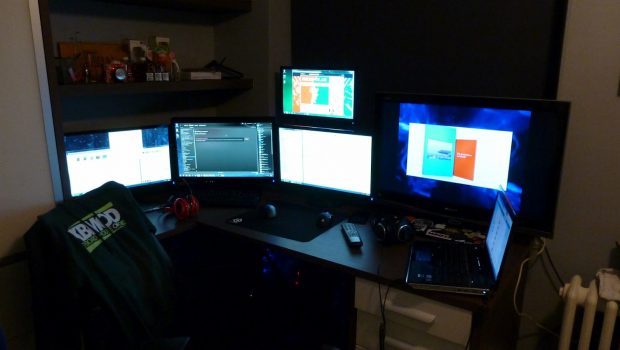 Published on June 1st, 2012 | by Brandon
13
Bro Cave: @RedishBlue_
This week, we feature a lustworthy cave from our good friend Sean a.k.a. RedishBlue. We featured his bro cave at school way back last year, but he's re-done his setup while at home for the summer. He has more screens than he knows what to do with, and he's even set up an old family computer as a dedicated streaming PC!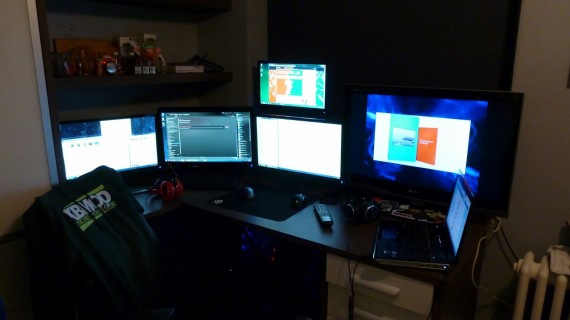 Hey guys, this is my second submission to the Bro Cave section and hopefully you guys can see the improvements I've made. When I submitted my previous bro cave, I was at university, but now that I'm home for the summer, I thought I would show off my setup again while it is still nice and clean. You can find my previous gaming history in my last post, but since then, not much has changed. I play a lot of Tribes Ascend these days. I tried hopping on the Diablo III bandwagon, but it just doesn't grab me the way Tribes does. I'm also thinking about trying the DayZ mod that I'm hearing so much about, and I'm pretty excited for the Shootmania game that the guys talked about on this week's podcast.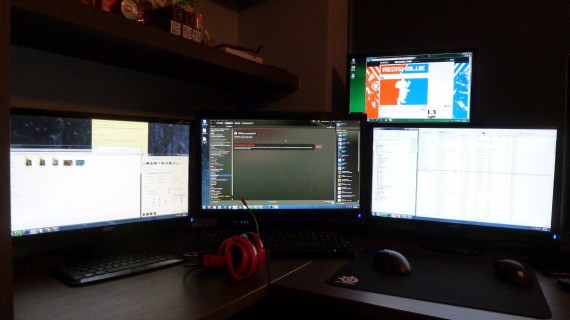 Since the last time you saw my setup, I have added a bit more hardware to my collection. The only real addition that you can see here is the fourth monitor that is accompanied by my family's old Acer desktop. I have started streaming Tribes on my Twitch channel, but because the game doesn't play very well with streaming, I invested in a capture card. The old Acer is pretty lacking in the performance department, so I am going to try and build a streaming rig at some point, but it gets the job done for now. As you can see below, the side panel always stays off because the PCI slots are only half-height, while the capture card is full-height.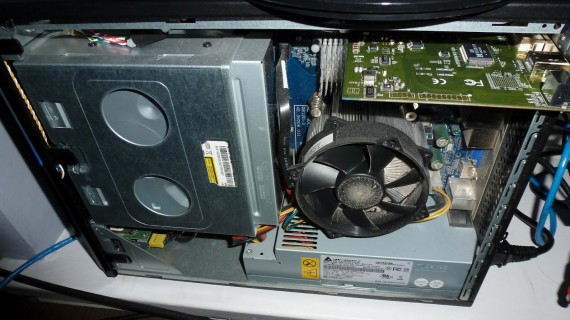 Hidden behind my screens and TV is an Xbox 360 and a pair of Bose speakers that are powered by an amp under my desk. The second keyboard on the left and the extra mouse on the right are for the Acer. I have a pair of Siberia V2s as my gaming headset and some AKG 240 MK IIs for when I'm listening to music or watching a movie. The center monitor is a 23" 120Hz Acer monitor and the two outer ones are just normal 23" 1080p monitors.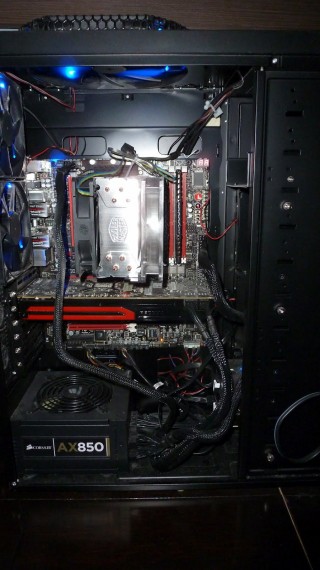 Main rig specs:
CPU: i7-2600k @ 4.6GHz
CPU Cooler: Hyper 212+
RAM: 8 GB @ 1600 Mhz
GPU: Radeon 7970
Mobo: Asus Maximus Extreme IV
HDD: 1TB WD Caviar Black
HDD2: 640GB WD Caviar Blue
PSU: Corsair AX850
Case: Antec 1200
KB: Das Keyboard
M: Logitech G500
The laptop is an HP DV6 from about 3 years ago, and the TV is a 32″ Sharp Aquos.