Battlestations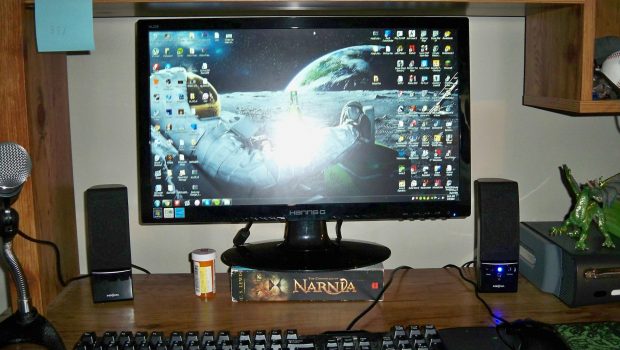 Published on August 16th, 2013 | by KBMOD Community
0
Bro Cave: JefflaFlavor
This weeks Bro Cave comes to us from forum member JefflaFlavor. After a long and storied history of Nintendo hand helds and Xbox 360 gaming, he has finally joined the glorious PC master race! With a none too shabby 3570k and a 660ti GPU, he's ready to game as Based God truly intended it, with a keyboard and mouse.
Introduction & Background
I have lurked long enough. Time for the cave! It all started with a Gameboy Advance… I got it when I was 5 or 6 and played most of the classics such as Pokemon, Yu-Gi-Oh, Zelda, Final Fantasy etc. After the GBA, I moved on the the ever so based at the time, Nintendo DS. With its fancy 2 screens and touch screen, this thing was the shit in its prime. The one I had was indestructible, it was a fucking brick. I dropped it countless times and it still works to this day. I just have to remember where the charger is. My DS gaming consisted of more Pokemon and a demo Metroid Prime that came with the handheld. Along with the GBA and DS, I also had the ever so famous Gamecube. I played Super Smash Bros Melee like it was my job. Although I never really got decent at the game until around last year when I started to learn the tricks behind dodging and combos etc. Anyway.. I also played Crash Tag Team Racing with my family. We would have "Family Game Night" and this night consisted of the 4 of us playing CTTR for like 3 hours…
Then I was introduced to Runescape… I was somewhere between the ages of 8-10 at this time. And my god… I was terrible at the game. I never really took the time to learn it. I would just kill rock crabs over and over and over again. Ended getting to a combat level of aaround 70 and I still had no clue what I was doing. I stopped playing Runescape when the Xbox 360 came out. I got one the Christmas after it was released. This is where I started playing Call of Duty and Gears of War. Call of Duty became an obsession. I was one of the squeaking 12 year old kids who just so happened to be better than the raging collage freshman. But lets skip ahead a few years to when the original Black Ops came out. That's when I wanted a laptop. I had played Minecraft a bunch of times with friends on my shitty family computer at like 10 fps. Minecraft was the reason I got a laptop.
Laptop Specs!
AMD quad core at 2.1 Ghz
4 gigs ram
320 gig HDD
ATI mobility Radeon 4250 (worst ever)
14″ or 15″ screen
And Minecraft was all I played for nearly a year. Imagine a straight year of Minecraft. Somehow I made it out alive. After that I started play a few other games on the source engine. Like TF2, Portal, Portal 2, CSGO, etc. The Source engine was awesome. It was the engine that my  laptop could run. So now we move to the Christmas of 2012. That Cyber Monday was probably one of the best days of my life. Props to Pcpartpicker and the KBMOD guys for giving me a starting point for a build. So I order all my parts. and I that bring us to now. Which is…
The Specs
CPU: Intel(R) Core(TM) i5-3570 CPU @ 3.40GHz (using stock fan because im lazy)
RAM: 8 Gigabytes of Corsair Vengeance
GPU: EVGA Superclocked 660ti with 3 Gigs of Vram
MoBo: ASRock Z77 Extreme3 LGA 1155 Intel Z77
PCU: Thermaltake Toughpower 575Watt
HDD: 1TB Western Digital Caviar Black 7200rpm
The Peripherals
Mouse: Sharkoon Fireglider Black (I think it goes to 5200 DPI)
Keyboard: Basic Dell keyboard… (Next upgrade)
Mic: Old Rock Band mic (These are fucking QUALITY for what they are.)
Headset: Turtle Beach X1
Monitor: Hanns-G 21.5in 1920×1080
Speakers: Insignia Surround sound speakers from Best Buy
Chair: Some comfy ass leather chair my stepfather purchased