Hardware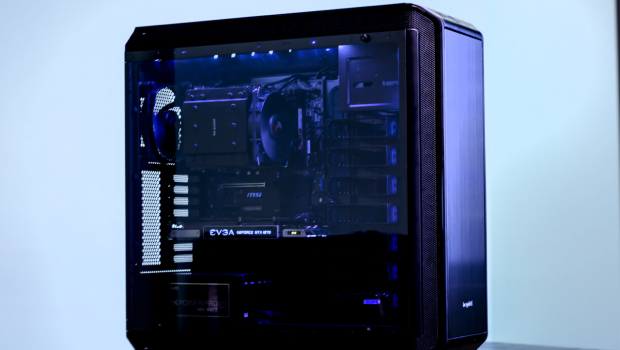 Published on October 16th, 2016 | by Bob
1
Win the Ultimate Silent PC from be quiet! and KBMOD!
This year you have the opportunity to make a huge difference in the care and comfort of kids at Children's Miracle Network Hospitals across the country, and in the process you could get a shot at winning a one-of-a-kind gaming PC built by our very own SanguisAngelus.
CPU: Intel Core i5-6600K 3.5GHz Quad-Core Processor (donated by Zack AKA Zumar)
CPU Cooler: be quiet! Dark Rock Pro 3 67.8 CFM Fluid Dynamic Bearing CPU Cooler (donated by be quiet!)
Motherboard: MSI Z170A SLI PLUS ATX LGA1151 Motherboard (donated by Kapsar)
Memory: G.Skill Ripjaws Series 16GB (4 x 4GB) DDR4-2400 Memory (donated by Bob)
Storage: Sandisk X400 1TB 2.5″ Solid State Drive (donated by Tim)
Storage: 2TB Seagate Barracuda 7200RPM Hard Disk Drive (donated by Hex)
Video Card: EVGA GeForce GTX 1070 8GB SC Gaming ACX 3.0 Video Card (funds pooled by Kapsar and Bob's family)
Case: be quiet! DARK BASE PRO 900 | BLACK ATX Full Tower Case (donated by be quiet!)
Power Supply: be quiet! DARK POWER PRO 11 850W 80+ Platinum Certified Semi-Modular ATX Power Supply (donated by be quiet!)
Special thanks to be quiet!, Zack AKA Zumar, Kapsar, Tim, Hex, Sanguis, the Patterson Family, and the Post Family for helping make this possible!