Editorial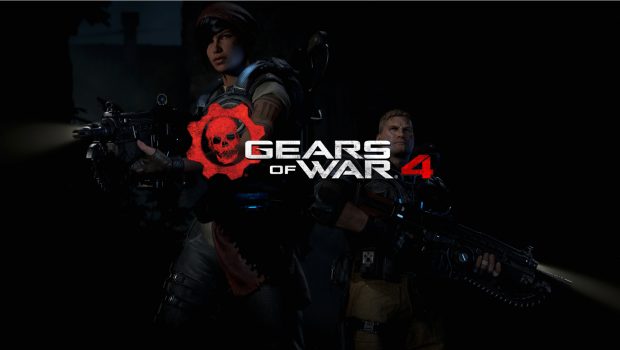 Published on January 19th, 2017 | by Suros_Six
0
In Case You Missed It: Gears of War 4
Lots of large games released on PC during 2016, we had No Man's Sky, The Division, Battlefield 1, and Titanfall 2 to name a few. Some better than others of course, but that's neither here nor there. With so many large titles coming out one after another, I had to make some decisions based on income and time. Gears of War 4 was a game that I was really quick to brush aside when choosing which games I'd purchase and which ones I'd leave behind. I've always been a fan of the series, but nothing in their E3 demonstration or trailers grabbed me. This coupled with my skepticism of ports for Microsoft games made it easy for me to toss it aside.
Early into this year I found myself in need of a new game to play, and while I did ignore Gears of War 4 for the most part, it did linger on the outer edge of my radar. In the mood for a shooter, I hopped onto the dreaded Microsoft Store and picked it up. Since I bought it a few months after release, any issues it may have had at launch seems to have been fixed since I personally haven't had any. The game runs marvelously and there are many setting to tweak to get it to do so if you're running it on older hardware.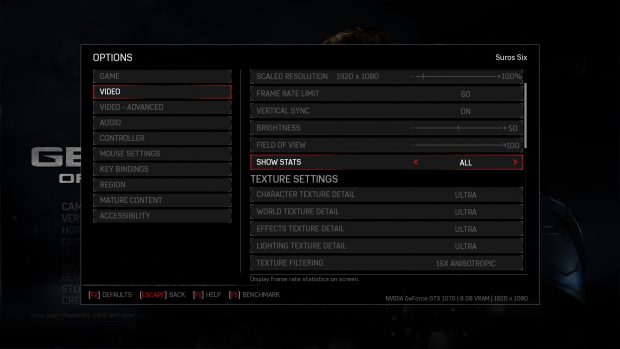 I'm lucky enough to be rocking an Nvidia GTX 1070, and my FPS hasn't strayed from 60 with everything on Ultra at 1080p, I haven't noticed any graphical issues, and load times are fine for the most part. The only time they feel a bit much is when I'm playing Horde mode and I have people in my squad that are playing on Xbox One, which is bound to happen thanks to the implementation of crossplay. Not that this is really a problem, waiting a minute and a half isn't that bad, and crossplay makes sure that there are always people to play with. Crossplay is only in effect when searching for Horde matches though, and you'll only be playing against PC players in Versus mode unless something changes. The Coalition, the dev team that worked on this title, have tested crossplay in versus mode but it seems they haven't decided to keep it around.
Despite not being able to match with players on Xbox One when playing Versus mode, I was still able to find matches in the Social playlist in an acceptable amount of time. I haven't bothered to branch out into other playlists yet since Horde is really what I enjoy when playing this game. While this isn't a review, I do feel inclined to say that the story was pretty lackluster in terms of the writing. It was an enjoyable experience, but not much more than that. The game does look rather pretty though, and the gameplay is as fun as ever. It's Gears of War with new weapons and enemies, not much more to say than that.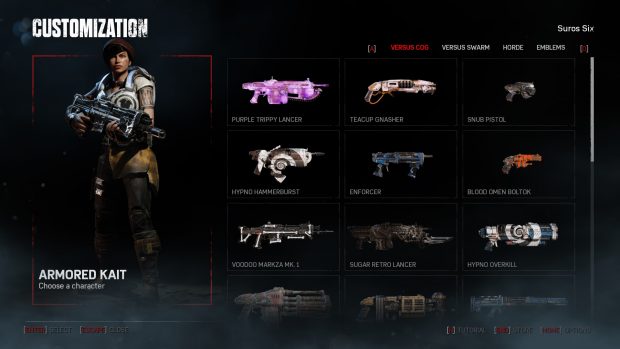 There are lots of things to customize in terms of character personalization, and they've even added classes to change up Horde mode. They have also added class-specific skills and bounties to complete during your matches. Unfortunately, there are micro-transactions that go beyond maps. Namely a 'case' system like most games do nowadays. You can get bounties, class skills, and skins out of these cases. Cases can be purchased with real money, or in-game currency that is earned by playing multiplayer matches. I personally don't feel pressured at all to buy these cases, and I earn plenty of in-game money to purchase a few if I really want to open some.
If you missed out on Gears of War 4, I'd definitely recommend it on a sale. I'm not saying it isn't worth 60 dollars, but it would definitely be more attractive if it was a bit cheaper. The game is beautiful visually, the gameplay is lots of fun and provides a plethora of reasons to keep playing, but the story could use some work. I know I'll be coming back to its multiplayer regularly, and I believe plenty of others will too.