free to play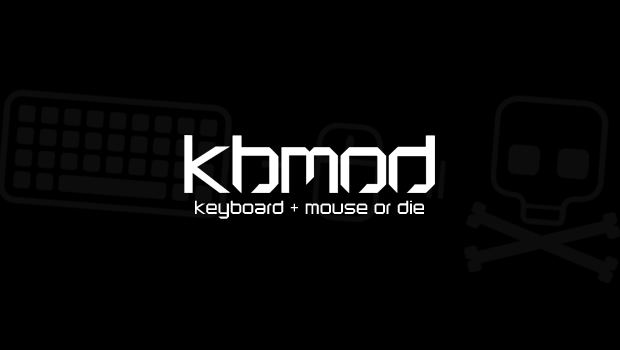 Published on February 2nd, 2012 | by Brandon
7
Hi-Rez Studios Overhauls Tribes: Ascend with Latest Update

At one point late last year, Tribes: Ascend was receiving a new patch every week. However, this pattern didn't last into the new year, as the game's last update came nearly a month ago. Hi-Rez has kept mum during recent weeks, hinting only that something significant was coming. Today, we learned that they weren't kidding–this patch is such a big deal that I'm putting this article together while I'm on vacation.
In a press release today, Hi-Rez Studios announced that the class system in Tribes: Ascend has essentially received a complete overhaul:
Three classes (Jumper, Ranger, and Scrambler) have been removed, but their weapons and gear are now available on other classes. Also, the Pathfinder, Soldier, and Juggernaut classes are now free for everyone, right off the bat.
Class-specific skill trees have been scrapped and replaced by an upgrade system that instead focuses on weapons and armor.
Each class has a default loadout for its armor, primary/secondary weapon, belt item, pack, and two perk slots. However, players can now use XP or Gold to unlock alternate items for each slot.
Perks have been overhauled, and there are now 18 perks in the game–9 available in the first perk slot and 9 others available in the second perk slot. As with class item unlocks, perks can be now unlocked using XP or Gold. Additionally, perks now have upgrades that can be purchased with XP to provide increased benefits and additional functionality.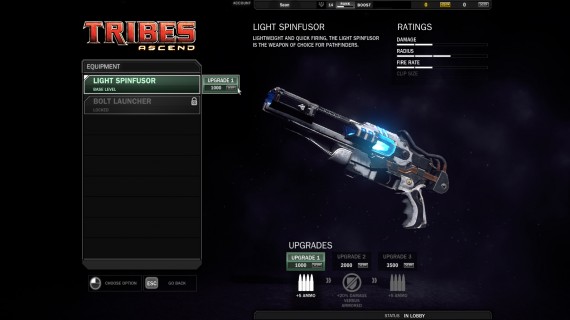 Hi-Rez realizes that these changes are substantial and will require players to re-think their in-game purchases. To that end, all in-game purchases made so far are being refunded. From the patch notes:
Due to the depth and breadth of changes in this update, users will start fresh in the game with no items purchased. Gold and XP will be refunded based on previously earned XP, Tokens and Gold in the game (such that your time in the game thus far is rewarded). This will allow each user to choose how to allocate their earnings optimally under the new system without being constrained by your previously made choices.
In an effort to streamline the purchasing of items and reduce confusion, Tokens have also been removed from the game, and all previously earned Tokens have been converted into XP.
To complement the new new loadout customization, Hi-Rez has added 16 new weapons to the game:
Light Assault Rifle (Pathfinder Secondary)
Explosive Nitron (Pathfinder Belt)
Phase Rifle (Sentinel Primary)
Falcon Auto-Pistol (Sentinel Secondary)
T5 Grenade (Sentinel Belt)
Stealth Spinfusor (Infiltrator Primary)
Prism Mines (Infiltrator Belt)
Thumper (Large version) (Technician Primary)
Sparrow Pistol (Technician Secondary)
Motion Sensor (Technician Belt)
MIRV Launcher (Juggernaut Primary)
X1 LMG (Juggernaut Secondary)
Disk Toss (Juggernaut Belt)
Heavy Bolt Launcher (Doombringer Primary)
Mines (Doombringer Belt)
Nova Colt (Brute Secondary)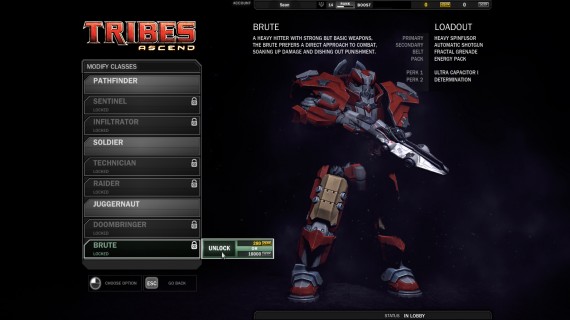 Last but not least, Hi-Rez has implemented a brand new UI (pictured above), added several new Rabbit maps, and added an early iteration of a new Crossfire TDM map.
While these major changes to the class and skill system will no doubt have a dramatic effect on gameplay, equally important are the host of balance issues and bugs that are addressed in this patch. Most exciting to yours truly is a much-needed nerf to the unstoppable death machine known as the Shrike. As of this patch, the Shrike's weapon damage has been reduced by 18%, its health has been reduced by 33%, and its energy recharge rate and maximum energy have been decreased as well. Tribes fans will no doubt want to check out the full patch notes for the complete rundown.
Hi-Rez rolled out the patch earlier today, so your download should start automatically when you open the game. If you don't have a beta key, you can still grab one off of the official Tribes: Ascend Facebook page.
This patch undoubtedly brings about the biggest core changes to Tribes: Ascend that we've seen to date, and the new customizable loadouts should please many Tribes veterans who felt that Hi-Rez was headed down a path that strayed too far from the original titles. To me, this patch looks overwhelmingly positive and should stand to make a great game even better. What do you think? Is Hi-Rez taking the game in the right direction with these sweeping changes?
Images courtesy of Hi-Rez Studios