Events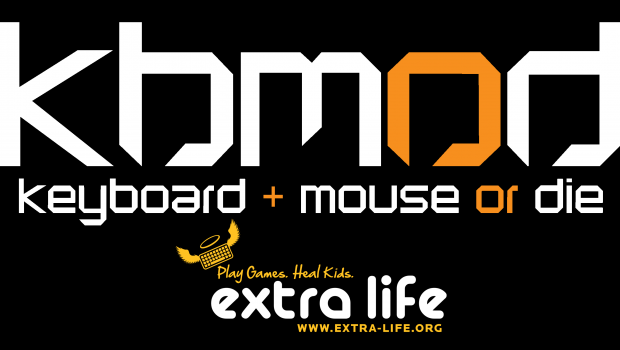 Published on November 19th, 2013 | by Jonathan Beck
0
Extra Life 2013: Thank You KBMOD Community
If you somehow missed it, the KBMOD team has wrapped our largest and most successful year participating in Extra Life. When we started planning the event this year, we looked back at the previous events and set a goal of $100,000, which we felt was ambitious but obtainable. If you would have told us how much money would have been raised in the end, none of us would have believed you. Once again, you guys in the community have proven we can do wonderful things together, raising a staggering total of over $186,600 as of today.
The community is of course the biggest part of raising all this money for charity. You donated the incredible amount above through your own kindness and generosity. This was not KBMOD's staff or our various "Internet Famous" friends. This is you. You all came together to raise money for an amazing cause. You proved we can use gaming for good and show it in a positive light.  To every member of the community, we thank you from the bottom of our hearts. You all are truly amazing.
Now on to the specifics: Big thanks to all those who streamed on behalf of our team including GassyMexican, lolrenaynay, EatMyDiction1, AllShamNoWow, GoldGloveTV, ChilledChaos, Aureylian, CaptainSparklez, Juicetra, VivaLaTegan, IncredibleOrb, and all their respective fans.
Thank you to our own Bob Post and his wife Nicole for letting us take over their home for the event, and to the wizard himself, Sean, for figuring out how the heck we could make 16 PCs all stream seamlessly out to Twitch.  An enormous thanks to Brandon and Tim (a.k.a. Stafunoob) for the time they dedicated to reading donations and tracking prizes.
Now on to the sponsors! We cannot thank Newegg and our hardware sponsors Intel, ASUS, EVGA, NZXT, Seagate, G.Skill, and Microsoft enough for their generous donation of the gaming PCs we gave away. Thanks to Paul, Steve, and the entire Newegg TV team, who invited us out to participate in the build contest. Thank you to Chase from Twitch for the PR prize packs, Philip Carmichael of PCPartPicker for his prizes, and Nic aka Tetra Ninja for his contributions. Thank you to Apogee Software, Interceptor Entertainment, Hi-Rez Studios, Ackk Studios, and Green Man Gaming for their game donations. Thank you to GUNNAR Optiks for their donations. Thank you to ORIGIN PC for the computer and gear donations to CaptainSparklez for his event. Last but not least, thank you to all the generous members of the community who gave us more game codes than we could use to help make prizes possible.
Finally, thank you Jeromy 'Doc' Adams and the entire Extra Life team, who went through a rollercoaster of a weekend and came out with nearly $4 million raised on the other side.
Once again, from everyone here at KBMOD, thank you all. This is our most successful event ever, and we are already in the early stages of planning for Extra Life 2014. We cannot wait to do it all again!