Reviews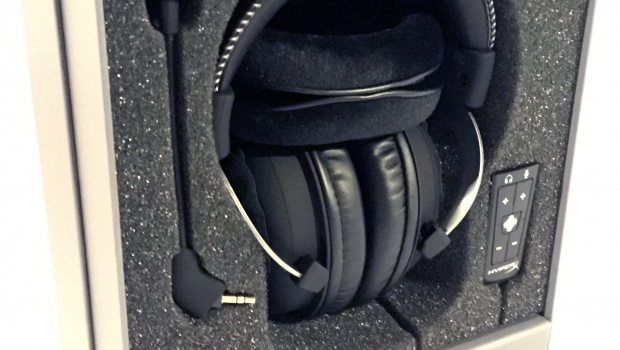 Published on May 6th, 2015 | by Bob
4
Review – Kingston HyperX Cloud II
Disclaimer: A review sample of this product was provided by Kingston Product Name: Kingston HyperX Cloud II Gaming Headset MSRP: $149 Specifications
Headset
Microphone
Transducer type: dynamic Ø 53mm with neodynium magnets
Operating principle: closed
Frequency response: 15Hz–25,000 Hz
Nominal impedance: 60 Ω per system
Nominal SPL: 98±3dB
T.H.D.: < 2%
Power handling capacity: 150mW
Sound coupling to the ear: circumaural
Ambient noise attenuation: approx. 20 dBa
Headband pressure: 5N
Weight: 320g
Weight with microphone and cable: 350g
Cable length and type: 1m + 2m extension
Connection: single mini stereo jack plug (3.5 mm)
Transducer type: condenser (back electret)
Operating principle: pressure gradient
Polar pattern: cardioid
Power supply: AB powering
Supply voltage: 2V
Current consumption: max 0.5 mA
Nominal impedance: ≤2.2 kΩ
Open circuit voltage: at f = 1 kHz: 20 mV / Pa
Frequency response: 50–18,000 Hz
THD: 2% at f = 1 kHz
Max. SPL: 105dB SPL (THD≤1.0% at 1 KHz)
Microphone output: -39±3dB
Length mic boom: 150mm (include gooseneck)
Capsule diameter: Ø6
Connection: single mini stereo jack plug (3.5mm)
First Impressions
I am not an audiophile – yes, we have a casual reviewing a headset – yes, it's on purpose.  Sure, there are plenty of you in our audience who are in the audiophile/near-audiophile category, but allow me to appeal to the masses. I've been hunting for a high-quality-yet-within-reason headset for quite a while now, and I'm literally surrounded by audio nerds. That's not to say their recommendations weren't excellent, but I just wanted a reasonably priced headset that would be light, provide above-average audio quality, and would rest comfortably around my ears rather than on them like my daily driver SteelSeries Siberia V2's. All due respect to the Siberias, but they were wearing my patience (and comfort level) thin. I don't think that I have large ears by any stretch, but the Siberias began to cause unwanted fatigue during lengthy sessions in front of my PC.
During my time at PAX East, I had the pleasure of meeting a few of the fine folks from HyperX and subsequently was offered the opportunity to review their new Cloud II headset – I was told it would address all of my concerns. They were clearly excited about it, and after playing with them over the last couple of weeks or so, I can absolutely see why.
Let's start with that packaging: I honestly can't think of the last product that I've unboxed that came in this kind of premium packaging. The foam is similar to the type that you would find in permanent travel cases for audio equipment. It's carved in a way that the Cloud II headset rests comfortably inside. The bundled accessories – detachable boom mic, USB sound card with 7.1 virtual surround sound, and 3.5mm adapter rest in the same foam surrounding it. In the void made by the headset, HyperX was kind enough to include breathable velour ear pads which I prefer. As a very welcome bonus, HyperX included a heavy duty nylon padded travel bag with a drawstring and a velcro-secured pouch. 

The lid of the box even includes a welcome to the HyperX Team from Anders Willumsen, HyperX General Manager. In my opinion, it's a nice touch to round out one of the best "unboxing" experiences that I've ever had.
Aesthetics
The Cloud II sports an understated and utilitarian design that's more similar to studio-style headphones than most marketed in the gaming space, thankfully. It's a headset that doesn't look completely out of place when away from your PC, perhaps attached to your mobile device on a flight (oh by the way they included an airplane adapter). My sample was of the black-and-gunmetal variety, while there is a black-and-red themed version available as well. I had seen a limited edition white and pink version, which you may or may not be able to locate – at time of writing it doesn't appear to be available on any of the usual retailers that I would use.
The Cloud II is substantial and sturdy, but not in an over-burdened way. It's light, yet retains structural integrity thanks to the metal forks that hold the ear cups, and secure to the headband. The band provides enough lateral pressure to hold the Cloud II securely to your head in a gentle hug that I found to be comfortable. Quite frankly, I didn't want to take them off. For those who travel frequently, these are substantial enough to travel well without fear of damage particularly if secured in the provided travel bag. Overall this is a well engineered and well built headset – from the materials selected for the Cloud II, it's obvious that this was a passion project for the fine folks at HyperX.

Functionality & Performance
As mentioned above, these headphones are comfortable. REALLY comfortable. The first night I wore them, I think  I left them on for about 4 hours in several different modalities – connected to my PC, to a tablet, and to my iPhone. That's not something that I've had the luxury of in the past – I'd have to remove my headset for a good 20 minutes after around an hour of use. The Cloud II's on the other hand made me want to leave them on.
I may not necessarily be an audiophile, though I do have a bit of a musical background and can appreciate high quality sound. Some headsets provide too much treble, some too much bass – the Razer Carcharias were a prime example of the latter – much of the treble and mids would be muddled by the preference to bass. They certainly provided the "boom" but their accuracy were lower than I had hoped for. These cans, however, are right up there with the best headsets that I've tried. I would have serious difficulty pointing out the difference between these, and some exponentially-more-expensive headsets. I'd like to think it's a testament to the quality and value of the Cloud II's rather than my aging ears. All I can tell you definitively is that I prefer their sound in games, movies, and music over similarly priced headsets. The closed soundstage is something that I am used to from previous headsets, but for those who prefer an open sound, the Cloud II can possibly emulate that with its virtual 7.1 surround USB sound card. I have to admit, it changes the presence in a meaningful way unlike other virtual surround products I've tested.
Being in a rather noisy environment myself, I can greatly appreciate the 20 dBa of ambient noise attenuation – these provide an excellent seal around your ears (regardless of which ear cushions you use) and filter out plenty of ambient noise pollution.
One of my favorite aspects of the Cloud II is that it's basically a modular gaming headset. You can choose whether or not you want to use the boom mic, or the USB sound card. I've used it with, and without each. I have a Blue Yeti connected to my desktop, and personally don't have a need for the boom mic. I've also used it plenty with my iPhone, and this is where I actually appreciate the relatively short 1 meter 3.5mm cable attached to the headset – it's just long enough to make it to your pocket, but not so long that it gets in the way.

Value
At time of writing, the Cloud II headset is currently $99 on Amazon – 33% off of MSRP – which in my opinion is a wonderful proposition. Even at the MSRP of $149, I see plenty of value in the Cloud II. Quite frankly I can't find a place that they cut enough corners on the product and packaging that this price is sustainable. Maybe their competition just uses inferior materials while remaining in the price category – I don't know. What I can tell you, is that you've got materials with a premium fit and finish assembled in to a solid headset.
For the Future
Normally I reserve this section of a review for my personal recommendations to improve a product. In this particular instance, I happen to be mostly at a loss. The Cloud II is pretty much everything I was hoping it would be. Other reviews might knock the Virtual 7.1 Surround Sound functionality provided by the included USB sound card – I found the faux positional audio to actually be quite good, and it made the sound stage sound feel more open. I can't even complain about the included boom mic – it works admirably in every modality of communication – no, you're not going to record a hit single on it, but it's clear and has just the right amount of sensitivity.
Final Thoughts
They're great. Seriously. I have a tremendously difficult time giving anything a perfect score, and this might be about as close as I'm going to get in a hardware review. I'm thoroughly impressed with the effort that the HyperX team put in to the Cloud II's, and look forward to what they'll be working on in the future. Fair warning, guys, you set a pretty high bar for yourself.
Summary: The right gaming headset at $100. Plenty of features and options. Great sound with a focus on comfort.