Events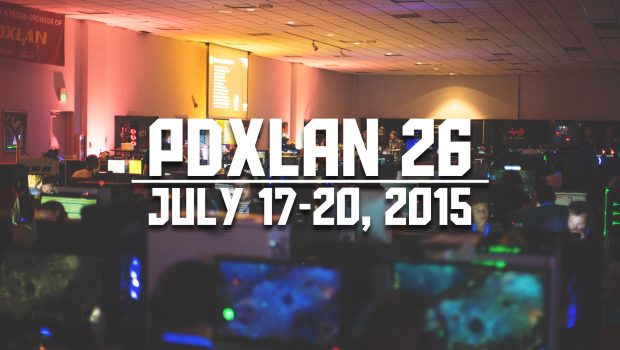 Published on July 21st, 2015 | by hutchison15
5
PDXLAN 26 – Experiencing The Pacific Northwest's Largest LAN Party
Battle cries fill the hall. Bright, blinking lights illuminate the ceiling and walls, and a stale, sweaty scent greets my nose as I go to stand in line. I hold my backpack, monitor, and a form signing my life away as I wait to enter one of the most anticipated gaming events in the Pacific Northwest – PDXLAN 26. PDXLAN hosts multiple 600 person, bring-your-own-computer, LAN parties throughout the year. Gamers, hardware modders, and other PC enthusiasts come in from all around the nation to attend these events, and I went to find out why.
If you've never been to a LAN party before, it's pretty simple. You buy a seat, bring your computer, peripherals, and all the necessary cables, and you set up at your registered space. But it's what happens during the LAN that makes it special.
PDXLAN, in particular, boasts a large staff, and has the power to do just about everything a LAN party of this scale could offer. If you are attending, you could watch presentations from industry professionals, participate in one of the many contests and tournaments, or just sit back and do your own thing for four days straight.
I wanted to participate in the CS:GO Arms Race tournament, as that is a game I regularly play and I thought I might have a shot at winning. At the very least, it would be pretty fun with that many people all in a single local server. The only problem was that I couldn't easily find the information on how to enter. The PDXLAN online registration system had tournaments listed and advertised, but I couldn't find anywhere to register. They had one game tournament listed online, but no info on where to find the other games. Luckily I had a friend nearby that has been a regular attendee to let me know that they had a local LAN space in which I had to create an account, find the tournament, and then register for it; at which point I would then need to go up to the staff section with other competitors to finalize my place in the tourney at a specified time.
Friends in my group participated in Heroes of the Storm, Gangbeasts, and Grey Goo tournaments; one friend won and ended up walking away with a GTX 960! Prizes and sponsors had a huge presence at PDXLAN, the Grey Goo tournament had tons of hardware to give to their players (for instance, a Titan X went to the 1st place winner). It seemed unreal how many sponsors they got.
With 600 other people though, your odds are against you for prizes – but that isn't the reason to attend PDXLAN. What made PDXLAN worth going to was the friendly crowd and modding community. I spent a lot of my time checking out everyone's gear, and meeting a bunch of new people in the process. Some people were professional modders, and some just did a little modding on the side. No computer was alike, and everyone had their own story for each, making every visit unique and intriguing.
There were a few hiccups here and there (like the AC going out for a day in our end of the building), but overall it was an extraordinary experience that I recommend everyone to try at least once. This kind of large-scale, convention style LAN party is definitely an unforgettable time. The registration for PDXLAN's 27th LAN taking place in February opened yesterday, and only has 42 seats left. Get your seat now, and you might be seeing me there!