Community Updates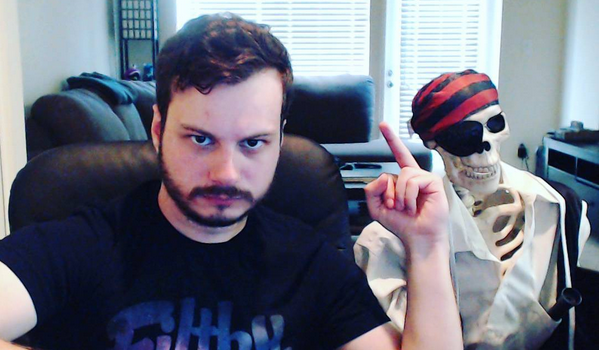 Published on October 15th, 2015 | by BlackLiteAttack
3
I'm Not Doing the Podcast Anymore, Here's Why.
Resident raccoon and friend BlackLightAttack has to tell you guys some things.
It me. BLA.
You may have noticed I've been absent from the podcast lately. I wish I'd made an official announcement before I started disappearing, but I'm a world-class procrastinator.
Which, come to think of it, is a trait I'd kind of forgotten. Many of you probably  remember that about a year and a half ago I was hired to work at Twitch, on the Partnerships team with John and Brandon. I know the word "passion" gets thrown around a lot in this industry, but it's for good reasons – and Twitch was where I found mine. I might not be a perfect worker; I still occasionally find myself putting things on the backburner for a day too long or forgetting to respond to an email. Overall, though, my tendency toward procrastination is improving rapidly at my job, which, let's face it, is the main focus of my life right now.
Unfortunately, my procrastination in all other aspects of life haven't improved so much. This is best evidenced by the long-standing pile of unattended mail on my desk at which, as I type this sentence, I am staring.
Yeah, yeah, so I procrastinate. What's my point? Basically, I love my job, and my professional life, which in the past was barely spared a thought, suddenly claims a huge portion of my time and focus. Everybody has a certain amount of time in every day to do the stuff they have to do, to function, and ideally, to be happy. When I joined KBMOD however many years ago, my day was comprised of my job, my friends, streaming, sleeping, KBMOD, and all the other little bits and pieces of life that take time.
Now, working at Twitch, the job is a much bigger slice of that pie. I have a lot of really incredible friends in the SF Bay Area and lots of things to do with them, unlike back home where I lived in a boring town with only a small handful of (also incredible) friends. So friends are taking quite a larger share as well.  Something has to give, right?
The decision to stop podcasting was a really hard one to make. KBMOD has been a pretty major part of my life in the past few years, and I haven't forgotten for one second that if it weren't for KBMOD, I probably wouldn't have the job I love so much. In very recent years, my contributions to KBMOD have slimmed down significantly. I've stopped writing, making videos. Once I'd moved to California I couldn't find time to stream on the KBMOD Twitch channel anymore. But I always made time for the podcast, every week I could. And I looked forward to it. I even learned to take the ResidentSleepers spammed in chat whenever I told a run-on story in stride.

The main problem with the podcast is that it's something I have to commit to every weekend. For most of the podcast members (who are old, dying men), having a show at 7pm on Sunday works just fine for their schedules. For me, in my new life, I found myself having to back out of stuff I really wanted or needed to do. A late barbecue with friends. Catching up on some work to make the Monday load more bearable. Actually finding time to stream on my personal channel. Having a friend come over to watch movies because they had a shitty week. Back home, in Philly, I would never be doing any of that stuff. KBMOD fit snugly into my schedule – every week, I'd podcast 10pm-12:30am or so, my best friend Vin would pick me up, and we would make a 1am diner run. Now, the podcast is 3 hours earlier, Vin is 3000 miles away, and all of the 24-hour diners around me can best be described as "stabby."
Let me make this clear: I'm not bowing out of the podcast, my last remaining participation in KBMOD, due to any feelings of discontent, dislike, or indifference. I still love everyone here – my co-hosts, our viewers, even Hardballer, as much as I ever have. But we're all getting older. As you put on years, priorities change. People grow apart. It's not a good or a bad thing.
It just…is.
tl;dr
I ain't got time for y'alls shit right now cuz i'm too fuckin busy livin that big dick cali lifestyle and making some mother fucking benji greens yall feel me, let me break it down a list like:
BLTs are technically a sandwich but they suck anyway, stop circle jerking over bacon you meme loving fucks

Hotdogs are sandwiches only by the strictest technical definition and if ya call a hotdog a sandwich ya gonna get slapped

Podbean can suck it

DISHONORED GAME OF THE YEAR EVERY YEAR

Scott, register your fucking Hypercam2

Everybody answered so vehemently and in unison that I was too much of a coward to admit it at the time, but I do NOT wet my hands before I apply soap in the bathroom. However, I also do not just rub dry-ass liquid soap all over my hands before adding water, that's gross and if you do that I don't want to associate with you. What I do is place some soap in the center of my cupped palm, add a splash of water to that, then rub my hands with the mixture of soap and water. A little mixture. Over the years I've gotten very good at getting the right ratio of water-to-soap for an excellent tactile handwashing experience. I imagine this method doesn't work very well if you don't have hands of a particular size. It also depends on the consistency of the soap. I fully admit that my method requires too much effort and dexterity, is inconsistent due to variable water pressures in unfamiliar bathrooms, and offers no advantages whatsoever over wetting your hands first. However, it's a matter of personal preference and I ask that everyone respect that. Holy shit, it feels great to get that off my chest. (please someone find what podcast episode this question is from)

If you can't take a pounding, don't fuckin' offer.
Also, I'm not 100% gone forever. I will still stop in on the podcast on Sundays when I can and when the mood strikes me. Hell, maybe some time in the future I'll find myself in a situation where I can commit to the podcast every Sunday again. I don't rule anything out.
Oh, and one more thing: I'm coming to LAN, bitches. See ya in Pittsburgh.
SEE YOU SPACE COWBOY