Community Content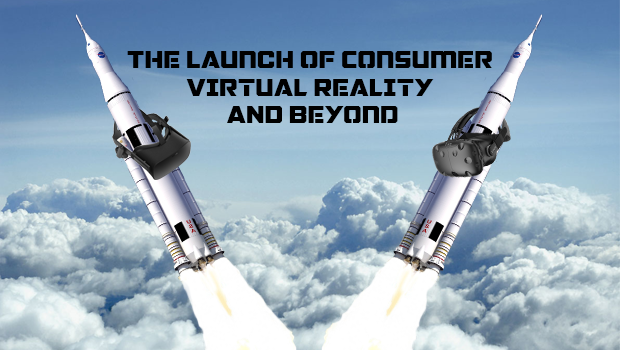 Published on April 28th, 2016 | by KBMOD Community
0
The Launch of Consumer Virtual Reality & Beyond
Justin Rende aka AJRendere is a community member and VR enthusiast & futurist who enjoys discussing consumer technology. If you haven't already, give Justin a follow on Twitter.  Anyone can submit content to the site by following the process at https://kbmod.com/contribute/
Place Your Bets: The Launch of Consumer Virtual Reality & Beyond
Did you know that the consumer launch of virtual reality hardware has happened? It's OK if you didn't – the launch over the past few weeks of VR headsets made by both Oculus and HTC have hit some unexpected shipping delays and issues, much to the dismay of VR enthusiasts and evangelists around the world. While it's obvious that everyone who placed an order will eventually receive their headset, the hiccups during launch invite additional analysis into each company's preparedness and capability to introduce consumers around the world to the experience of presence-inducing virtual realities.
I've followed Palmer Luckey, founder of Oculus, and his vision to create a consumer head-mounted display since his Kickstarter success in 2012. In the same vein, I was also among the thousands of other enthusiasts smashing my F5 key in the minutes leading up to the launch time of the Rift on January 6th, 2016. Together, we convened on subreddits like r/Oculus impatiently waiting for March 28th, the launch date of Oculus's Rift, and the month which most enthusiasts were given as a delivery estimate.
Launch Week Hiccups
March 28th arrived, and only a select few Kickstarter backers received their prized Rift headsets. As the month of March came to a close, those still expecting their shipment created shipping threads en masse on r/Oculus in futile attempts to determine when their headset would arrive. On April 2nd, an email sent out by Oculus issued an apology for the delays and an gave an explanation mentioning that component shortage would impact original shipping estimates for early customers. To compensate customers for the delays, Oculus credited all customers who pre-ordered with free shipping and handling. But the turmoil didn't stop there, as Oculus waited until April 12th to reveal new shipping estimates for their customers, which ranged from early May to late June for enthusiasts who had placed orders within minutes of the Rift pre-order site going live. The resulting outrage echoed new concerns that Oculus failed to communicate efficiently and openly about ongoing issues and to deliver the launch experience and support that was expected.
HTC's April 5th launch of the Vive VR headset (created in partnership with Valve) didn't go off without a hitch either. HTC experienced technical issues in processing customers' payments, which resulted in some pre-orders being temporarily cancelled. Fortunately, the Vive has met most shipping expectations and the company has communicated quickly and comprehensively to customers about any occurring problems.
VR Hardware Manufacturer Support Analysis
There are many more aspects that are integral to a successful consumer product launch than just shipping units and processing payments. HTC and Oculus have been working for the past several years, setting gears in motion to introduce general consumers to their innovative new product. Let's take a deeper look at the various facets surrounding the reception and lifetime of these two products.
Developer Relations: Oculus and HTC have both supported developers both financially, and with hardware resources. Development kits for the Rift and the Vive were also made available before consumer launch for interested developers to experiment with the cutting-edge technology, and create early content experiences. Both companies seeded developers with resources that allowed them to showcase full games and experiences to customers.
That's not to say that there haven't been growing pains along the way. Tomas Mariancik, also known as Frooxius, is a young and experienced VR dev who shared his experience in a recent blog post on creating games in VR, attempting to garner support from Oculus. Mariancik details his desperate communications with Oculus, with him seeking support to create content and the "unanswered emails, half-baked answers and unfulfilled promises" that were sent in response.
HTC and Valve haven't escaped without any criticism from developers either. An interesting development in the VR content ecosystem is related to the two distribution platforms available – Oculus's 'Home', and Valve's 'SteamVR', wherein the content being sold is effectively a main source of revenue for hardware manufacturers, given that they're selling units at or near cost to encourage consumer adoption. Amid this content-contest, Virtual Desktop's sole developer, Guy Godin, has been caught in the platform war for offering Oculus Home software keys to customers purchasing his software on SteamVR. Godin reported that Valve isn't happy with him giving customers the choice of which platform to use, and that "…they feel like it is pushing people off [of SteamVR]".
Making A Good First Impression: It's not easy to convince the average consumer to spend upwards of $1,700 on a high-end VR headset and computer. Given the initially high price barrier to the new technology, Oculus and HTC are planning on creating demo experiences in retail stores that aim to induce the highly sought-after feeling of presence – the sensation that you're really 'there' in the virtual world.
HTC recently announced a partnership with Microsoft and GameStop to provide in-store demos of the Vive to the general public. The exact number of participating GameStop locations has yet to be determined, but you can expect to see the Vive in 30 Microsoft retail locations by the end of 2016. As someone who has already visited the Microsoft flagship store in NYC twice to demo the Vive, I can tell you that it's an intensely creative and fun 15-minute experience that will leave you wanting more. The personnel at the booth were well trained to walk me through the virtual environments of theBlu, Space Pirate Trainer and Tiltbrush.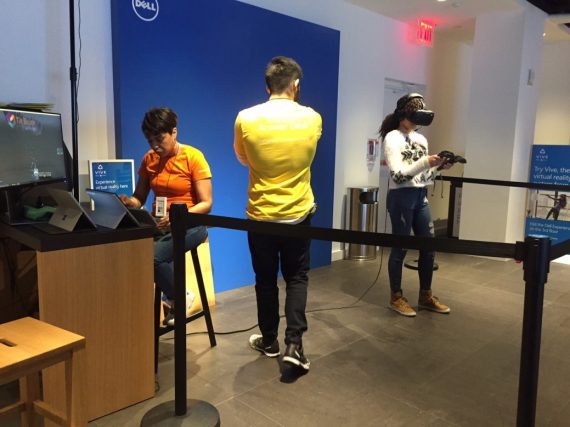 A user creates paintings in 3D space with Tiltbrush, part of the HTC Vive demo experience at Microsoft's flagship store in New York, NY. (Justin Rende)
Oculus hasn't released details on the retail partner(s) they'll be using for in-store demos, but we can expect that Best Buy has a high chance of being included. Best Buy is one of the Oculus partners fulfilling Rift pre-orders for retail pickup, and they have had demos of the Oculus powered GearVR headset in more than 100 stores in the U.S. since 2015. It hasn't exactly been a wholly positive experience for visitors trying these demos, with some complaints mentioning incorrect positioning of the headset, dirty lenses, or those feeling anywhere from underwhelmed to nauseous after their experience. In a Reddit AMA, Palmer Luckey confirmed that Oculus will play a part in advising retail personnel on how to properly demo the Rift, which we hope will include a pre-determined list of experiences to showcase the best that the Rift can offer without any discomfort to users.
Attracting Content Creators: These days, any gaming company considering a consumer product launch will engage with popular YouTubers and Twitch streamers as a cost-effective method to generate publicity and excitement among potential customers. Both Oculus and HTC have connected with content creators, with varying success.
Karem Mohamed, a popular YouTuber and Twitch streamer behind the KSic Games brand, detailed in an r/Oculus post his difficulty in communicating with Oculus about getting a review unit of the Rift, compared to the relative ease exhibited by other well-known video personalities in getting Vive review units from HTC. Luckey responded in the comments section of the post with confirmation that Oculus is in fact providing review units, but cited a shortage of units to the point where sending out any additional Rift headsets for reviewers would impact customers who pre-ordered. It's important to note that this conversation took place before the Oculus component shortage that affected the Rift's launch, so we can only expect that review units will not be attainable in the short term until manufacturing is back up to speed. Given that HTC is a veteran of consumer tech product launches, it's understandable that Oculus is experiencing some growing pains while attempting to match the demand and logistical support required.
Increasing Viewability of VR Video: The main problem with native viewing of video content recorded from a VR headset is that movement is tracked as close as possible to 1:1, which translates into hard-to-watch VR gameplay due to the unsteady video. Owlchemy Labs, developers behind the fantastically imaginative Job Simulator, were the first to announce a solution with a new Spectator Mode. This new feature allows for camera smoothing and FOV modification from the headset's point of view, as well as the ability to place external cameras within the virtual environment for recordings from different perspectives.
While features like Job Simulator's camera smoothing will be developer-implemented, Oculus will lose out on the opportunity for the time being, since the game will not be playable on the Rift until Oculus's Touch hand controllers are released in mid to late 2016. As VR headsets continue to make their way into the homes of consumers, the demand for social VR content will grow, suggesting that both companies need to push developers to consider how footage of their games will be consumed, and to enable in-game tools to encourage viewership.
Valve's Developer Advantage: Vive owners stand to benefit from Valve's partnership with HTC, since the system uses a variation of the popular Steam client in SteamVR, which acts similarly to Steam's Big Picture user interface. Valve's history as a both a developer and curator of gaming content allows Vive users to experience new features like Game Theater, which enables Steam's entire library of PC games to be played within VR on a massive virtual screen. Game Theater isn't necessarily a new idea – the popular Virtual Desktop can also simulate a similar environment for any game title – but Valve deserves to be recognized for providing proprietary software to enhance the utility of the Vive.
Final Call
Being just a few weeks into the launch of high-end, presence-inducing virtual reality headsets for consumers around the world, it's understandable that both Oculus and HTC would experience problems in meeting the enormous expectations set by the enthusiast community. That being said, upon further analysis of VR headset manufacturers' communications with customers, content creators, and developers, I'm placing my bet on HTC's Vive for having a more fully realized and supported VR ecosystem. Feel free to voice your opinion in the comments as to who you'll be betting on!