Editorial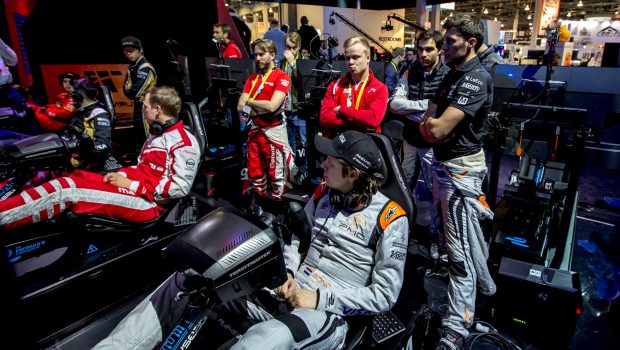 Published on January 9th, 2017 | by Justin
0
Sim-Racing's Big Day in the Esports Spotlight
As many in the PC gaming community will know, CES 2017 was going on this past weekend in Las Vegas.  As many in the PC gaming community will not know, Formula E is a racing series on the cutting edge of technology, using power units that are entirely electric, and at CES they presented an "eRace" that featured ten of the top sim-racers in the world and pitted them against 20 of the real life Formula E drivers in a virtual race.  First let me give you some background: Much like the road-going Tesla cars, the vehicles used in Formula E are very quiet, give 100% power 100% of the time, and are the type of thing that can be appreciated by anyone who keeps up with technology as a whole.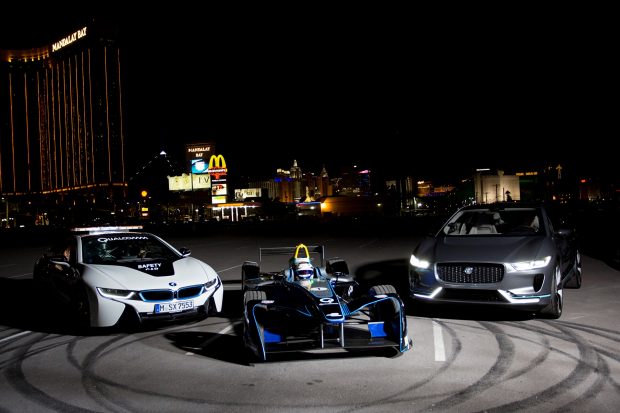 Formula E is a relatively new series that started in 2014 and is currently running in its third season, many of the drivers have been ex-Formula 1 pilots, although their backgrounds range wildly from many of the F1 feeders series (like Formula Renault, GP2, GP3, etc) all the way to IndyCar here in the US.  The cars don't have a high top speed, so the races are primarily held on street circuits located in the hearts of cities across the globe.  The urban location of the races makes the series unique, while also making it easier for the millions of people living in these metropolitan areas to get out to the race with their friends or family and see world class racing without having to travel very far.
Innovation has been a strong component of Formula E's modus operandi since they burst on the scene a few years ago, but it's also been one of the reasons they were able to get so many fans in such a short period of time (that and the fact they had the blessing of Mr. Titanic himself Leonardo DiCaprio).  Innovation is the name of the game, and in that vein Formula E decided to help bring the world of sim-racing to the center stage of esports for one glorious day on January 7th 2017 at CES in Las Vegas.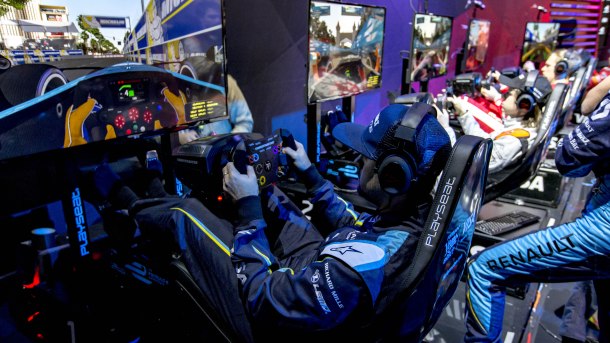 The stage was set, races were run on rFactor 2 (not the prettiest looking game but with highly accurate physics) to determine the top ten drivers that would be flown out to Las Vegas (most of them from Finland, which is honestly typical in the sim-racing world) to compete against actual Formula E drivers for a chance to win over $200,000 (and $20k just for coming last).
This was it, the big day, the day that I have personally been waiting for since I started sim-racing in 2013.  The esports world would finally understand the beauty and excitement of what is essentially real life racing in a virtual space.  Finally, at last, the pure talent of these drivers would be recognized by all who would bear witness, that sim-racing is the ultimate form of virtual competition, where the skills you learn actually translate into the real world.
Because let's be honest, no matter how many games of CSGO you play, you're still going to be terrible with an actual rifle.  I'm not saying people who are good at CSGO don't have immense skill and talent, I'm just saying it doesn't mean they are going to be good at wargames in real life because of the CSGO experience.  The two skills just don't relate at all.  Racing games are different, the skills you learn are often the exact same ones you learn in the real world.  Braking points, apex points, racing lines, throttle control, counter-steering, racecraft, the list goes on and on.  Proof positive that sim-racing and real racing are very similar is Stoffel Vandoorne, who will be driving in Formula 1 for the 2017 season and who raced in Formula Sim Racing (the league I did commentary for in 2016).  He used sim-racing to hone his skills, and he's reached the pinnacle of motorsport in part because of it.
So the race got under way with five-time Formula Sim Racing World Champion Bono Huis taking pole and storming into the distance in the opening laps.  Five-time iRacing World Champion Greger Huttu surprisingly struggled, but I predicted he would because he's always driven in iRacing and Bono Huis has been racing in rFactor for years and years already.  Some guys crashed, you don't really need to know about them, and it was honestly a stupid crash and reeked of desperation for that sweet sweet prize money. I'm sure none of them would have been so idiotic if under different circumstances.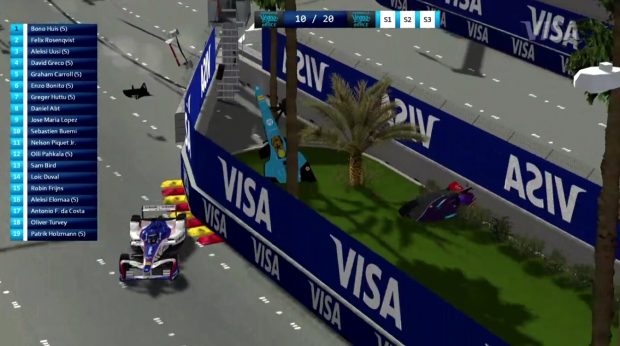 All in all the race was very tame, but at the end it got interesting/confusing/dramatic/shocking.  Bono was leading with a comfortable gap, he had Felix Rosenqvist (one of the real Formula E drivers, and the only one out of the lot who had any real skill in a virtual car) chasing him down, and both drivers came into the pits.  It was just a 20 lap race with most of the drivers lapping less than one minute and 30 seconds per lap, so the whole thing lasted about half an hour, but there was a mandatory pit stop that every driver needed to complete.  When Bono and Felix pitted they came out behind Olli Pahkala, who had pitted earlier than them and had the benefit of FanBoost.
FanBoost is exactly what it sounds like, fans vote for their favorite driver and the drivers who get the most votes receive a small boost that becomes available to them.  The boost lasts about six seconds and gives a small boost in horsepower.  It's mainly designed to give the popular drivers an opportunity to try and overtake a car.  Overtaking can be quite difficult, but with just a little bit of boost it's possible to make the job just a little bit easier.
Pahkala got the FanBoost, pitted before the leaders, and then used it to try and lap quicker than the leaders so that when they came out of the pits, he would be ahead.  The plan worked great, but it worked a little too well.  The gap between Pahkala and Huis was absolutely enormous.  He ended up winning comfortably with Bono in second and Felix in third.  As the checkered flag fell there was an immediate whiff of confusion as Pahkala wasn't celebrating at all.  In fact, he looked half scared.  He smiled a bit, but it was easy to see through, especially as he scanned the room, almost as if looking for the police to come and arrest him.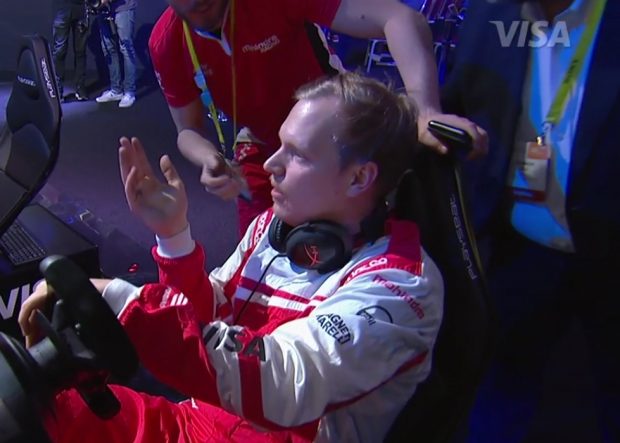 Similarly, Bono Huis was extremely confused as well, although with a bit of "uncontrollable rage" thrown in.  Something was definitely wrong.  It was soon revealed that Pahkala was lapping two seconds a lap faster than Bono Huis, for six laps straight.  To better explain how ridiculous this concept is, I'll use an analogy.  Imagine two boxers fighting for a world championship, going back and forth, tit for tat, trading blows, epic fight and you can't tell who is going to win.  Then, all of a sudden, in the next round one of the boxers literally punches the other guy so far that he goes flying out of the building, through a wall, lands on a car, and the car explodes.
That's what happened at the Vegas eRace on Saturday night.  Pahkala picked up Huis and threw him through a wall and killed a Mitsubishi Galant in the process.  It just made no sense.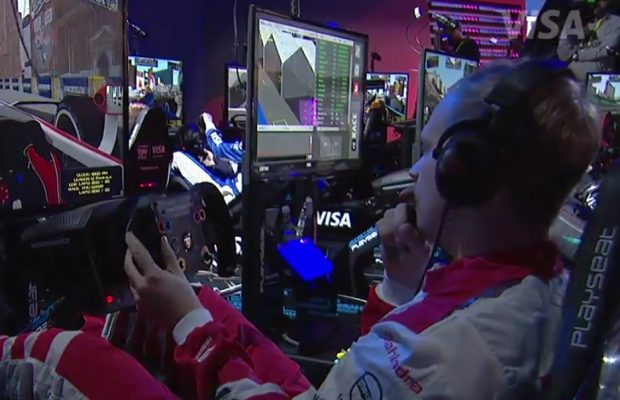 When the podium ceremonies began they called third place first, which was Felix, and he happily claimed his third place trophy and stood on the third place spot on the podium.  Next, they called Bono Huis to come receive his trophy and stand on the second place position.
Nothing.
The commentators begin discussing how nice it must be for Bono to win over $100,000 in a single night.
Still no Bono.
They kept delaying until finally Bono came out looking like he was ready to strangle Jack Nicholls live in front of an audience of nearly 10,000 on the eLeague Twitch channel (although Jack was actually fantastic all night long and deserves an award of some kind for dealing with the multiple messes of the evening like the absolute professional that he is).  Pahkala was crowned the winner and the sim-racing Twittersphere went absolutely berserk.  Clearly the FanBoost had glitched and given Pahkala six laps of boost instead of six seconds of boost like it was supposed to, and everyone watching could tell.  We know racing, we aren't stupid, and Formula E and/or eLeague definitely tried to sweep the whole thing under the rug, but we weren't having it, and clearly Bono wasn't either.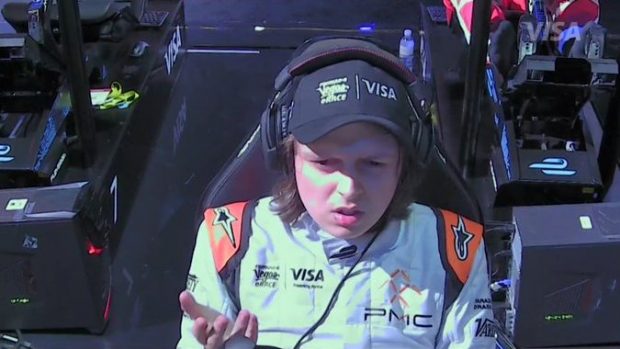 Pure speculation for a moment: I wouldn't be surprised if Bono threatened legal action against them for allowing a glitch in the game to cause him to lose $100k.
Several hours after the whole sad show had concluded it finally became public knowledge that Pahkala would in fact receive a 12 second time penalty as a result of the glitch, which means Bono Huis won (anyone in the know would have predicted that anyway, god knows I sure did) and Felix Rosenqvist took second.

The whole thing was honestly a mess.  All but one of the Formula E drivers were completely useless and downright dangerous on circuit during the races, the winner won because of a bug but then didn't win because of an investigation after the race that didn't need investigating in the first place to be honest, and the guy who really did win didn't even get to celebrate the win on camera because he was too busy thinking about the different ways of murdering Alejandro Agag (again, I'm joking, he just really really looked pissed).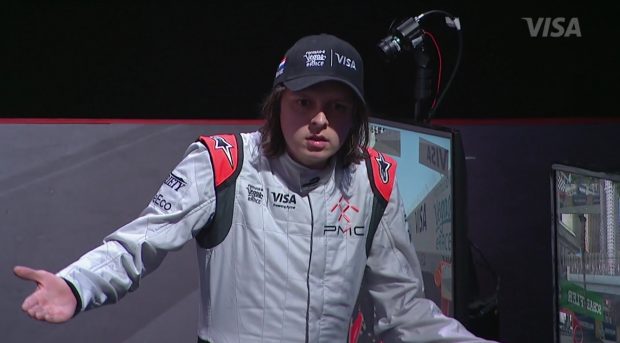 Do I think sim-racing will eventually be a real eSport?  Absolutely.  Do I think the "any press is good press" mentality applies to this situation?  It might, I really don't know.  The fact is, sim-racing got its big moment and it really didn't go very well, but I think there's a lot of potential and I'm just hoping that someone watching with better ideas can take this and turn it into something that doesn't suck.  The competitive gaming scene is growing, across all genres, and sim-racing will be included in that, but I don't think it's going to happen in 2017.
If you want to check out the VOD of the whole event (including practice and qualifying) go here: https://www.twitch.tv/eleaguetv/v/113155961