Build Guides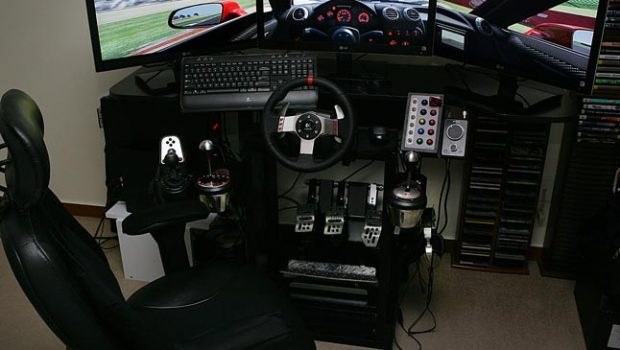 Published on January 22nd, 2017 | by Justin
1
Build Guide: Entry Level Sim-Racing Setup
With Christmas bonuses behind us and tax refunds ahead of us, some of you PC gaming nerds might be looking to blow some money on frivolous entertainment objects that depreciate in value.  I'm here to facilitate that process, particularly if you find yourself wanting to expand into the world of sim-racing games (on PC, obviously, the website isn't called Console+Controller Or Die).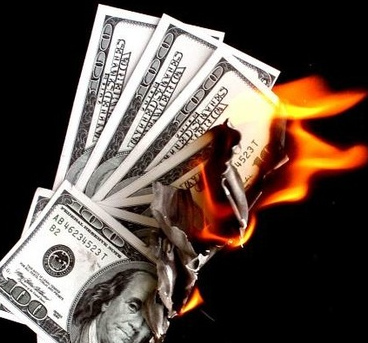 First thing you need, and this may come as a shock, is a gaming computer.  Nothing fancy is needed really, PC sim-racing games are pretty old for the most part.  Sims like iRacing, Automobilista, and rFactor 2 offer incredible realism when it comes to the physics but skimp a bit on visuals which means you can easily get away with an i5 and GTX 960 for example.  The more demanding games like Project CARS, Assetto Corsa, DiRT Rally, and F1 2016 will all run just fine on a 960 but to get really high frame rates you'll need to dial down things like textures, shadows, anti-aliasing, etc.  The Starter $500 build detailed by Sanguis in the November Build Guide will work perfectly fine for most of your sim-racing needs (depending on resolution and quantity of monitors you're planning to use of course). https://kbmod.com/2016/11/pc-build-guide-november-2016/
The next thing you'll need but probably already have is a display of some kind.  Most of the modern sim-racing games are compatible with VR headsets, and racing games seem like a whole lot of fun in VR (I can't say I've had the pleasure of trying it out myself yet), so if you've already got one then congratulations you lucky son of a bitch, I hope you and your VR headset are very happy together.  Jerk.  Assuming you don't have a VR headset, you'll probably want some sort of TV or monitor.  The size of this display will vary depending on your own personal setup at home (distance to the display in tandem with size of wallet will likely determine size, resolution, aspect ratio, refresh rate, etc which will in turn decide how good your PC will need to be to push those pixels).  There's no rule of thumb, but if you're going to be playing on a computer desk then 27 inches and 1080p is perfectly fine, it's what I've been using for years now and I don't have any complaints.
Now for the really important bit, the meat and potatoes of this whole thing, the hardware you'll be gripping your hands around as you're turning corners in anger.  For years the best entry level sim-racing wheel was, without question, the Logitech Driving Force GT.  With a price tag under $200, paddle shifters, solid force feedback, and decent enough pedals, it was hard to beat the DFGT if you're just getting your feet wet in the sim-racing pond.  Unfortunately Logitech stopped production on the DFGT and prices for new examples have sky rocketed to over $300, well beyond what the wheel is actually worth.  You can sometimes find these wheels being sold second-hand, and I'd say don't be scared of used wheels as these things are pretty sturdy and hard to break, but I certainly wouldn't pay more than $100 for a used DFGT.  The better option, in my opinion, is the new Thrustmaster TMX wheel.  It's compatible with PC and Xbox One, works with every racing game I've tested it in, costs less than $200, and is generally better quality than Logitech's now-deceased competitor.  I've been using the TMX for a number of months now and couldn't imagine going back to the DFGT.  Another great benefit of the TMX is Thrustmaster's modularity, meaning you can replace the pedals or add peripherals such as an H-shifter or handbrake lever, so the whole setup can grow alongside your passion for racing. You can find the wheel here.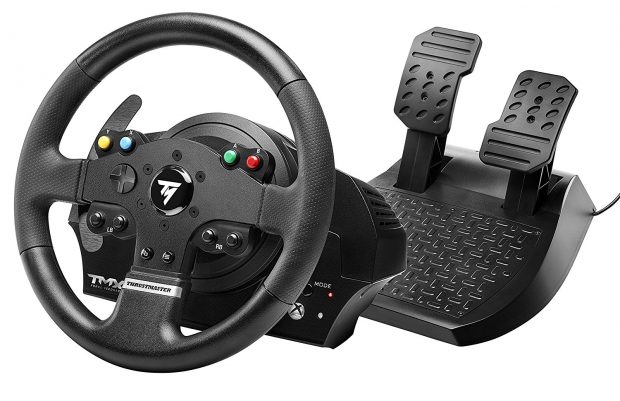 The last piece of hardware you're really going to need is something to mount that racing wheel to.  Some of you folks might be blessed enough to have a solid wood desk for your PC gaming battlestation (not quite as lucky as the people with VR headsets but I digress) and will be able to mount your racing wheel directly to the desk, thereby eliminating the need for any extra purchases.  For those who aren't so fortunate, you'll want to get a wheel stand.  You might soon find yourself shopping for wheel stands and notice the full-fledged racing cockpits with monitor mounts, an adjustable racing seat, and angled pedals for that realistic feel, but you'll quickly find that these cost in excess of $300 for the cheapest versions (although there are DIY solutions if you're into that kind of thing).  Rather, the cheaper option is to use an existing chair in your house and mount the wheel to a stand.  I said cheaper, but still expect to pay $120 to $200 for a new wheel stand.  The V2 model from Wheel Stand Pro (not the most imaginative name for the company, let's be honest) is $129 on their website and $170 on Amazon.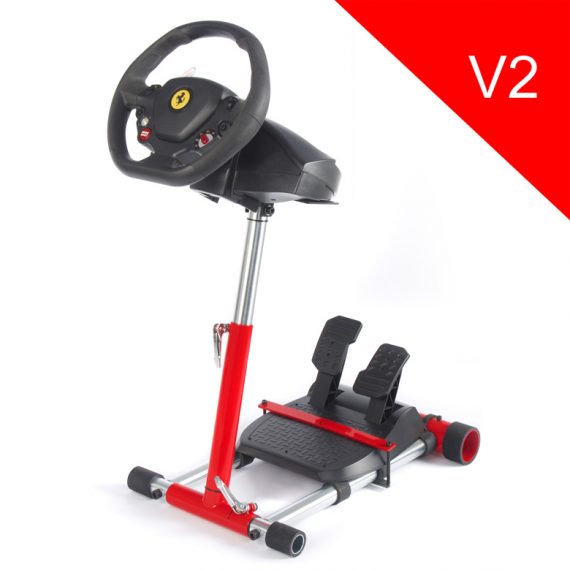 Now that you've got your hardware you're going to want to play some video games.  There are a plethora of sims available on PC, and I'm going to name some of them in no particular order.  I could go on and on about the strengths and weaknesses of each one (because not one of them is perfect, they're all uniquely flawed) but neither of us has time for that, right?  It's up to you to seek out information and footage about these particular titles and decided which ones you think will suit your needs best, because no one knows what you like quite like yourself.
DiRT Rally
Assetto Corsa
iRacing
rFactor 2
Automobilista
F1 2016
RaceRoom Racing Experience
Stock Car Extreme
Project CARS
I hope this article has been helpful in some way, the sim-racing community has always been much smaller than other genres, but we're a lovely bunch of idiots when we're not busy bickering about which sim is best (I like Assetto Corsa and Forza Horizon 3, fight me).  Sim-racing is about as much fun as you can have with your gaming PC if you ask my opinion, and I hope to spread the gospel far and wide to bolster our ranks and welcome newcomers from across the globe.