Editorial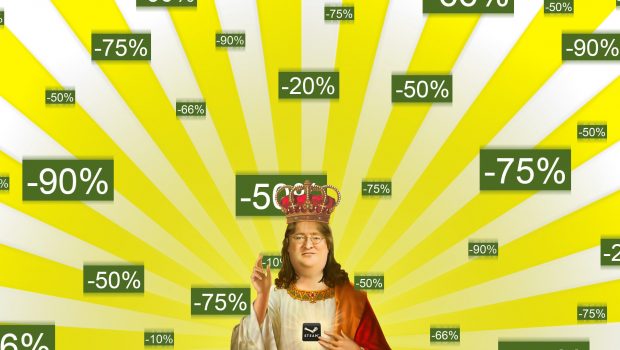 Published on June 26th, 2017 | by Suros_Six
0
Suros_Six's Steam Summer Sale Must Buys
Suros_Six's picks in no particular order (Prices rounded up by a cent because I am a rebel):
Transistor – $3
I'm going to start this list off with a game I bought during this sale. First off, THREE DOLLARS! That's cheaper than three McDonald's cheeseburgers in my area. I normally wouldn't advocate buying a video game instead of food but I'm sure your body would thank you if you bought this instead. Our very own KDZen18 has been shouting about this game from the rooftops lately, and the second the game started I completely understood why. The atmosphere immediately grabbed me, and I quickly became immersed.
Transistor has an AMAZING soundtrack that is complemented by a beautiful art style. I've fallen in love with the combat system which is a fun mix of tactical and reflexive maneuvers. The story is very well written, and I'm somewhat sad it took me so long to play this game. It took me five hours to complete, and it has quickly ascended to one of my favorite games of all time. If you decide to pick up only one of my recommendations, I hope it's this one.
Furi – $10
Great soundtracks are definitely a theme in games I really enjoy, and Furi is no exception. This boss rush game is by far one of the best bullet hell/hack and slash games I have played to date. Expect high adrenaline as you fight boss after boss while listening to some of the sickest beats your ears have ever come in contact with. It's got a gorgeous art style that keeps you engaged and aware of the things around you which is very important for a game like this one. It's definitely difficult, but that difficulty is what kept me playing, and what made me run through the game multiple times. It doesn't have too much in the way of story, but the solid gameplay makes up for it in spades. You can play this with keyboard and mouse, but I recommend a controller on this one.
Aragami – $10
If you're into stealth games then look no further than Aragami. It's far more traditional when it comes to its genre being more comparable to something like a Tenchu, or some of the first Splinter Cell games where staying hidden was more of the focus over killing everyone. It has a very gorgeous, vibrant art style, and Two Feathers did a great job creating a soundtrack that exceptionally establishes atmosphere and environment. The well done gameplay is accompanied by an interesting story and stellar level design. It also has co-op if you want to enjoy this game with a friend, and it has Steam Workshop support allowing others to create their very own levels. This game put Lince Works on my radar, and they deserve any praise coming their way for this top tier title.
Firewatch – $9
Firewatch is honestly the only narrative-driven "walking simulator" that I can say I enjoyed in any sense of the word. There are a few others that I have given a chance and none of them clicked with me at all. it's important to note that this game is roughly about two hours long, but ten bucks seems like a decent price to me. The writing is very solid, but I do have to say that the voice acting is what really carried this game all the way home. While I don't think this game is perfect, I do think it's still worth checking out. I definitely felt lots of emotions throughout my time with it, and if you haven't given it a shot yet I think this sale is a good time to do so.
Stardew Valley – $9
Do you find yourself sitting at your desk thinking, "man I have way too much time on my hands." Do you like farming or the idea of farming even remotely? Play this game, do it right now. If you're a student on summer break, you can just kiss those three months of freedom goodbye because Stardew Valley will hook you in the way possible. This game is addictive, and if you liked any of the Harvest Moon titles you'll love this. When I first picked up this game I put 24 hours into it within a 48 hour span of time. Farming has never been more entertaining our relaxing, and there is much more to do than that. It's got mining, fishing, and romance if you're missing that special someone in your life. Just crack open a cold one, kick back, relax, and start your farm today.
I hope you at least consider some of my recommendations for this fantastic Steam summer sale, but I also wouldn't be too surprised if you own all of them already.