First Look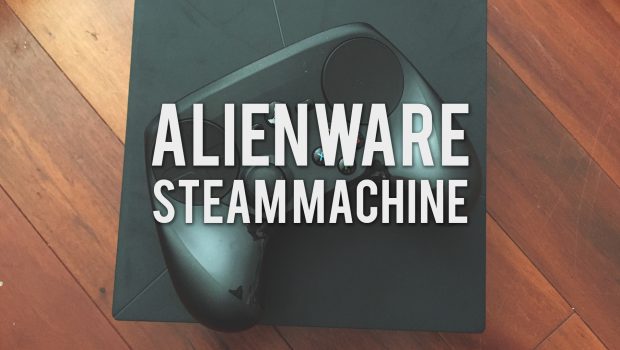 Published on November 14th, 2015 | by seanbutnotheard
0
KBMOD First Look: The Alienware Steam Machine
This is a PC gaming web site. What use do we have for consoles? More than you might think, as it turns out. We got to play with an Alienware Steam Machine and a Steam Controller for our couch stream last weekend, and it was pretty doggone fun. While we haven't had enough time with the hardware to really give it a full review yet, we wanted to share some of our initial thoughts on both the Steam Machine and Controller to give you an idea what to expect from this PC/Console hybrid.
First Impressions and Hooking It Up
I got the machine from Bob on a rainy Saturday, and what better way to spend a drab evening at home than playing with a new game system? So like a kid on Christmas, I opened up the aesthetically-pleasing and well-designed packaging right away and began hooking the console up. It's a nice looking machine, I must say… the dark case and minimalistic design fits right into a modern home entertainment system. It's really small too – not much bigger than my recently-retired Wii.
Since I already have an HTPC, I simply swapped out the existing HDMI cable and I was in business. I was greeted with a login screen for Steam Big Picture Mode and I was able to log in to my account (after entering the two-factor authentication code which was sent to my email, of course). I have to say I like the recent layout changes to Big Picture mode, which were no doubt pushed out primarily to accommodate the wave of new Steam Machines hitting the streets. Navigating my library and finding SteamOS-compatible games to try out was a breeze. Occasionally the Steam interface itself would crash while I was browsing, but it would always recover itself. Since this was well before the official release date, presumably Valve was still working out the kinks.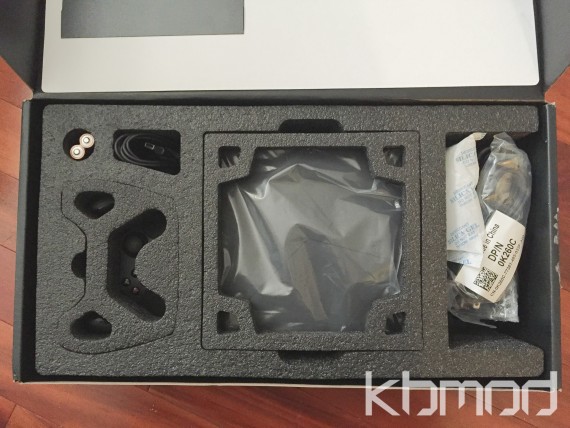 Then something hit me… How was I going to get audio? Typically, the HDMI passes audio to your TV, but I have a projector and a home stereo setup, so I needed the video and audio to go two separate places. Fortunately the Steam Machine has an optical TOSLINK audio port on the back, so I was able to send audio right into my receiver. The only tricky part was setting the optical output as the main audio output, since the Steam Big Picture mode audio selection dialog didn't want to let me choose it. Knowing my way around Linux, however, I simply dropped into desktop mode (more about that later), opened the audio control panel, and selected the optical device from there. Upon exiting desktop mode, Steam picked up on the change right away and I could instantly hear the navigation sounds coming through the speakers.
Owls Are Back In Style: Or, That Funky Controller and What It Can Do
Then there's that controller. It's a bit puzzling at first. I mean, I know what Valve is trying to do with it, but how well does it translate PC games to the big screen? The game I attempted first, perhaps foolishly, was Sublevel Zero, which could be called a roguelike take on the six-degrees-of-freedom shooter genre pioneered by Descent. Unfortunately, at first the controls felt sloppy and loose, and I was a bit disappointed. I started looking at the controller customization options (which are easy to find… just hit the Steam button on the controller and go to Configure Controller). I'm glad I did, because I realized that by default, the controller is configured to emulate a "regular" dual-stick gamepad. After a few iterations, I found that setting the right trackpad to "Mouse" made it behave exactly as I expected. An interesting aspect of the trackpad that I didn't expect is that its mouse emulation is really more like that of a trackball than a mouse. That is to say, the software behind the controller gives your trackpad motions some "momentum" after you let go, which actually works quite well in making the game's motion fluid.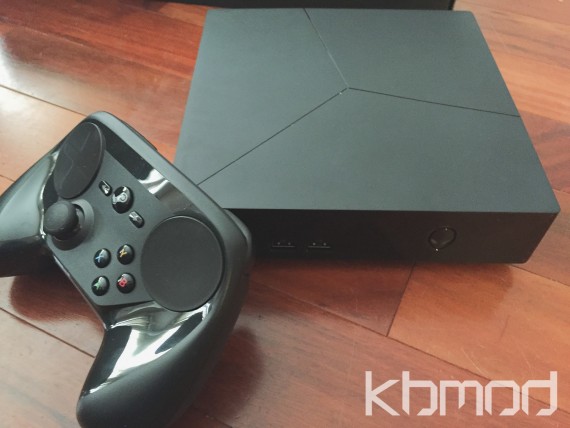 My next experiment was a platformer, because as you all know that's the only kind of game I am any good at. So I fired up Shovel Knight and played through a couple of Plague Knight campaign levels. I again played with the controller setup, and tried out some community-supplied configs (which are available right from the controller config screen). However with no true D-Pad and buttons that are noticeably smaller than what I'm used to, I conceded that this might simply not be the best controller for platformers. Fortunately, in a pinch, Xbox 360 controllers work with no additional configuration and can be plugged right into the front of the Steam Machine.
I was feeling admittedly a bit frustrated at this point, but during my third game trial, something clicked. This time, I actually fired up a game that is not natively available on SteamOS, via Steam In-Home Streaming. The game was Tomb Raider, and I quickly found that third-person games are a natural fit for the Steam Controller. I again assigned the right trackpad to mouse mode and immediately my hand gestures seemed to be translating properly to the screen. After that initial learning curve, it felt rather brilliant. Due to the trackpad's momentum, I could quickly flick my right thumb and make Lara Croft turn 90 degrees, or I could start her in motion, release the trackpad, and then grab it again to make more precise turns. Aiming a bow or gun felt natural, though it will of course take some practice to gain proficiency, and I was gunning down bad guys fluidly and rapidly before long.
My experiences with Shadow of Mordor and Bioshock Infinite were similar to my Tomb Raider experience. Though these games both run natively on SteamOS, so there was less input lag to get in the way of the precise controls. It seems that the games that work best are the ones which have simultaneous support for gamepads and keyboard plus mouse controls, since these games allow you to assign the most useful bits from each control scheme to a single Steam Controller layout.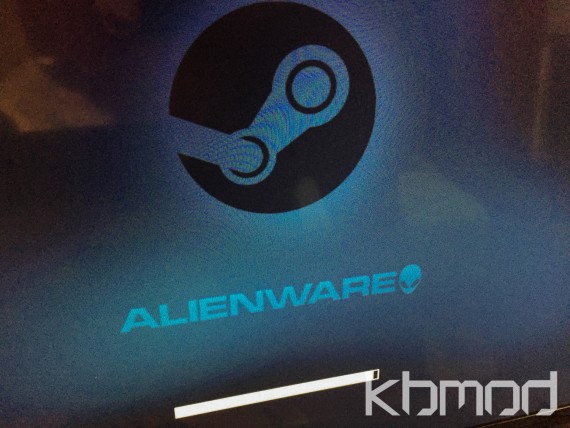 Further Finds at the Couch Stream
The Steam Machine became our central game system powering the most recent KBMOD couch stream, and we made a couple of other interesting discoveries. Firstly, there's the HDMI-passthrough option. I hadn't noticed it when initially hooking the box up, but it came in handy for passing the signal from an Xbox One through to the projector without moving wires around. To activate or deactivate the passthrough, you simply hold down the Steam button on the controller and select the appropriate option.
Secondly, because our couch streams require us to pass the game audio through an analog mixer and combine the signal from our mics with it, we ran into a bit of a roadblock with the Steam Machine because it doesn't have an analog output. However, because it runs a Linux kernel (and basically every device that supports Linux has a driver included with the kernel), we were able to simply plug in a USB class-compliant audio device and have it show up as an audio option in SteamOS. In this case we used a Lexicon Alpha, but most 2-channel USB devices are class-compliant, so this should work with a variety of different devices.
Performance and the Overall Experience
So how did the native games run? I was impressed with the tiny box's power, personally. It's not going to replace your desktop PC, but that's not the point. I wasn't able to crank the graphical settings all the way up without introducing some big framerate drops, but even on medium to high presets (at 1080p of course) the games I tried looked great, certainly at least as good as the more popular consoles. The main distraction I noticed was some laggyness when games were loading new areas, but nothing huge.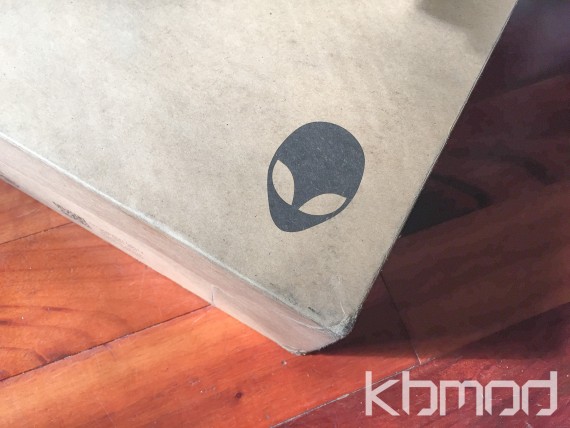 I think it's safe to say we all came away from our first experience with the Alienware Steam Machine pleasantly surprised. I found that I was just having fun with it, and not worrying too much about the machine's technical details – which is kind of the point of consoles. Of course, those details are still there if I wanted to tinker with them: beyond just the graphical options in games, the box itself is easily hackable and one could add a media center like Kodi, emulators, or anything else. What I enjoy about it though, is that it's easy to just sit down and zone out for a while without the usual distractions of playing on a PC.
Want to learn more about Alienware's Steam Machine? Go here to check it out and get a chance to win every Valve game made.