Battlestations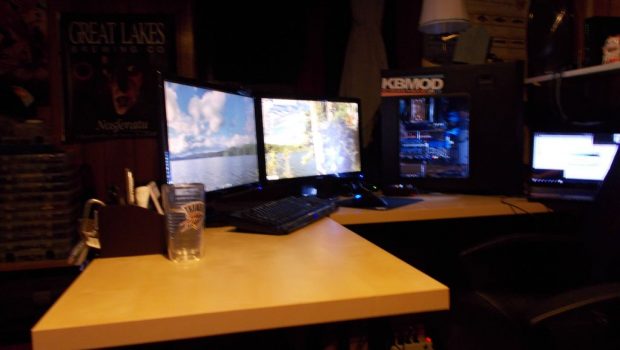 Published on August 3rd, 2012 | by Bob
13
Bro Cave: @ACARDINAL86
This week we feature Mike, aka @ACARDINAL86 on twitter and his clean Corsair Obsidian Series 650D paired with symmetrical ASUS 23's. I dig the mood lighting. The KBMOD magnet doesn't hurt, either.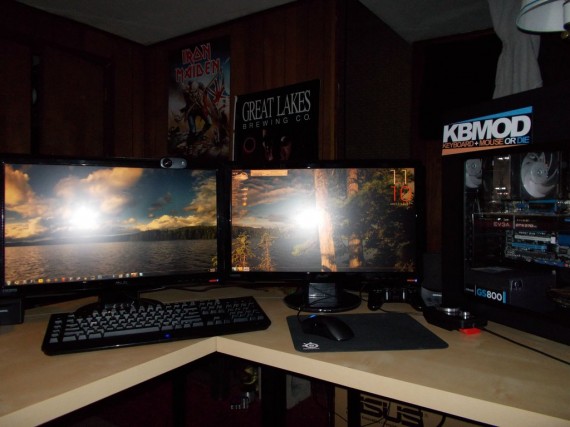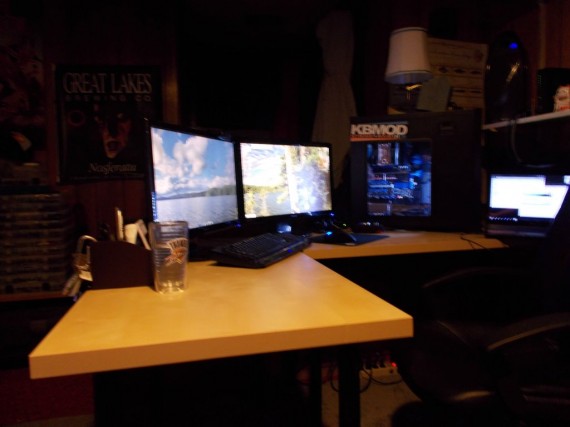 Well I figured I might as well post my bro cave, considering KBMOD was where I went to get into PC gaming back when I was beginning my build in April. I don't post here a lot – I am more of a creeper!
To begin, I was introduced to PC gaming by my cousin who lived out of the state with my grandparents. Around the age of 6 I remember him playing some awesome game on what I think now was a possibly an Apple II, and I believe it was a game he programmed but at a young age I had no idea what he was trying to explain to me but I thought it was awesome.  My parents finally got a computer when I was around 12, and I spent my time rocking out Microsoft Golf 3.0 and Monster Truck Madness.  Granted, they we not awesome games, but I played them to death.
From high school through my first stint of college I was a consololol player, as it was just cheaper at the time and all my friends played it. Now, I am converted to the PC platform, but I still play all my sports games on my PS3 and the few games that never make it to PC.
In April I did my first ever build that was very rewarding to complete.  I really want to upgrade to a 670 in August and upgrade the 200mm fans in my case.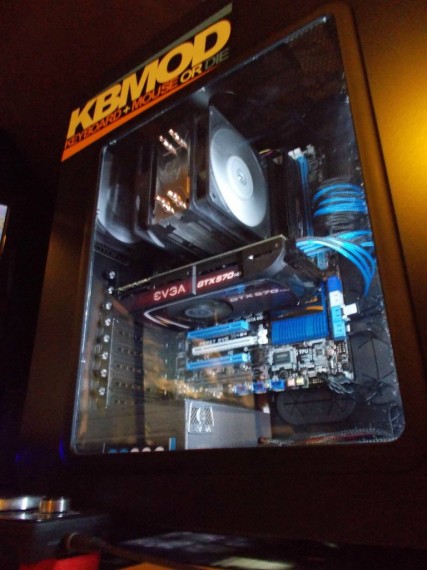 PC Specs:
Case:  Corsair 650D
Mobo:  Asus P8P67EVO
CPU:  Intel i7 2600K @ 4.4GHz
CPU Cooler:  Cooler Master 212+ with Gentle Typhoons in a push-pull configuration
RAM:  8GB G Skill sniper DDR3 1866
GPU:  EVGA GTX 570HD 2.5GB PSU:  Corsair GS800
SSD:  60GB OCZ Vertex 3 for OS
HDD:  1 500gb Samsung F3 and 1 1TB Samsung F3
Fans: 3 Gentle Typhoons, front and top 200mm stock corsair fans
Monitors:  2 x 23" Asus 1080p
Keyboard & Mouse:  Razer Blackwidow and Deathadder and Steelseries cloth QcK pad
Desks:  2 Ikea Vika desks
Chair:  Some random POS that gets the job done
Others:
Asus A53U-XE2 laptop
Samsung  40" 1080p TV
Sony PS3 Slim with upgraded 500GB HDD