Featured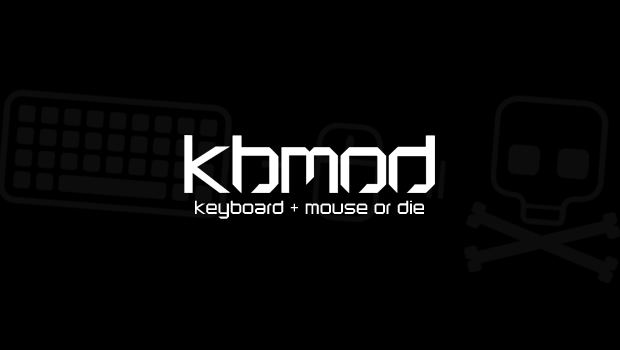 Published on September 28th, 2012 | by Bob
4
Survival Kit: Bob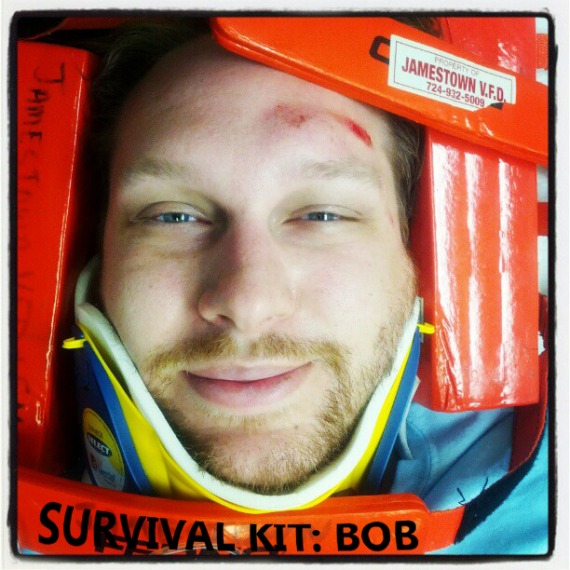 Our Survival Kit series examines the stuff we can't live without on a daily basis, technology-related or otherwise–think Bro Cave, except a little broader and a lot more personal. Our survival kits might obviously include our PC, but also mobile devices, peripheral hardware, apps, and other items we use to game and work.
Hey, how's it going? So here we are; it's my turn for the Survival Kit series. You've hopefully seen my previous Bro Cave article, but that was over a year ago. A lot has changed since then–I've completely replaced my PC and have added a 27-inch display. On top of that, a lot has changed at work, and I now find myself in the midst of way more hardware than I used to have on hand. I'm expanding a bit on Survival Kit because this is what I do every day. My job includes hardware performance testing, platform readiness, image support, mobile device management, OSX, Active Directory, and Group Policy administration.
I'm going to go ahead and preface this by saying: Yes, I actually use all of this on an almost-daily basis. Is it overkill? Yes, by a lot–especially considering the minimal time spent on each device. Let's get started.
First off, behold the under-appreciated…
Desktop PC (Home)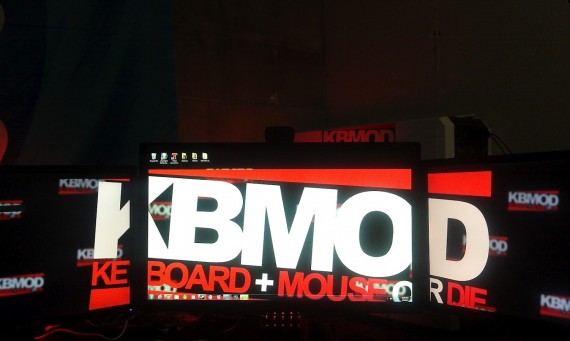 Wallpaper is courtesy of my Kiwi brother from another mother, Andy a.k.a. Skoot. Also note the KBMOD case magnet in the background. You should really get one of those.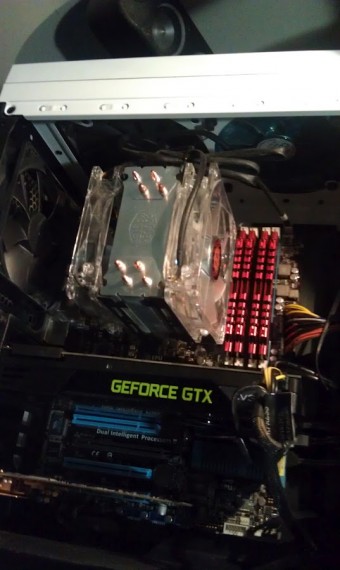 CPU: Intel Core-i7 2600K at 4.8GHz
Mobo: Asus P8P67 Rev 3.1
RAM: 16GB G.Skill Ripjaws
SSD: 128GB Crucial M4
HDD: 2x 1TB Seagate Barracuda
GPU: EVGA GeForce GTX 680
PSU: Antec 750W
Case: Corsair Carbide Series 500R
PCI: ATI TV Wonder 650
Monitor 1: ASUS VE278Q
Monitors 2 & 3: Acer V223W
Mouse: Logitech G500
Keyboard: Razer Arctosa
Speakers: Logitech 5.1 Surround
Webcam: Logitech C525
Headset: Steelseries Siberia v2
Between the demands of work and family, I rarely get to use this thing for extended periods of use for gaming. When I do get to play, I'm usually playing Blacklight: Retribution, Tribes: Ascend, Torchlight II, or Sleeping Dogs.
Home Theater PC
Next up, I built this home theater PC with the sole purpose of eliminating my Verizon FiOS HD-DVR after picking up a SiliconDust HDHomerun Prime 3CC on sale.  I'm upgrading from two tuners to three, with a product that I own and no longer have to "lease" at $18/month. My only regret is that I should have bought a modular PSU. That will be a future upgrade, along with a larger hard drive. Windows Media Center is the primary function here, as it's the only DVR software certified for use with encrypted content via CableCard.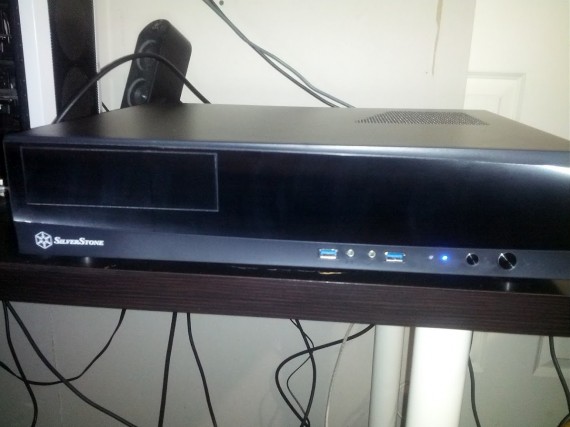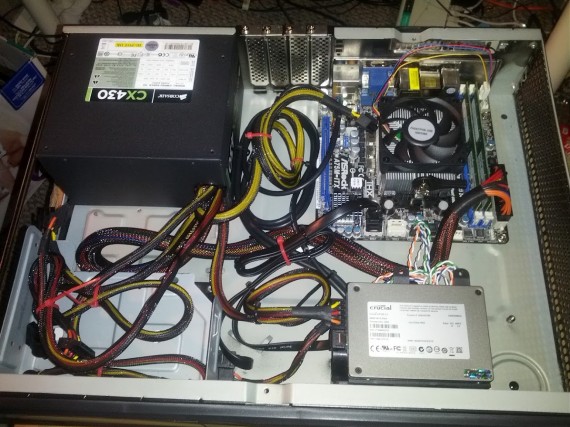 CPU: AMD A8-3870K APU
Mobo: ASRock A75M-ITX
RAM: 8GB Crucial DDR3-1333
SSD: 64GB Crucial M4
HDD: 250GB Western Digital Caviar Blue
PSU: Corsair 430W
Case: Silverstone ML03B (previously a cardboard Amazon box)
Keyboard: Logitech K400
Remote: Logitech Harmony 650
That brings us to what I use at work daily…
Desktop PC (Work)

First, my corporate-approved and slightly upgraded HP 8200 Elite compact mini tower. Can it run Crysis? Err, no, not with this video card. But it can do what I need it to do: Active Directory administration, remote package management, Windows Deployment Server administration, image support, mobile device management, spur-of-the-moment Photoshop pranks…the list goes on. I find HDDs unbearably slow now, so this one got a quick upgrade to a Corsair F120.
HP 8200 Elite CMT
CPU: Intel i7-2600
RAM: 8GB DDR3-1600
SSD: 120GB Corsair F-120 SSD
HDD: 500GB Western Digital Caviar Blue
GPU: nVidia Quadro FX-1800
Monitors: 2x Lenovo 22″ 1900×1200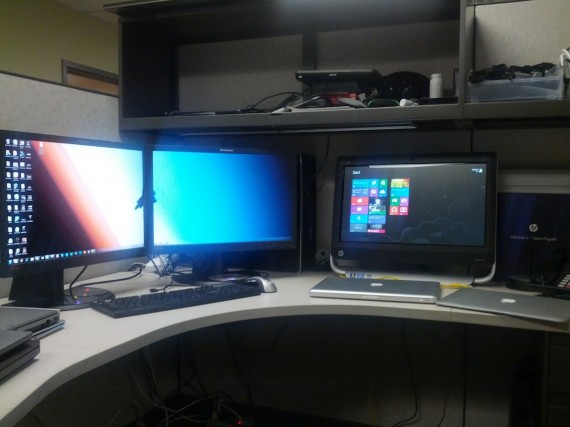 Next to my main PC, I also have a HP TouchSmart 7320 All-In-One running Windows 8. Everything else pictured above is for testing and subject to rotation on and off of my desk. Now what about when I need to be on the move?
Laptops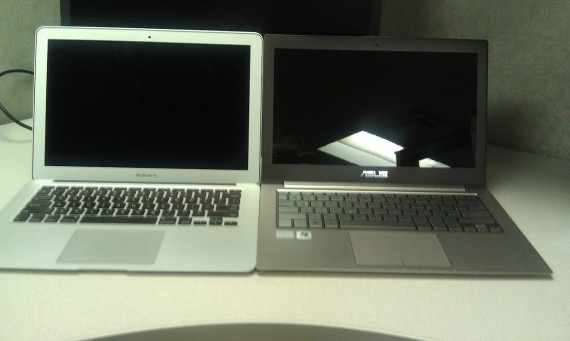 On the left is a 13″ mid-2011 MacBook Air with 4GB of DDR3 and a 128GB SSD. On the right, we have the ASUS Zenbook UX31E-XH72 with an Intel Core i7-2677M, 4GB DDR3-1600, and a 256GB Sandisk SSD.
And my other other laptop is a mid-2010 MacBook Pro: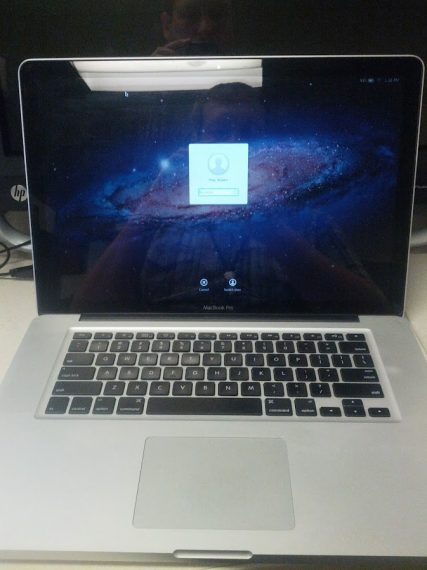 And, well… my stack of laptops (these are all for testing):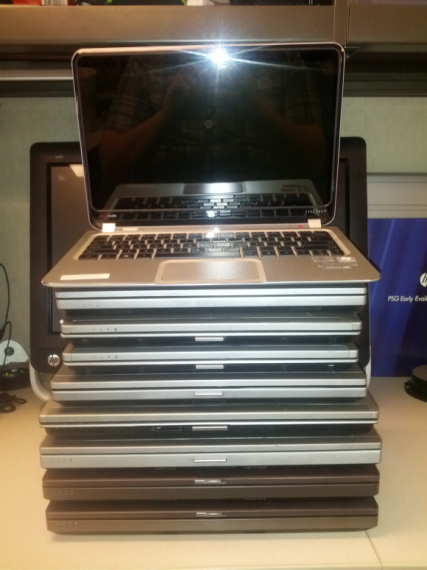 Mobile Devices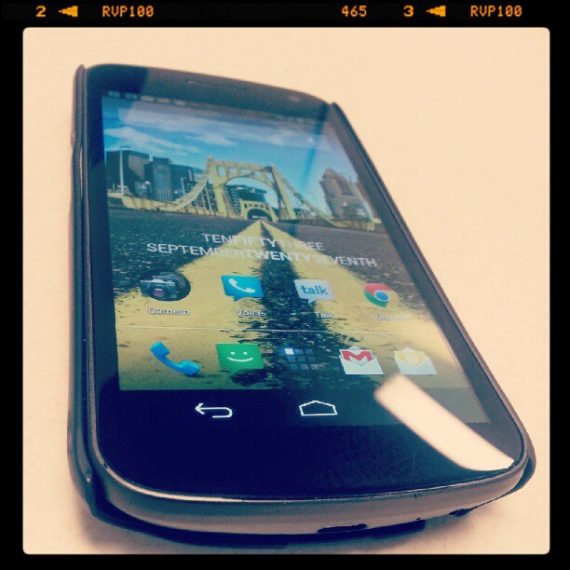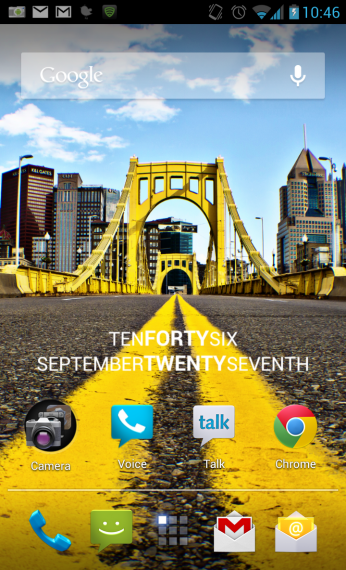 My cell phone is a Samsung Galaxy Nexus on Verizon running BAMF Paradigm 2.1 / Android 4.1.1. I also use two tablets, an Apple iPad 2 and an Amazon Kindle Fire running AOKP Android 4.1.
I've been an Android user since the original Motorola Droid launched, and it remains my mobile OS of choice to this day. I use nearly every Google product under the sun, so Android is a pretty natural fit for me.
I appreciate the potential for customization and have grown quite attached to some of the essential Google apps–Maps and Navigation in particular. I honestly don't ever see myself converting to an iPhone. For my needs, Android wins a permanent place in my pocket.
Mobile and Desktop Apps
How do I keep my data straight between all these devices? The cloud is my friend. I'm a heavy Gmail, Dropbox, SkyDrive, Box.net, and Google Drive user. I use Google Chrome across all platforms to keep it simple. I use Google Talk to keep conversations in sync between desktop and mobile. Additionally, I use a great remote tool called TeamViewer to connect back to my home machines if I need to grab something.
I also use several other apps daily:
Jing by Techsmith: Quick image capture and markup. It's fantastic for adding quick "hey, you're a total idiot and here's why" red arrows or boxes, which is absolutely invaluable in my position.
Skitch for Android: Similar to Jing, this app allows quick image markup and sharing.
Amazon Cloud Player: I've really bought in to the Amazon MP3 store–literally and figuratively. Compared to Google Music, I've found that Amazon typically has more albums available and often at a lower price.
TweakDeck for Android: It's like TweetDeck, but better. I still can't find a Twitter client for Android that I prefer over this one. Other apps may be a bit more flashy or offer better UI and contact integration, but I like this one the best.
Unified Remote for Android: I use this on my Galaxy Nexus and my Kindle Fire to control Windows Media Center on my HTPC in addition to the Logitech Harmony 650. It's a slick, easy-to-use app that is functional well beyond just Media Center.
So, are you exhausted now? I'm exhausted. And this is how I feel every day. Awesome.