Featured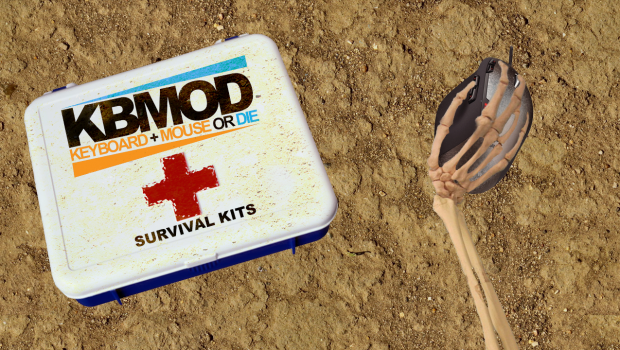 Published on November 9th, 2012 | by Brandon
7
Survival Kit: Brandon
Our Survival Kit series examines the stuff we can't live without on a daily basis, technology-related or otherwise–think Bro Cave, except a little broader and a lot more personal. Our survival kits might obviously include our PC, but also mobile devices, peripheral hardware, apps, and other items we use to game and work.
Hey there, welcome to my survival kit. Since I spend most days staring at a screen of some sort, there's a lot of different tech I've come to rely on. Let's hop right in, shall we?
Desktop PC & Peripherals
It shouldn't come as any surprise that the centerpiece of my survival kit is my home desktop PC. Whether I'm working from home, gaming, rendering a video, surfing the web, or doing all of that at once, this is my command center. I built this PC right around a year ago, and the only upgrade I've made since then was moving from a Radeon 6950 to a new GTX 680 earlier this year.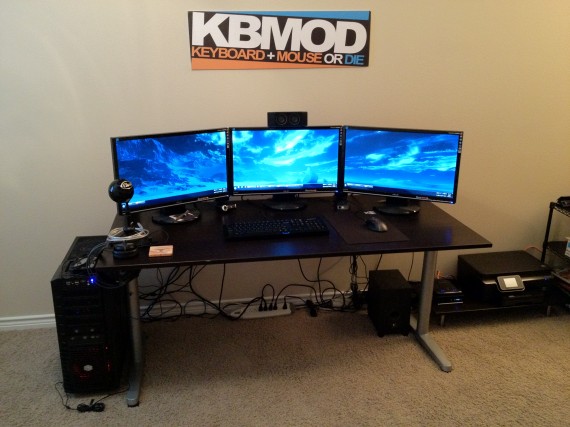 People sometimes ask if I do much multi-monitor gaming, and the honest answer is that, though my PC can certainly handle it, I usually stick to gaming on just my center monitor. I typically have Skype, IM windows, IRC, and other ambient information on my right monitor, with system monitoring and TweetDeck (or perhaps a remote desktop session, if I'm working) up on my left monitor. This setup might sound like information overload, but you settle in quickly once you realize that you can have everything at your fingertips without having to minimize windows constantly. I think adding a second or third monitor to your PC workspace is one of the best "upgrades" you can make; it's one of those instances where, after you pull the trigger, you'll wonder how you ever got along with just one screen.
CPU: Intel Core i7-2600K (overclocked to 4.4 GHz)
CPU Cooler: Cooler Master Hyper 212 Plus
Motherboard: EVGA P67 FTW
Memory: G.Skill Ripjaws 16GB (4x4GB) DDR3-1600
Video Card: EVGA GeForce GTX 680 SuperClocked
SSD: Crucial M4 256GB
HDD: 2x WD Caviar Black, 1TB & 1.5TB
Case: Cooler Master HAF 932 Advanced
PSU: Corsair 1050HX 1050W
Monitor: 3x Asus VW246H 24″ 1080p
Keyboard: Das Keyboard Professional
Mouse: Logitech G500
Headset: Razer Carcharias / Steelseries Siberia v2
Microphone: Blue Snowball
Webcam: Logitech QuickCam Pro 9000
On The Go
Those of you who watch the podcast or follow me on Twitter may know that I work as an IT consultant, which requires travel and typically means I live in a hotel Monday through Thursday each week. Because of this, my messenger bag is loaded with things to keep me connected and make my life easier when I'm on the road.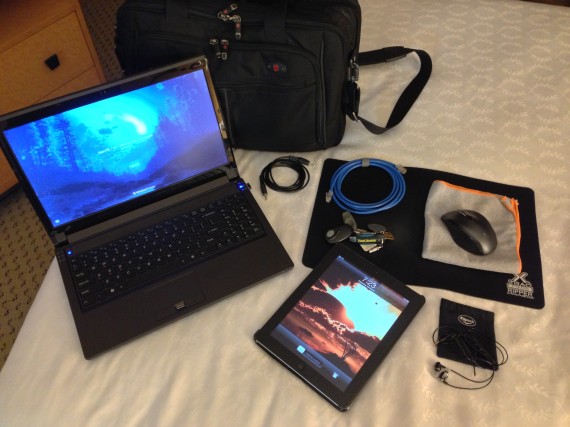 The most important item here is obviously my laptop, which is a custom Clevo P150HM I bought from Pro-Star.com back in January of this year. With a Core i7-2570QM CPU, a Radeon 6990M, 16GB of memory, and a Crucial M4 SSD, it serves me very well for work and some occasional gaming too. As you would expect, it's a bit heavy and the battery life is abysmal, but for the performance it sports, I think those trade-offs are well worth it.
Other notable items include:
Apple iPad 3 – Mainly used for kicking back on the hotel room couch and reading Twitter or catching up on RSS feeds.
Klipsch Image S4i earbuds – Probably the best earbuds you'll find for under $100.
Logitech Marathon Mouse M705 – While I don't care for wireless mice in general, carrying my wired G500 around everywhere isn't very practical. I like this mouse because its wireless dongle is so tiny that I can leave it in my laptop all the time without worrying about it breaking off accidentally.
Xtrac Ripper mouse pad – A fantastic, inexpensive cloth mouse pad that folds up easily to fit in my bag.
Corsair Flash Voyager on my keychain – Because you never know when you're going to need a flash drive.
Microfiber cloth – Essential for general cleanliness and for wiping off fingerprints from coworkers who insist on touching my laptop's screen.
Various cables (CAT6, HDMI, auxiliary, etc.)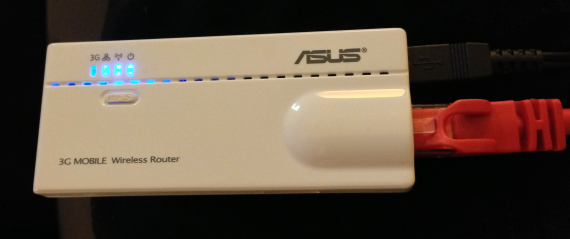 Lastly, one of the handiest items you can have on the road is a small portable router. I carry around an ASUS WL-330N3G (shown above), which isn't much bigger than a credit card. This little thing is invaluable for creating a personal Wi-Fi bubble at hotels or work sites that only have wired connections.
Mobile
While all the stuff I mentioned in the previous section is important when on the road, nothing is more important than my phone.

My phone of choice is an Apple iPhone 5. And no, despite the fact that I own two Apple devices, I'm not an Apple fanboy. While I think it's an absolute travesty that Apple doesn't allow sideloading of apps without jailbreaking, that doesn't take away from the fact that the iPhone is an excellent piece of hardware. Because I am on the road so often, the most important aspects of a phone for me are reliability and battery life, and the iPhone 5 delivers strongly in both of those areas. With the addition of LTE capability, I can also finally get a data signal in an airport, so AT&T also deserves the slightest of credit there.
I have plenty of apps on my phone, but I won't list them out exhaustively, since you undoubtedly already know about basic apps like Pandora and Facebook. As far as my essential apps, there are a few worth mentioning:
Lastly, I don't play that many mobile games, but in case you're interested, my five all-time favorite games on iOS would have to be Plants vs. Zombies, Peggle, Bloons TD 4, Tiny Wings, and Cut the Rope.
Desktop Apps
As a PC power user, there are a bounty of awesome programs out there to enhance functionality, most of which are free! I'm not going to list out obvious programs we have covered before like Steam and Microsoft Security Essentials, but I will run down some of the programs that I couldn't live without:
WizMouse – Lets you scroll the window your mouse is hovering over without you having to click on it. This is the best program you never knew you needed–once you use it, you'll wonder why Windows doesn't include a feature like this by default.
Dropbox – Allows you to store all your important files in the cloud seamlessly for access on other PCs or via a mobile app or web interface. It's no exaggeration to say that it's the most important program on my PCs.
Digsby – An all-in-one IM client with support for pretty much everything under the sun. I like Digsby mainly for the ability to have one combined buddy list for all my accounts, but it also allows you to set up notifications for Twitter, Facebook, and email accounts. (Just make sure you pay attention to the checkboxes during installation; the Digsby installer can be a little shady.)
Autohotkey – An amazing tool that allows you to build scripts that can literally do just about anything on your PC. Seriously. You can code your own automated scripts like this one to open programs, move windows, simulate key presses and mouse clicks, and everything in between.
TeamViewer – The best remote access tool around, and it's free for personal use. Whether I'm playing tech support for my parents over Skype or I just need to remote into my desktop PC when I'm not home, this program just makes life so much easier.
Honorable mentions go out to DisplayFusion, CCleaner, 7-Zip, Notepad++, and TweetDeck v0.38.2 (a.k.a. "old TweetDeck").
Phew, I think that about covers it. I hope you enjoyed this glimpse into some of the tools I use to survive in this technology-driven world. Maybe you even discovered something you can add to your own survival kit? Thanks for reading, and if you have any questions, feel free to post in the comments or tweet at me!