Featured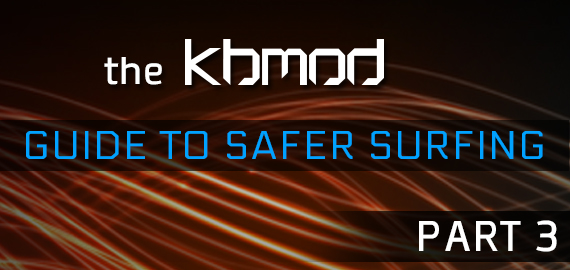 Published on April 3rd, 2013 | by seanbutnotheard
6
The KBMOD Guide to Safer Surfing, Part III: Habits
In part 1 and part 2 of the Safer Surfing Series, we shared what we feel is an important collection of software for keeping yourself safe and your information protected on the internet. In this third and final instalment, we'll discuss some good personal habits to form to achieve the same ends.
Software can only do so much
The usefulness of the software we've touched on  can only go so far; you will only be as safe as your everyday habits make you. By far, the most important step to be safer on the internet is to think. Scammers are everywhere, and you can't afford to let your guard down. Don't blindly run programs without knowing where they came from, and always be suspicious when things look a bit different on your favorite download sites than they did during your last visit. Here's a tangible example that I ran into at work recently: One of our staff members went to download a copy of VLC media player by searching for "VLC" in her browser. The site that came up first in the search results was an almost-legit looking 3rd party site where, yes, you can download VLC player, but it came packaged with several spyware programs. So when possible, get software directly from the original vendors. To this end, what I typically do is rely heavily on my browser bookmarks rather than search engines whenever possible. (For future reference, VLC's real home page is videolan.org.)
Here are a couple of other habits that will contribute to the safety of your internet experience:
Help Us Help You
That's it for our safer surfing series, at least for now. Our hope is that this series will serve as a launching point into a future stream of tutorials and updates about the changing state of internet security. We also hope that if nothing else, we've encouraged you to start learning more about the technologies that make the web work.
And of course as before, we want to hear what you do to keep your information secure. Let us know here in the comments, or jump over to the appropriate section in our forums for a more in-depth conversation.