Featured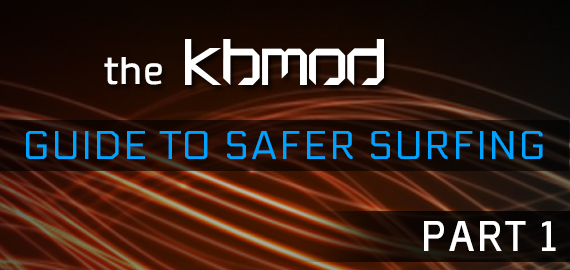 Published on March 11th, 2013 | by seanbutnotheard
8
The KBMOD Guide to Safer Surfing, Part I: Browser Addons
About the time we were going to publish this article, friend and fellow KBMOD community member @Sagesparten007 published his own security guide, and he included some really useful information beyond what we had planned to include. So with his most gracious permission, we merged his suggestions with ours, resulting in what will become a much more comprehensive series. His original write-up can be found here. Thanks Sage!
Let's face it, surfing the web is pretty risky, and it's definitely not very private. So we here at KBMOD thought it would be useful to list a few steps you can take to make your web browsing and other internet usage a little bit safer and more private. This is not meant to be a completely exhaustive guide, but by following a few of the steps in this series, your internet browsing will be much more secure than if you did nothing at all. Since the PC gaming community tends to be pretty savvy compared to the rest of the population, some of these steps may seem obvious to you… but others might not.
Security-Centric Browser Addons
If you care about security and privacy, you'll want to use either Firefox or Chrome for your web browsing. If you're using Internet Explorer, you're doing it wrong. Admittedly, recent versions of Microsoft's browser offering have been much better since the painful days of IE6. Even so, Firefox and Chrome offer the ability to install add-ons which can greatly improve your browser's security and privacy features. Here are a few addons that we recommend for use on a regular basis:
Help Us Help You
That's it for part one, and believe me we're just scratching the surface. Like it or not, we've entered an age when governments and corporations increasingly try to blur the line of what's acceptable when it comes to handling information about you, so the more you can learn about ways to protect yourself, the better. To that end, we want to hear what you do to keep your information secure. Let us know here in the comments, or jump over to the appropriate section in our forums for a more in-depth conversation.
Next time, we'll look at a few pieces of software outside of browser plugins that can make your internet experience more secure.