Battlestations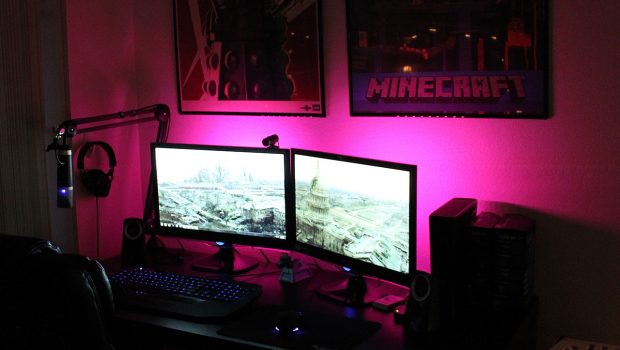 Published on June 28th, 2013 | by KBMOD Community
4
LadyBro Cave: @Lolrenaynay
This week, we're happy to feature friend of the site and community at large, Lolrenaynay! While she was a little nervous to submit her build, we aren't sure why, because it is absolutely stunning. With a beautifully illuminated NZXT Switch 810 Full Tower case, and matching back lighting on her monitors, not to mention enough horse power for gaming, stream, encoding and murdering you to death in FourDeltaOne. We gladly welcome Renee not only to the front page of KBMOD, but our forum community as well. Make her feel at home guys and gals!
Intro and Background
Hey guys! I've been wanting to show people my setup for some time and I finally got the opportunity to dust all the dog fur off my desk. There's still a lot I want to work on with my build and I'll also be moving soon, but here's what I've got currently.
My current rig is also my first build, though it's been upgraded since it's "birth." It was built in December 2011 with the help of a few folks from the KBMOD community. I owe a lot to John (@johnsfatcock) for helping me pick out parts, as I knew next to nothing about computer components, and he's been able to teach me a lot. It was originally a budget build, which is why there's a weird mixture of low-end, high-end bits in it.
As for my gaming history, I've been playing games since I was a kid (NES, SNES, N64, PS, etc). As I got older, I played a bit on PC in Quake III on a rail-gun mod and was part of a "casual" clan, but I mostly stuck to my PS2. After a break during high school, I bought a 360 and played a lot of Modern Warfare 2 and Left 4 Dead. My library expanded once I started doing YouTube. When I became more serious about making YouTube a "career," I decided to transition into PC gaming for the sake of quality, cost of games, and just a taste of something different. I now consider myself primarily a PC gamer, but I do still enjoy a couple of games on console.
I recently upgraded from the HAF 912 mid-tower to the NZXT Switch 810 full tower and I couldn't be happier with it. The white is a refreshing change and it looks awesome with my new 680 and my LEDs. The NZXT HUE RGB controller can change the color, effect, and brightness of the LED strip. The DIODER light kit is awesome and stupid cheap ($30 at IKEA). You may also notice there are 10 fans in the case and no, noise is not an issue whatsoever. Also, my cable management is pretty garbage because I had to make a last minute re-arrange and I'm getting a new PSU soon. I promise I can do better.
The Specs
Case: NZXT Switch 810 (white)
CPU: Intel Core i7 2600k @ 4.2GHz
Mobo: ASRock Z68 Extreme3 Gen3 ATX
RAM: 8GB Mushkin Silverline
GPU: EVGA GTX 680 (4GB FTW Edition)
SSD: 60GB Corsair Force Series 3 (OS)
HDD 1: 1TB Western Digital Caviar Black
HDD 2: 1TB Seagate Barracuda
PSU: Thermaltake 750W (Will be upgrading to the NZXT 850W white PSU soon)
Keyboard: ROCCAT Isku
Mouse: ROCCAT Kova+
Mic: M-Audio Producer
Headphones: Audio-Technica M30s
Case Lighting: NZXT HUE RGB LED controller + LED strip
Desk Lighting: DIODER 4-piece light kit from IKEA
You can check out Renee's exploits on Twitter, YouTube & Twitch every week. You won't be disappointed.