Build Guides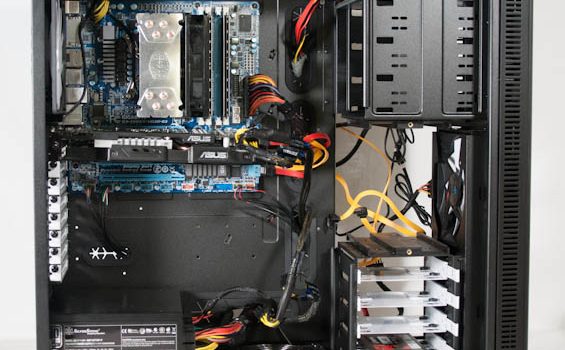 Published on December 19th, 2013 | by John
2
Build Blowout 2013 – John
This was actually pretty hard for me. I wanted to build something practical. If you know me, you can imagine what a task this was.
I'm approaching this as if I'm building it for me. Currently, I run a 3930k and 2x 680s. While my current build is great, SLI isn't the best solution. I'd much prefer a more powerful single GPU.  I'm also quite happy with my monitor setup (3x BenQ 2420Ts) and my peripherals (Deathadder 2013, filco majestouch 10 keyless, qck thick), so I don't think I'll be considering any of those here. I'm also not a giant girl like the rest of the guys here, so portability doesn't matter to me. I bench 450.
I went with a 4930k, because my experience with the 3930k has been so incredible. I don't necessarily need 12 threads for day to day use, but in the rare occasion that I want to stream or render video, it certainly helps. Prior to my 3930k, I had owned a 980x for a long time. I feel like $600 bucks for a hex core CPU is pretty reasonable, considering that the 980x ran me $1,000 a few years back. To cool that, I went with a Glacer 240L.  This is the big brother to the much acclaimed Switech H220. As somebody that enjoys overclocking, having a top of the line cooling solution is a necessity.  As you can probably see, I hate mechanical storage. My current machine doesn't have any and any future machines I build will continue this trend. You should also take note of the lack of mechanical storage. HDDs are bad. Stop using them. At under $1 per gigabyte, there's really no reason to not grab one (or 5).
Part list permalink: http://pcpartpicker.com/user/essindees/saved/3b63
CPU: Intel Core i7 – 4930k (579.99 @ Tiger Direct)
CPU Cooler: Cooler Master Glacer 240L (Good luck finding it right now)
Motherboard: EVGA 150-SE-E789-KR EATX ($437.46 @ Tiger Direct)
Memory: G.Skill Ripjaws X Series 4×4 GB ($149.99 @ Newegg)
Storage: 2x Crucial M500 960GB SSD ($497.34 each at B&H)
Video Card: EVGA GeForce GTX 780Ti 3GB ($699.99 @ B&H)
Case: Fractal Define XL R2 (Black Pearl) Full Tower ($129.99 @ Tiger Direct)
PSU: Corsair RM 850W ($129.99 @ Tiger Direct)
Grand Total: $3288.81.
Image: Anandtech