Hardware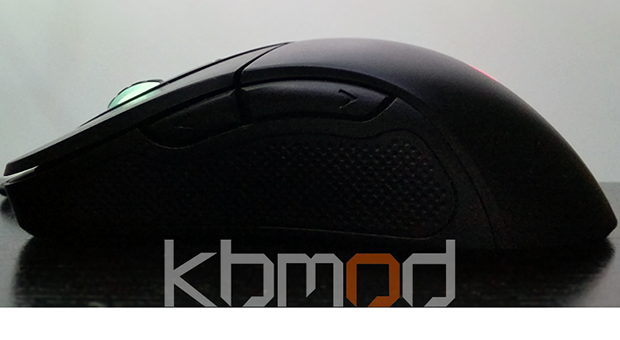 Published on March 27th, 2015 | by Bob
4
Review – Cooler Master | CMStorm Mizar
Disclaimer: A review sample of this product was provided by Cooler Master Product Name: Cooler Master | CMSTORM Mizar MSRP: $59 Ergonomic Laser Gaming Mouse Specifications:
Sensor: Avago ADNS-9800
DPI/CPI: Up to 8200
Polling Rate: 1000 Hz / 1ms
Mouse Acceleration: 30 G
Tracking Speed: 150 ips
Lift Off Distance: < 2.1 mm
Programmable Profiles: 4
LEDs: 7 color / 4* modes
Interface: USB 2.0 70.9in / 1.8 m Braided cable
Dimensions: 4.91(L) x 2.38(W) x 1.58(H) inches / 124.8 x 60.4 x 40.2 mm
Weight: 0.27lbs / 121 g
Warranty: 2-year
First Impressions
The Mizar is inspired by a classic right-handed ergonomic design of undeniable pedigree – certainly a more utilitarian design than a lot of mice that we've seen in the gaming segment recently. It has the chops to be in the gaming segment at an attractive price point, though, with a high precision laser sensor boasting up to 8200 DPI, 7 fully programmable buttons and an impressive software suite (highly complex macros and all!) to go with it. Soft touch rubber pads on either side provide extra grip to go along with the soft touch matte painted plastic outer shell. It's designed ergonomically for a right handed palm grip-type, and contoured gently to feel comfortable in hand. Using more of a fingertip grip, myself, the contour of the shell just felt like a natural fit. It's clean, it's appropriately sized, and carefully sculpted.
At 121 grams including the braided cable (100 grams without), the Mizar is a bit lighter than my personal preference these days, but it still manages to feel substantial in hand (I've been using a Logitech G500 loaded with all of its additional weight for a couple of years). It glides effortlessly on its tiny low-friction pads over every mousing surface I've tested, but not in a way that makes me really wish for additional mass. It has a solid build quality, but lacking that mass it can give you the impression that it's just barely more than a plastic shell. Luckily that plastic shell feels good to hold, and the switches beneath the left and right click in particular feel solid and responsive.
I knew something was familiar with this mouse from the moment I held it… kind of a welcome familiarity that I couldn't figure out. Having rather large hands, I've used a fingertip grip all of my life – I could mostly accommodate for any shape. I wouldn't generally be swayed by the contour of a mouse, or expect it to fit my hand perfectly. Something about this Mizar, though, reminded me of a long forgotten piece of hardware that I'd relied on for many years. I couldn't quite put my finger on it… until I did, literally.
Aesthetics
During the course of my evaluation, I stumbled upon a Microsoft IntelliMouse Explorer 1.0 and suddenly it clicked. The classic ergonomic design was none other than of the tried-and-true IntelliMouse. In my opinion, the Mizar is pretty much the spiritual successor to the IntelliMouse Explorer, a mouse that I personally put a significant amount of mileage on. I'm not sure the IntelliMouse Explorer (Version 3.0 pictured below) ever truly hit iconic status, but there was a time that just about everyone I knew was using one. Like the Mizar, it had a subtle right handed ergonomic design, boasted solid construction, (at the time) an above average sensor, all at an attractive price point. It's no small wonder that Cooler Master might have channeled its essence in designing the Mizar.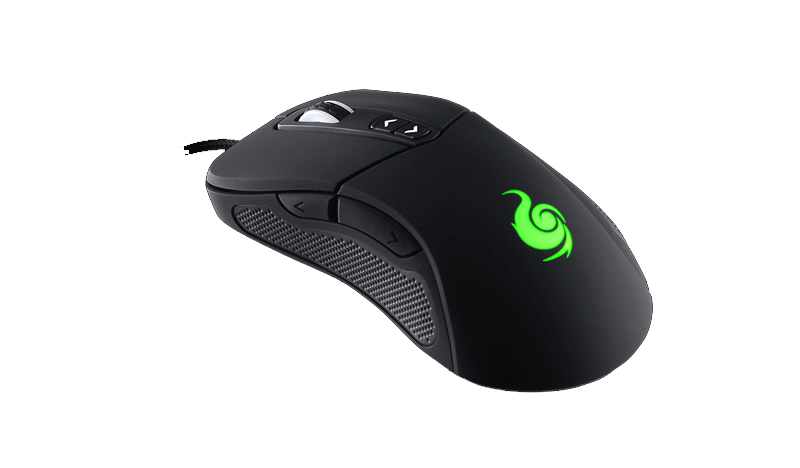 Functionality
Thanks to its rather impressive configuration program, the Mizar boasts 4 adjustable DPI levels from 200 to 8200 and a ten position slider for USB polling rates from 100 Hz to 1000 Hz (10ms to 1ms) for each of its FOUR profiles. That gives you plenty of flexibility in finding that mouse movement that's just perfect for your needs, even on a game by game basis. These profiles also give you the opportunity to set one of seven different LED color options (red, white, yellow, green, blue, teal, pink), and 3 different LED modes (well, 4 if you count LED-off – Always On, Always Off, Breathing, Rapid Fire).
All 7 buttons are able to be configured to your liking – you can even disable a button, or use it to shut the sensor off entirely. I'm not quite sure why you'd want to do that but maybe someone can clue me in below in the comments.
I'm not exactly big on macros, but there's an entire panel dedicated to macro creation and assignment – I'm not sure I could train the Mizar to do my job for me, but one of these days I might give it a shot. Kudos to Cooler Master for building out a robust software application to compliment a relatively low cost product for another value-add.
Value
The Mizar finds itself in a very reasonable price segment with the MSRP of $59 and yet is equipped with the aformentioned Avago ADNS-9800 Laser Sensor – that's a sensor that you'll find on the likes of the SteelSeries Sensei (Sensei Wireless & Sensei MLG), the Roccat Kone (Kone[pure] & Kone[XTD]), the Logitech G600, and the Tt eSports Level 10M – all quality mice at a slightly higher price point.
Here's where the Mizar gets very enticing: according to PCPartpicker historic price data, the Mizar has frequently been available on sale between $30 and $40 – in my opinion that's a steal. It seems like Cooler Master invested in the right areas of the Mizar to make it successful, without needlessly inflating the price of the mouse by over-engineering it. It's certainly not a cheap or budget mouse, but it is rather a bargain in the segment based off of the internals, the fit and finish, and the available featureset.
Hope for Improvement
I'm hopeful that with firmware and software updates (or even the next revision of the product), we might see a bit more functionality out of the onboard LED for aesthetic purposes. Granted, when in use it's a bit of a non-issue – the LED is entirely obscured by your hand, and only the scroll wheel and DPI switches are visible, illuminated in white. In forthcoming iterations, I might like to see the DPI switches moved ever so slightly forward, or perhaps to a new location entirely (ala the Logitech G500 for example). In their current location they're not easily accessed without a very, very deliberate action and could pose a problem if you game in a way that requires frequent DPI changes. I would also very much like to see a customizable weight solution. That might be asking for a bit much in this price segment, but 100 g (not including the braided cable) is just too light in my opinion. I have to imagine that there is free space available to take advantage of underneath the shell for weight inserts of some type.
Final Thoughts
It's the right size, the right contour, and has the right blend of performance and featureset to be your next mouse. It's close to being great and with a little more weight, and a slightly different exterior coating it could be.
Summary: Bottom line: it's got a great sensor and a comfortable body paired with an excellent configuration application - it's built in a manner that doesn't break the bank. If you're in the market for a reasonably priced mouse with a good feature set and a high quality sensor, look no further.