Hardware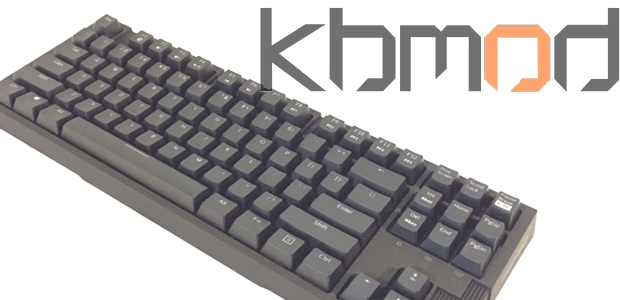 Published on April 20th, 2015 | by Bob
0
Review – Rosewill RGB80 Mechanical Keyboard
Disclaimer: A review sample of this product was provided by Rosewill
SPECIFICATIONS
Keyswitch
Blue Mechanical (Kailh)
Key Rollover
N-Key + 6-Key
Actuation
60 g
Key Travel
4 mm
Interface
71″ braided detachable Micro USB 2.0 – Full Speed
Dimensions
14.6″(L) x 5.30″(W) x 1.10″(H)
Weight
2.2 lbs
Warranty
1-year
MSRP: $149

First Impressions
Over the past two weeks, I've used the Rosewill RGB80 keyboard almost exclusively while at home and feel that I've put enough mileage on it to do it justice in a review. Anyone can regurgitate the numbers for you, but hopefully my experiences can help you choose to perform your own research in an informed manner if you're in the market for a new mechanical keyboard. At this point in time, the market is practically flooded with them; each have their merits and drawbacks. The RGB80 is a perfect example of that. This is a solid and comfortable board that doesn't quite live up to the imagery on its own packaging.

Aesthetics
The overall build quality of the RGB80 is excellent – it's a solid, angular block with sharp edges, wrapped in soft touch rubber. The keys have very little wiggle to them while resting above the Kailh blue mechanical switches. The RGB80 boasts RGB LEDs under each key, technically capable of 16.8 million colors.  Whether you're able to discern 16.8 million unique colors or not, well, that's unlikely. For me, the backlighting alone is a welcome addition to the other keyboards that I use on a day to day basis.
The product features an understated utilitarian-style shell with a solid presence. The design itself is similar enough to many other devices on the market that you might be hard pressed identifying the manufacturer without flipping it over. It's not quite as stiff as a keyboard with a steel baseplate; there's a bit of flexibility available to the board when applying torque in opposite directions on either side, though it's not enough to be of concern from an overall durability standpoint. However, it is worth noting for those who are particularly abusive to their keyboards.
If you happen to ragequit games frequently and smash your keyboard on your desktop, well, you might need to go to anger management in addition to buying a model with a steel baseplate.

Functionality & Performance
Unfortunately, the software currently available for the RGB80 fails to live up to the potential of the keyboard itself. Touting its color selection prowess, I was disappointed to find that I could not set individual key colors, meaning any changes to the LED setting for a profile would change the backlight for all keys. Unfortunately, the retail packaging is a bit misleading – it's not able to operate in a rainbow mode as depicted, or as you might find with something like the Corsair K70. Unfortunately, due to the controller selected for this board, it's not something that can be enabled with a software update. However, the RGB80 does have 6 lighting modes – off, low, high, breathing, and two gaming modes – illuminating WASD, space, enter, and F8-F12 or WASD, 1-0, space, ctrl, alt, shift, enter, and F8-F12. The LEDs can be set to a single color (solid), single color (dimming), and a color loop. I've found that I prefer the single color on the LED's high brightness setting.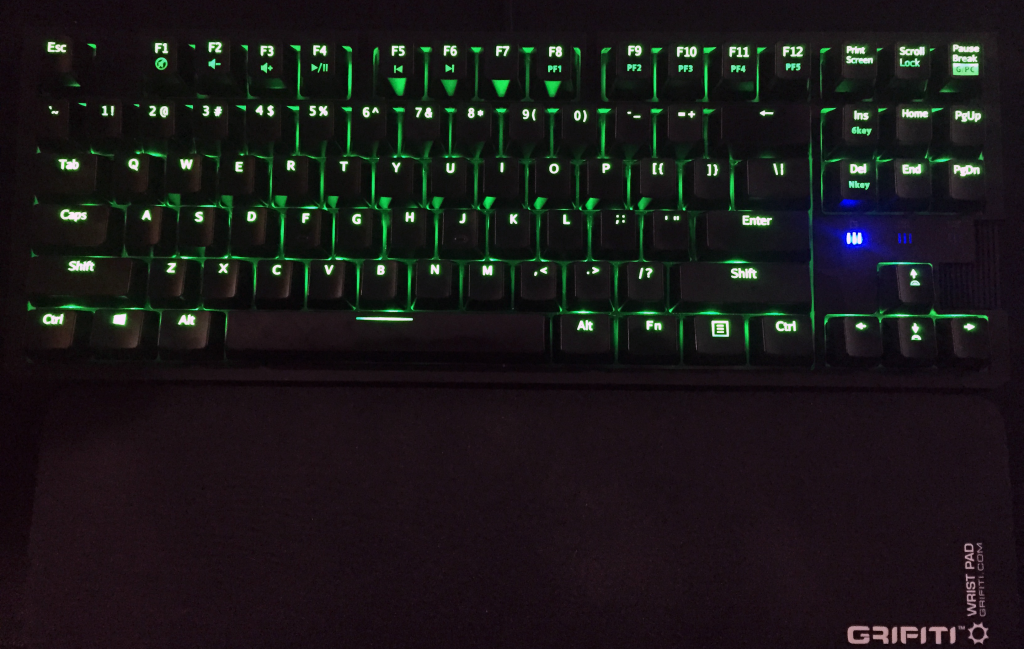 Issues experienced in the current version of the software aside, it's still fairly versatile for day to day use. You have the capability to define 5 profiles, which can be set on the fly by holding the function key, and pressing F8 through F12. In each profile, you're able to set macros, reassign keys in a custom manner (for example those who might use a DVORAK layout), and set hotkeys for program launch. You're also able to set the profiles to sync to specific programs, once you launch them. Thankfully, you're able to export and import these profiles so that you don't have to do all of that heavy lifting more than once.
Interestingly, the Windows key is disabled entirely in the 5 gaming profiles, and in order to enable it, you must toggle to "PC Mode" with Fn+Pause/Break. In this mode, the LEDs change to purple, and the Windows key is available for macro as well as other built-in windows functionality (Win+R to run for example).
To my touch, the Kailh blue switches are responsive and comfortable. They require 60g of force to actuate and provide a subtle tactile bump mid-press, alongside a satisfying sound. I'm still waiting for a key tester to arrive, so I'll have to compare to Cherry MX Blues in memory / muscle memory – these feel every bit as satisfying and responsive. I use a Cherry MX Brown-equipped keyboard at work, and actually find myself preferring the blue switch type the more that I use it. For those who prefer brown switches, Rosewill does offer a brown switch-equipped RGB80BR.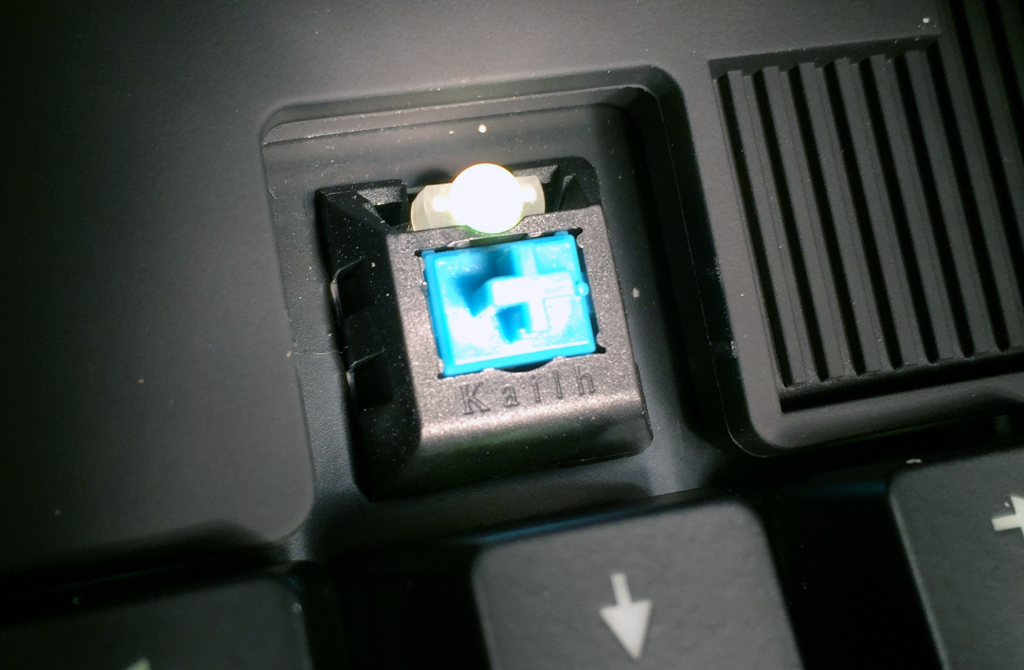 Value
The RGB80 is a reasonably priced entrant into the mid-grade category; at the time of writing, it's available on Newegg.com for just $80 (on sale for $99 + 20% off code RSWL20). At that price, it holds quite a bit of value, and is quite an enticing option. It may not hold the prestige as many others in the market, but this is a good piece of hardware. As mentioned above, the accompanying software leaves much to be desired, but the overall functionality and day-to-day usage is rarely hampered. At the MSRP of $149, it's a much more difficult proposition; I'm not sure that I could justify the purchase given the RGB80's featureset.
For the Future
Ultimately, the software issues need to be addressed in order to truly elevate this keyboard. In its current state, it certainly gets the job done and I've been told that a forthcoming release will address many important issues.
As it stands, it is comfortable, accurate, and responsive. Unfortunately, the packaging is a bit misleading, and could potentially lead to a bit of buyers remorse. To address the hardware limitation, Rosewill also showed off the upcoming RGB100 at CES and hopes to launch it in Q3/Q4 of this year. The RGB100 will enable rainbow/individual key lighting and pits it squarely against the Corsair K70 at an expected MSRP of $169.
The Verdict
Summary: If you're in the sub-$100 market for an LED backlit, tenkeyless keyboard, this might just be the one if you can catch it on sale.