News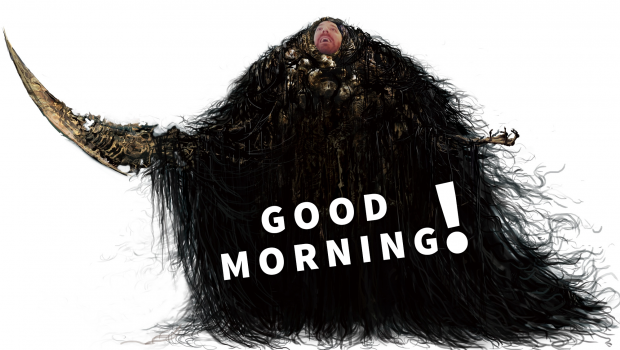 Published on May 19th, 2015 | by Dan
0
Good morning! I unlocked Mein Leben mode.
Good morning.  I beat The Old Blood last night on stream and I don't know why it got such middling reviews.  There were some frustrating design elements, but overall just a great stand-alone experience.  Well done again, Machine Games.
Without further comment; let's video game.
Blanche @ mad: I didn't even know you could use an old lady as an interactable in MKX, but now I do.  Apparently in the marketplace level you can hit your opponent with her, and if you use the right button combo in the right situation, she'll perform a Brutality on your opponent.  Solid easter egg, Netherrealm.
That is a lot of copies: Grand Theft Auto V has sold 52 million copies.  That doesn't count digital copies.  Lawd!
Orgrim Swaghammer: I have no hope for the Warcraft movie, let me just start there.  However, this blending of CGI and real life is as impressive as any Blizzard cinematic. Absolutely stunning work by ILM.
Welcome to the most maximumest of PCs: MaximumPC has relaunched with a nice make over.  To go along with this, the knowledgeable folks over there have redone all their top hardware lists.  Check out the best coolers list here.
DOOM: The first teaser for the new DOOM dropped yesterday.  It is short, but I am now super hype.  A video has also leaked showing what id had come up with before scrapping the game entirely and starting over. Yikes.
Strip away the fluff: As long as competitive gaming has existed, people have stripped away anything they can to gain an advantage.  Now League of Legends, arguably the biggest competitive game on the planet, is adding a "remove eye candy" option.  Less bling, less distractions.
Can you dig it, sucka: Now you can actually make Pittsburgh in Cities: Skylines.  Tunnels are being added to the game very soon.  This will let us see if it is only Pittsburgh drivers who inexplicably go way slower in tunnels or if AI citizens will model this.
Return of the bard: Brian Fargo, mastermind of many RPGs, most recently the fantastic Wasteland 2, is making a new Bard's Tale game.  If you like classic dungeon crawlers, definitely keep an eye on this.
That's all for today!  The podcast will be ready for download in a few hours, so stay tuned to KBMOD.  We'll see you tonight for The Witcher III on Twitch!