Hardware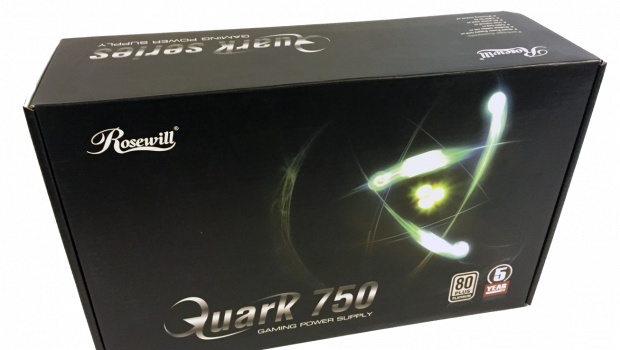 Published on August 18th, 2015 | by Bob
1
Review – Rosewill Quark 750W PSU
This is my first power supply review for KBMOD – and I have to be honest with you, I found this seemingly simple and thankless component more difficult than the vast majority of other product samples that have come across my desk.
We take power supplies for granted all the time. They're (typically) non-descript boxes that consume precious space in our rigs. Generally we try to hide them and their messy wires as best we can. We curse them when the "magic smoke" appears, with its acrid burnt-popcorn-like smell. We blame them first when other components fail without warning.
Like I said – a thankless job. A thankless job that's very difficult to quantify for review purposes without a tremendous amount of expensive equipment.  I felt ill prepared both in equipment and in knowledge of OEMs and components in the power supply space when I agreed to take this review on, but I felt compelled to give this an honest effort in analysis in layman's terms. We pride ourselves in making technology accessible to our community and those who stumble upon our corner of the internet. Many of you just take our advice and run with it which is both humbling and terrifying at the same time. Our goal for this review (and all of our reviews) is to give you the best and most accessible information as possible. Our contact at Rosewill was also kind enough to entrust this piece of equipment to us for you to learn about, so here we are…
First, let's talk about things in the theoretical sense – buying an inexpensive power supply from a suspect manufacturer is generally a crapshoot. It's also a component that can literally pay for itself over the course of its lifetime if you select the right one. Efficiency is the name of the game, and that comes in the form of the relatively friendly and accessible 80 Plus rating. The goal of the rating, is to set consumer expectation of efficiency – it takes AC power from the wall, converts it to DC, and power lost in the process is exhausted as heat.
Efficiency at 20%, 50%, and 100% load determines its 80+ rating tier. An 80+ Platinum power supply for example, must be 90% efficient at 20% load, 92% efficient at 50% load, and 89% efficient at 100% load. 80+ Gold, on the other hand, must be 87%, 90%, and 87% efficient at the respective load levels. Today, Platinum rated units carry a price premium that some might argue does not warrant the efficiency gained. For this reason, you'll find 80+ Platinum rated units carrying other features that make them an enticing purchase.
First Impressions & Aesthetics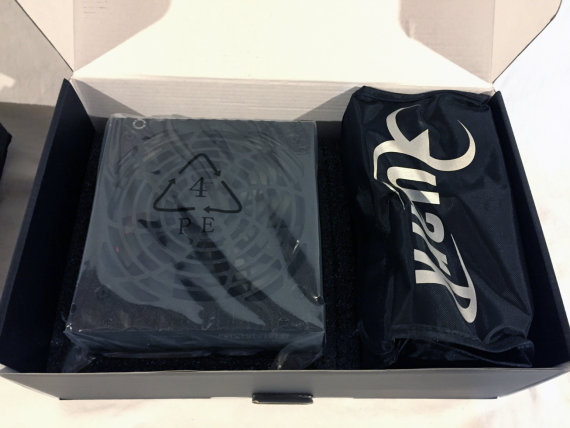 This particular unit, the Quark 750, is one of six fully modular 80+ Platinum ATX power supplies in Rosewill's Quark Series. They range from 550 to 1200 Watts, and from $104.99 to $199.99 in MSRP.
Rosewill has packaged this power supply in a mostly non-descript black box, save for the bit of matte texture, and punched-hole fan grill. The texture gives it just a bit of reflective quality that makes it sparkle for lack of a better word. This looks particularly interesting under multi colored LEDs. This particular unit features 5 connectors available for SATA/Molex peripherals, 4 available for PCIe connectors, a 24pin as well as two 8pin CPU. It also includes an LED status indicator for each rail, indicating their operating status health.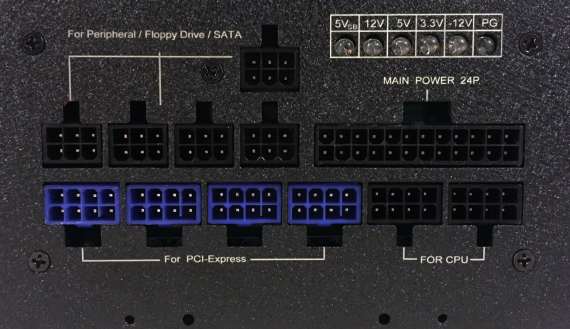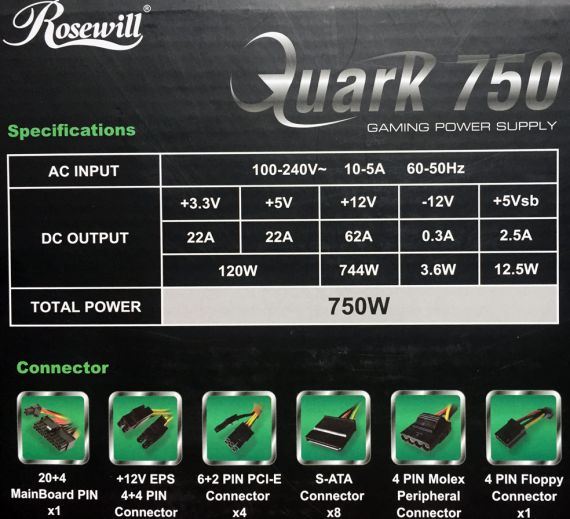 Included in the box, is the Quark 750, a 20+4pin ATX cable, 2 +12v EPS 4+4 CPU connectors, 2 PCI-E cables with two 6+2pin connectors each, 2 SATA cables with 4 connectors each, 2 Molex cables with 4 connectors each, 4 PSU mounting screws, a few cable ties, and a nylon bag for storing cables that are not used. Unfortunately they cables are a mesh-sleeved type, rather than individually sleeved or flat as you might find with other platinum-grade PSUs (admittedly, generally in a higher price category). From an aesthetic standpoint, this is my only gripe with the overall package. Overall the sleeving job is adequate, and will result in a clean build. In this particular instance, you might be inclined to individually sleeve these cables without too much concern over their potential damage if you're looking for that type of aesthetic and put in the effort.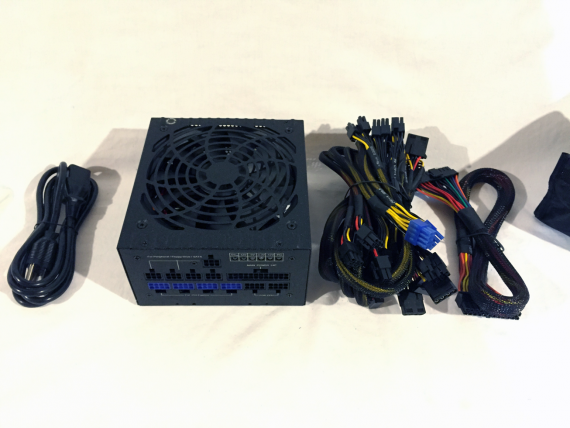 Functionality & Performance
A bit of research indicates that power supplies in the Quark series are OEM'ed by Enhance Electronics. From those who are much more informed of the power supply world, Enhance Electronics is supposedly one of the better OEMs, and their corporate page indicates most of their focus is on the datacenter. This particular unit is on the "13XX Platinum" platform/design which at least to a layman in the PSU space such as myself appears to be a rather modern and efficient design. It's comprised of high quality Japanese capacitors and a rather excellent cooling design. This unit operates rather quietly throughout the range of load, though it does not operate in a fanless mode. It has a 135mm fan that automatically adjusts its speed depending on load to keep it cool.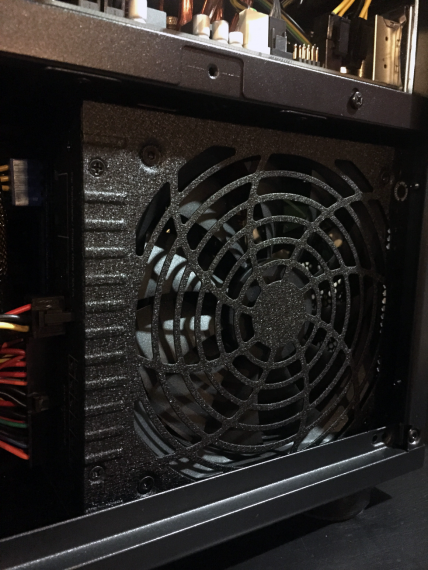 In the course of this review, I decided to pick up a Rosewill RTK-PST LCD Power Supply Tester, and found the unit to be providing steady power, generally within +/-0.1 volts of each rail. It doesn't test load, but it's a useful indicator that the PSU is providing the voltages within spec.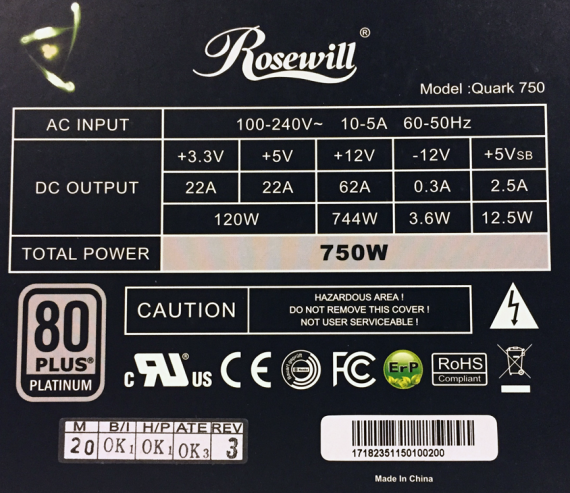 Value
At time of publishing, the Quark 750 is available on Amazon for $120.10, and on Newegg for $139.99 – obviously the 80+ Platinum rating carries a premium over 80+ Gold, and you need to make the determination of whether it's worth it for your build, and your power usage habits. It carries a 5 year warranty, and has a bit of intelligence in the form of LED indicators to warn you of a malfunction – it could potentially save you money both in the form of your power bill, and in the cost of replacing damaged components.
For the Future
I think that my only "want" for the Quark 750 would be a premium cable design and feel. While the mesh sleeves do an adequate job, I feel like this is a missed opportunity. Individually sleeved paracord style cables would have been a rather welcome addition to the overall package.
Conclusion
The Rosewill Quark 750 is a solid power supply with an excellent feature set, and should be on your radar if you're in the market for a highly efficient power supply in the near future.
Summary: Good price for its feature set and capabilities. Excellent warranty (5 years), high quality Japanese capacitors, fully modular, LED status indicator