Reviews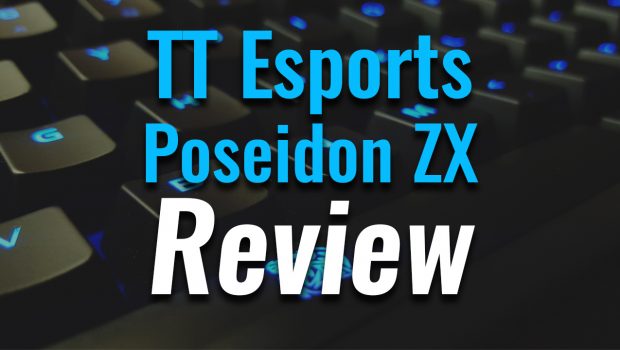 Published on June 15th, 2016 | by RedishBlue
0
Review – TT Esports Poseidon ZX
A mechanical keyboard is a true luxury when it comes to PC peripherals and this makes them a difficult item to review. Among the peripheral family the keyboard tends to sit 3rd or 4th in the pecking order behind a good mouse, monitor, and sometimes even headphones. I find it common for those who use their PC for gaming to skimp on a keyboard. The TT Esports Poseidon ZX is the first keyboard that I have found to hit every major feature I want. With a ten-keyless layout, mechanical switches, and a good back light this keyboard is all I have ever wanted.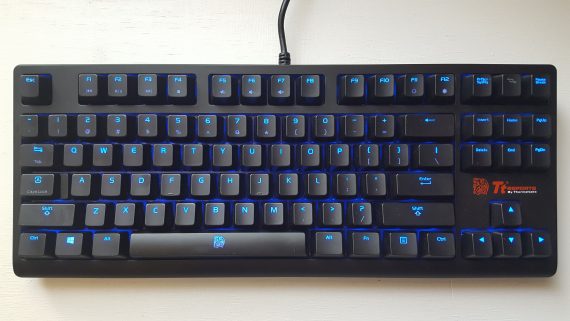 As I have progressed in my gaming career, preferences have changed to better suit the games I enjoy playing. One major aspect of this has been lowering my DPI to gain better accuracy and consistency. This makes large amounts of desk space an absolute necessity, and having a ten-keyless board really helps. When you watch CS:GO pros play on LAN they sit with their keyboards almost completely sideways or in their laps – showing that mouse space is king. The Poseidon ZX rides the line between full and 60% plank perfectly so you gain extra mouse space without sacrificing any other keys and the functionality they bring. Don't get me wrong – I love the look of my Ducky shine mini on my desk with my wireless G900. Unfortunately, the awesome aesthetics will never make up for the fact that I need to hold a modifier key to use the arrows. Same with your function keys and the escape key and this means removing your hand from your mouse to toggle that function key. The Poseidon ZX allows for unhindered use of the function and arrow keys while still saving precious horizontal desk space.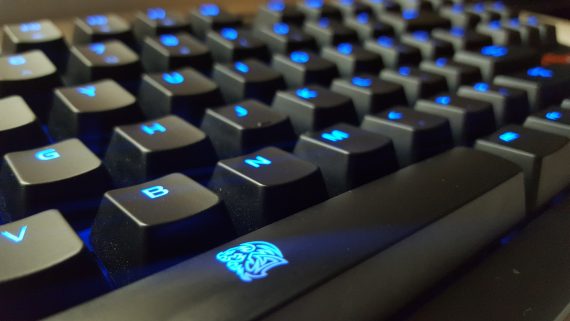 One of the main features of any mechanical keyboard is the switch type that is used and the manufacturer of said switches. For many years Cherry had this market cornered, but recently Kailh has started to produce switches of a similar type and quality. The Poseidon ZX that I am reviewing has Kailh brown switches which are my preferred mechanical switch. I am not going to go over the differences in switch colour, but instead compare switches from Cherry and Kailh. Roughly a year ago I bought a Keycool 84 which gave me my first experience with Kailh switches. The Kailh switches were exactly as I expected them to be for the price – underwhelming, with the main issue being the inconsistency in weight needed to actuate the switch. Overall it wasn't a terrible experience, but having already typed on some of the best boards around (Das and Ducky) the poor QA and inconsistency was very noticeable. Being a smart consumer I would have stayed away from Kailh switches, but I didn't even know that the Poseidon ZX used Kailh switches until I linked the board to a friend. So for over 2 weeks I used that keyboard just assuming that it contained Cherry MX Browns. When it was pointed out to me that they were in fact Kailh switches I was stunned. How could Kailh go from making the sloppy keys in the Keycool 84, to almost flawless switches in the Poseidon ZX? It is clear that Kailh has either stepped up their game or TT is doing some sort of QA on their end. For you and I it doesn't really matter which because the end result is still the same. As a consumer it is now safe to buy a mechanical keyboard with Kailh switches for the very reasonable price of $80. I would say maybe I just got lucky but after purchasing a second Poseidon ZX to take to work I can confirm that the switch quality is just as good in my second board as the first I received to review.
The back-lighting is even with no dead/dull spots and most importantly has the ability to be adjusted from off to roughly half the brightness of the sun. The only real downside is that it is a blue backlight and can't be changed. This isn't a negative for me because I would make it blue anyways, but to some this may be a deal breaker. The feet are very solid and rubberized on the bottom to ensure a stable and fixed position. Switch implementation/selection is perfect as well with QA being some of the highest I have ever felt. Overall build quality is impressive and this is a sturdy plank that has some serious heft to it. On the off chance that you needed to throw it around a bit and take it to a LAN or prevent a home invasion, this would make a perfect blunt object for such a situation. The Poseidon ZX isn't one of the prettiest keyboards you are going to lay eyes on but I like to think it makes up for it with a simple no frills approach to appearance. The board also comes with a handy key-puller and a spare set of red WASD keys. The cable is not braided but rubber coated, which is very common for a board at this price point. It only needs a single USB port on your PC and has no USB or audio ports on the board itself.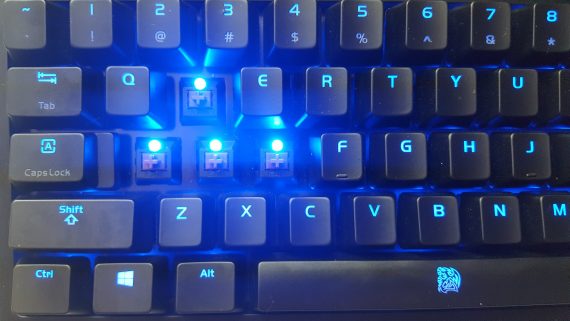 A review model was sent to me by the wonderful folks at TT and I still purchased a second one for my work keyboard. It's rare to find something that fits your preferences so perfectly that you are willing to buy the exact same model twice. I may even secretly have a pcpartpicker tracker monitoring the price so I can buy a third as a backup (a decision I am not even sure bpost can support) . It is a serious testament to how great a keyboard the Poseidon ZX is when someone who is constantly looking for the next best has ended their search. If you are in the market for a great keyboard at an almost unbelievable price you can't do any better than the Poseidon ZX.  
Pros
Ten-keyless

Backlit

Amazing price

Solid construction and QA

Mechanical keys
Cons
No RGB colour

No braided cable
Summary: A no nonsense keyboard that fills its role perfectly as a performance oriented budget gaming peripheral. If you are looking for a ten-keyless layout with mechanical switches and a back light you can't go wrong with the Poseidon ZX.