Hardware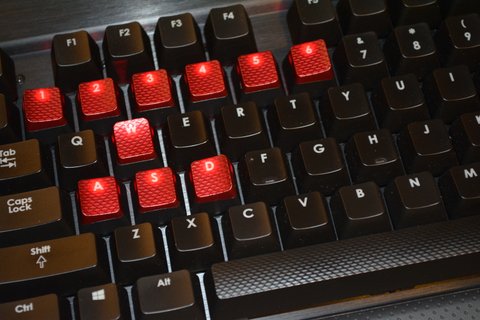 Published on February 24th, 2014 | by Dan
5
Review: Corsair Vengeance K70 Mechanical Gaming Keyboard
Welcome to our first hardware review! Today, we are taking a look at the Corsair Vengeance K70 Mechanical Gaming Keyboard, provided to us for review by Digital Storm and Corsair.
When I received the Corsair K70, I was still using the first-generation Logitech G15, a membrane keyboard that has served me well for about five years. Outside of work, I didn't have much experience with mechanical keyboards, but now I can honestly say I'll never go back.
Keys & Switches
The K70 has Cherry MX Red switches, which are often marketed as a good choice for gamers. Loud keystroke sounds can be a concern with some mechanical boards, but the K70 and its MX Reds aren't much noisier than my old G15. The most difficult thing for me to get used to initially was how responsive the MX Red switches are to the touch. When first using the K70, I would register keystrokes when I didn't expect to, but I got used to the responsiveness quickly. The keys are all laser etched and quite smooth to the touch. The K70 includes standard media buttons, a Windows lock key, and a volume wheel, but no specialized macro keys.
The Board
One of the first things I noticed when I switched out my G15 for the K70 was the weight of the K70. The K70 is a heavy, well-built piece of equipment that just has a feel of quality about it. The top of the board is black brushed aluminum with only minimal Corsair branding across the top. There is one USB port on the board for plugging a mouse or other peripheral into, and the cord for power/USB is braided and sturdy. I had a problem on my motherboard (a MSI G43) where the keyboard would only work when plugged into the two USB 3.0 ports in the back of my PC. I couldn't find anything on this being a widespread issue but if you lack powered USB ports, be aware this may take up all of them.
The Features

You can get mechanical keyboards with Cherry MX Red switches from just about anywhere. So what does the K70 have that others may not? First of all, it has backlit keys (which could be a positive or negative, depending on your preference) that give off a nice red glow in three different intensities, which were shown off in RGB flair at CES 2014. You can also set to just illuminate "gaming keys" or turn off the backlighting entirely. As for extras, you get a wrist rest, replacement red textured keys for 1-6 and WASD keys, and a keycap puller to help remove keys for cleaning or replacement. Finally, the K70 has a a BIOS switch (pictured above) that allows you to change the BIOS if your keyboard isn't being recognized or you want to change the refresh rate on the board. If you are gaming, it sounds like you'll want to leave this setting at 1, according to Corsair.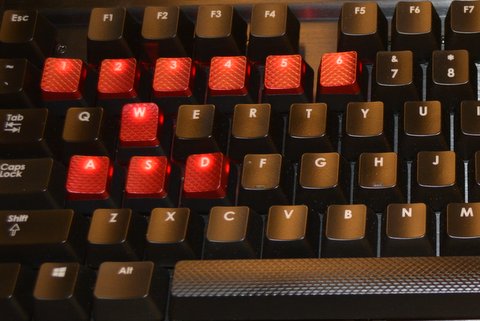 Conclusion

The K70 is a well-built, high quality keyboard that just feels great to use. I can't imagine going back to my G15 or any other membrane keyboard. Gaming was indeed more precise once I got used to the key travel, and the consistent response felt incredible. Typing on MX Reds isn't as clicky and tactile as other types of switches, but for gaming, they're wonderful. The only real downside to this keyboard is the lack of macro keys, an LED screen, or any other nice-to-have features that you can find on many high-end keyboards these days. If you can't live without one of these features, you'll want to look elsewhere, but I personally didn't miss either of those features that were present on my G15.
At $129.99, the K70 is a bit expensive for a budget PC gamer, but is comparable to other mechanical models from boutique brands such as WASD, Das Keyboard, and Ducky. If you're looking for a sturdy mechanical gaming keyboard and don't mind the triple-digit price tag, the K70 is a great choice.