Build Guides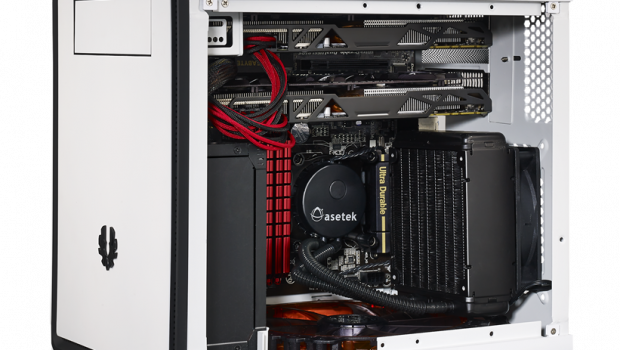 Published on December 20th, 2013 | by Bob
2
Build Blowout 2013 – Bob
Welcome to the 2013 Year End Build Blowout. These are builds that several of the KBMOD staff would build, given no real restriction on price. There will hopefully be several of these posts before the years end to give you an idea of what we're all secretly pining for.
Well well well… what have we here? A build-off of sorts with an unlimited budget. Sort of. Within reason*. Dan and I discussed that last bit – like Jon, my first instinct was to just go to town and spec out a $15k PC for the fun of it. In reality, that's no fun. There's no personality to it, no point to it, and no chance of it ever being built. I was briefly the owner of a MacPro that was $15k when it was built in 2008. The guy who gifted it to me should have probably bought a car instead.
So I decided to do this in a more realistic way – if I really wanted to address the shortcomings of my current setup, what would I do if I had to start all over again without any parts at all?
My Corsair 500R is still one of my favorite cases on the market, but it's huge and heavy. It's on the large end of the Midtower ATX form factor. Moving it is a daunting proposition. Lesson learned – I want something more portable. The new case and motherboard would still need to be able to support Crossfire or SLI should I choose to expand in the future. Crossfire 7970ghz has treated me very well thus far.
While I'm perfectly happy with my i5-3570k for gaming purposes, I wouldn't be if I were down to one desktop PC. I run a fair amount of virtual machines periodically. They're not necessary 24/7, but I frequently have several of them running at once for testing and training purposes. The 3570k would probably do an admirable job, I'm sure, but as anyone in virtualization can tell you – it's all about the threads. Well, that and RAM. 4 threads and 16GB RAM isn't quite going to cut it for that purpose.
I have a 4 storage drives that could probably be consolidated to 2. 128GB SSD, 2TB 7200RPM HDD, 2x1TB 7200RPM HDDs. I use about 2TB of total space (most of that is game content that I haven't played for months), spread across the drives. Some of it is family pictures, documents, and movies. I'd just as soon move it off to a NAS and save the space in my case.
At this moment, I don't have uniform monitor sizes. I'm currently using a 27″ 1920×1080 flanked by two 22″ 1920×1080 monitors. The 22's are used for static content mostly, while the 27 is used for whatever I'm focusing on at the moment. It would be nice to have three uniform monitors and give eyefinity/nvidia surround a shot.
Without further ado, how about this for an upgrade?
PCPartPicker part list: http://pcpartpicker.com/p/2mpfX
Price breakdown by merchant: http://pcpartpicker.com/p/2mpfX/by_merchant/
Benchmarks: http://pcpartpicker.com/p/2mpfX/benchmarks/
CPU: Intel Core i7-4930K 3.4GHz 6-Core Processor ($529.99 @ Microcenter)
CPU Cooler: Corsair H90 94.0 CFM Liquid CPU Cooler ($89.99 @ TigerDirect)
Motherboard: Asus Rampage IV Gene Micro ATX LGA2011 Motherboard ($268.99 @ SuperBiiz)
Memory: Corsair Dominator Platinum 16GB (2 x 8GB) DDR3-2400 Memory ($280.98 @ Newegg)
Memory: Corsair Dominator Platinum 16GB (2 x 8GB) DDR3-2400 Memory ($280.98 @ Newegg)
Storage: Samsung 840 EVO 500GB 2.5″ Solid State Disk ($312.99 @ B&H)
Storage: Western Digital Red 4TB 3.5″ 5900RPM Internal Hard Drive ($189.99 @ NCIX US)
Case: BitFenix Prodigy M Arctic White MicroATX Mini Tower Case ($99.98 @ OutletPC)
Power Supply: Corsair RM 850W 80+ Gold Certified Fully-Modular ATX Power Supply ($144.98 @ Amazon)
Monitor: Asus VG248QE 144Hz 24.0″ Monitor ($266.99 @ B&H)
Monitor: Asus VG248QE 144Hz 24.0″ Monitor ($266.99 @ B&H)
Monitor: Asus VG248QE 144Hz 24.0″ Monitor ($266.99 @ B&H)
Keyboard: Corsair Vengeance K70 Wired Gaming Keyboard ($129.99 @ Amazon)
Mouse: Logitech G500s Laser Gaming Mouse Wired Laser Mouse ($59.99 @ Microcenter)
Other: ASUS R9 290X DirectCU II 4GB ($569.00 @ TBD – Due to launch Jan 15-20)
Total: $3758.82
(Prices include shipping, taxes, and discounts when available.)