Hardware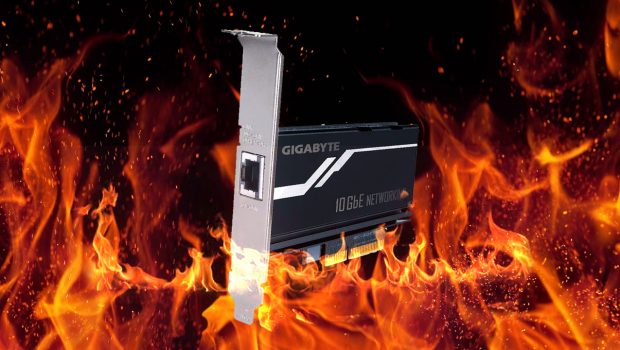 Published on November 10th, 2017 | by hutchison15
0
GIGABYTE joins the 10Gbe master race and I'm still a 100Mb pleb
It is 2017: your graphics cards should resemble a lightsaber and you should have 10 Gigabit outfitted in your home – otherwise, you're clearly not even trying.
According to Anandtech, GIGABYTE has officially launched their GC-AQC107 networking card, supporting 100M, 1G, 2.5G, 5G and 10G networking capabilities over CAT5e, CAT6/6a and RJ45 connections.
The GC-AQC107 boasts the Aquantia AQtion AAQC107 controller – and to battle the heat on this bad boy, GIGABYTE slapped a honkin' aluminum heat sink on it. Like many other networking cards you may have become accustomed to over the years, you're going to need a spare PCIe x4 slot to plug this in. In case you needed some clarification on how faster this puppy runs, check out this sick graph GIGABYTE made:
WHOA. 10×1=10. IT IS UP TO 10X FASTER. It supports things faster then anything I even can support over my network so therefor I need it. This is how it works, right?
Shitposting aside, I know this actually would be extremely nice to have during my regular peer-to-peer transfers that I do. As a content creator, nothing is more annoying than waiting for files to finish backing up after a long shoot. Other content creators like video producers, graphic artists, etc, should only benefit to having their whole network setup to handle 10Gb; those that just game and watch an occasional Netflix flick shouldn't bother, in my opinion.
There is no official price but Anandtech expects this to be around $100, which is not as bad as I expected. You can actually find the card on Amazon but no word on when you can order it. For more info, you may find the product page here.