Hardware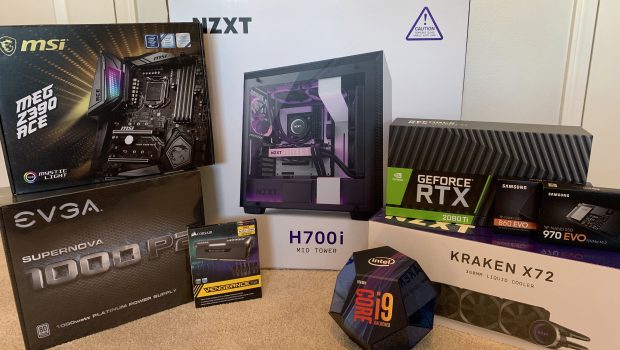 Published on December 3rd, 2018 | by Brandon
2
Brandon's Build Showcase
As someone who considers myself a PC enthusiast, you might be surprised to hear that the last time I built a home desktop PC for myself was more than four years ago. In some ways, that's a testament to the point we've reached with modern computing where you can easily build or buy a computer today that will probably still feel fast (or at least "fast enough") in a few years' time. Each new generation of processor and video card aren't quite as impactful as they used to be, and seemingly gone are the days where you needed to upgrade every year or two to keep pace with the newest games. Since it's been such a long time since my last build, I wanted to showcase my new build and provide a little commentary on the items I chose in case you're looking for new PC parts to put on your Christmas wish list.
Before we get to the new build, let's briefly touch on the build I'm retiring and passing down to my wife.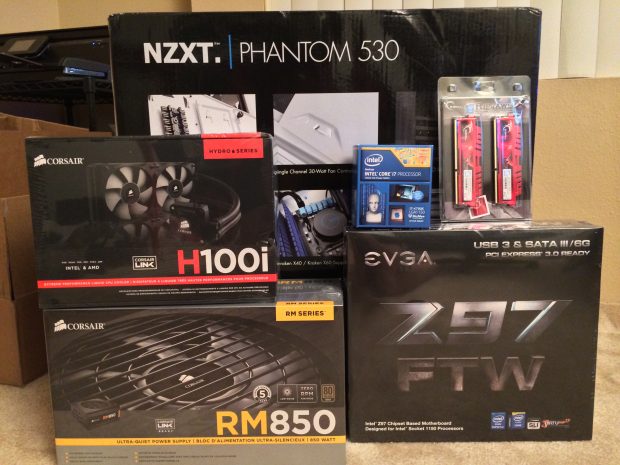 Driving this build was an Intel i7-4790K, which has served me very well (and with four cores and eight threads, it's still more than serviceable by today's standards). Below is a picture of the completed build from June 2014, and it still looks nearly the same today, save for an additional SSD and a newer video card.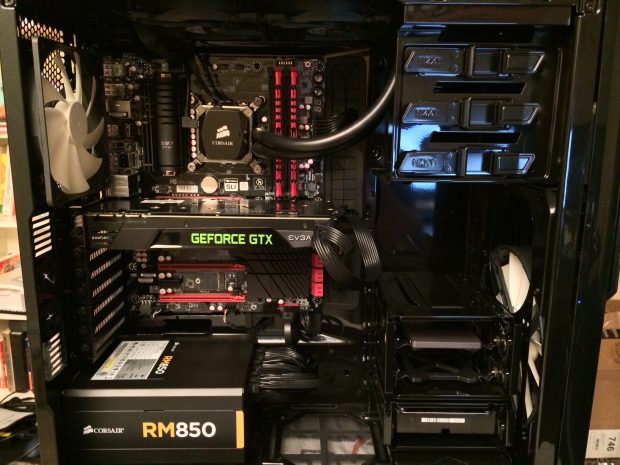 Out with the old, in with the new
For my new build, I wanted something with just a little more flair and slightly more cohesive color coordination. I didn't have a strict budget, so I chose certain components with more of a focus toward performance and appearance (where applicable) than price and value. These personal build choices are toward the top end of what I would typically recommend to someone and don't necessarily reflect what I would suggest to others with different usage patterns, preferences, and/or budget constraints. Read on for the full part list and a breakdown of each component below.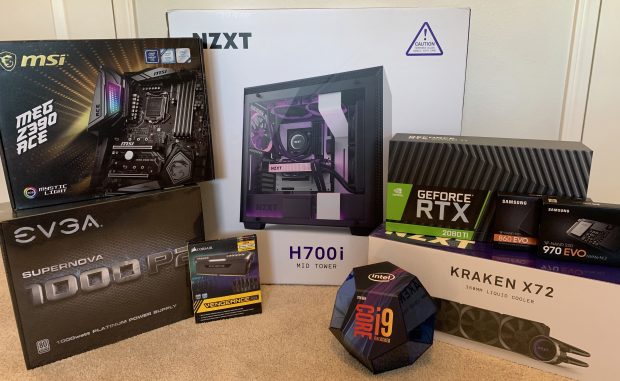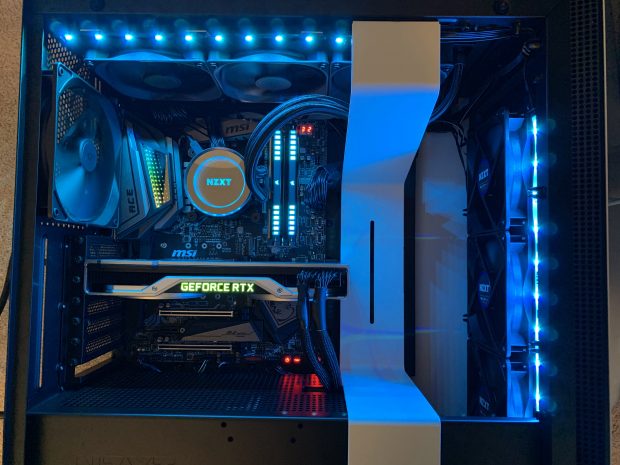 At the heart of the build is Intel's newest 8-core/16-thread monster, the i9-9900K. I actually don't think this processor is a great choice for everyone, as it runs very hot, has little thermal headroom for overclocking, and is very expensive. However, for a strong gaming and multitasking build that I want to last comfortably for years to come, this chip was just what I was looking for. While I did consider going with an AMD chip, I settled on Intel because they're still the top dog when it comes to single-core and gaming performance.
While I was pleased with the Corsair H100i I had in my previous build, I wanted to try out a larger 360mm cooler. After looking at reviews, 360mm coolers offer largely similar cooling performance to that of smaller units, but they generate less noise, thanks to a larger radiator with more fans that can each run at a lower speed. The X72 looked like a great option, and the customizable RGB LEDs were the icing on the cake. After using this PC for several days, I can confidently say this PC is the quietest one I've ever built for myself.
There are so many motherboards out there that it can be tough to figure out which one is right for your needs and budget. After doing some research, I ended up going with the Z390 ACE from MSI because it had all of the options I needed, had good overclocking capability, and fit in aesthetically with the black-and-white color scheme I was aiming for with this build. I probably could have gone with a less expensive motherboard, but given that the Z390 chipset is relatively new, reviews on some of the cheaper boards were sparse at the time of my purchase, and I've had good experiences with MSI boards on the past.
Memory comes in all shapes and sizes, and many kits are very similar, so the choice often comes down to finding the best value from a brand you trust. Corsair memory has always served me well, and this kit had the right combination of price, speed, and appearance I was looking for. In 2018, even memory sticks can have RGB LEDs! I went with two sticks instead of four to preserve the option to upgrade to 64GB down the line without replacing my existing sticks.
I knew I wanted to go with a NVMe SSD as my primary drive in this build, and the Samsung 970 Evo is one of the best when it comes to the combination of price, performance, and reliability. This was my first build to use a NVMe drive, and I can't recommend it enough. On top of being crazy fast, the fact that the drive plugs directly into the motherboard means one less power supply connection and one less SATA cable to worry about, making for cleaner cable management!
I've used the trusty Samsung 860 Evo in multiple builds over the years, and the 1TB version was down to ~$0.12/GB around Black Friday, so I opted for a SSD instead of a mechanical drive to use as secondary storage.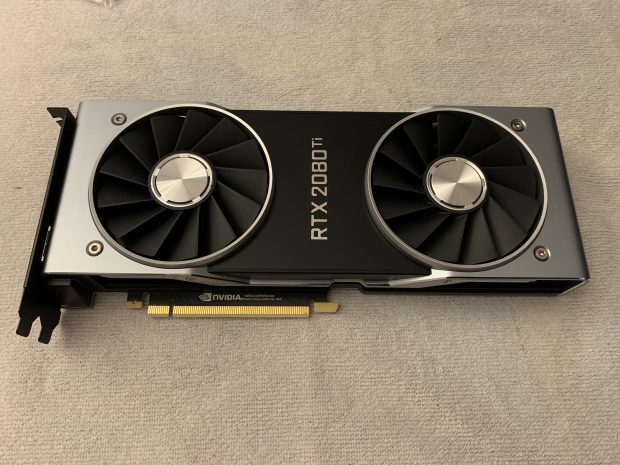 NVIDIA launched the RTX 2080 Ti a few months ago, and it's currently the undisputed king of the gaming video card market by a healthy margin. With a street price in the low four figures, this video card alone costs more than many people spend on an entire PC, but it's the obvious choice if you want top performance and don't mind paying top dollar to get it. For someone who cares about keeping smooth triple-digit frame rates at 1440p, this card is ideal for just about any game you throw at it. This Founders Edition card was generously provided by NVIDIA.
I've used NZXT cases for multiple builds over the years (including my previous build), but the H700i is my favorite case yet. Building in this case was an absolute joy, and it has several features that make for a beautifully clean look for the completed build. My favorite aspects of this case include a removable tray at the top of the chassis for easy top-mounting of our cooler's 360mm radiator, multiple cable routes with velcro ties on the backside of the case, detachable drive bays that can easily be removed if not needed, and a couple of tasteful LED strips.
These days, you can find a high quality, high wattage power supply without breaking the bank. While I certainly didn't need 1000W for this build, the difference in price between 750W, 850W, and 1000W was almost negligible, and I wanted to err on the safe side of having plenty of headroom for the high-end, power-hungry components like my CPU and video card. And while I'm not planning to add another video card, this power supply keeps that option available down the line.