Hardware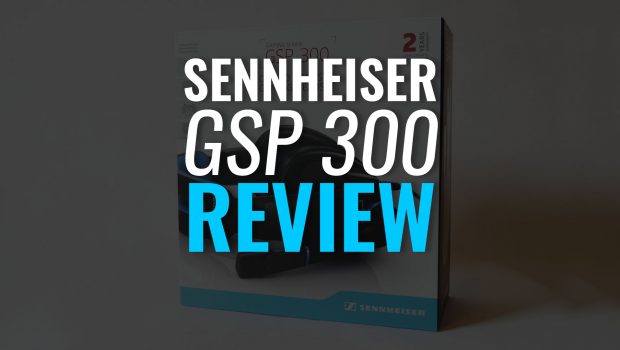 Published on November 8th, 2017 | by hutchison15
0
Sennheiser GSP 300 Review
Sennheiser is a household name well known for their audio products, so when I heard they wanted to send me over a pair of their gaming peripherals, I was excited to say the least. What I got my hands on is a pair of the GSP 300's, their stab at somewhat affordable gaming headphones.
I received the black and blue version, which together look great, but for those trying to color coordinate their whole setup might opt for the less-intrusive all-black GSP 301's. There is also a white and black variant (my personal favorite), as well as a "Need for Speed Payback" black and red version.
The build is almost entirely plastic, but it doesn't feel cheap. Even with a little twist or flex, it feels relatively well constructed and premium to hold. Admittedly, they feel better constructed then Sennheiser's infamous HD598s. If you didn't know beforehand who made this headset, I would imagine your first few guesses would land you back to Sennheiser. I am not one to be shy about the fact that I am a little of a Sennheiser fan, and I feel like with the material choices it is very apparent (and in a good way) who made these. The fabric top cushions are comfortable but not obnoxious; after regular use, I felt like they conformed quite well to the shape to my head. It was pleasantly surprising to see after regular use they didn't catch any of my hair when putting on or removing, stayed relatively clean, and didn't cause any noticeable headache after extended periods of use.
The ear cups are leather-like, and didn't feel uncomfortably warm over time. Material was pleasant but atleast with my ear shape, the actual shape was a little too narrow for my liking. They feel like over-ear headphones but they didn't fit great with my head; I had to almost fold a portion of my ear in to have a comfortable fit. While at first I didn't mind, after extended I felt the need to take a break from them. I had a few friends try though and none of them experienced similar issues, they all claimed that it was quite comfortable so take my fitting problem with a grain of salt.
The rest of the build is pretty straight forward. The microphone is actually quite large, which you can put down in front of your face or pull up toward the headband when not in use. There aren't many other movements you can do with this though. I would have like to have seen a little more freedom with bringing it closer or further away from my mouth. Maybe this was designed intentionally for optimal audio reception or maybe this is what took a cut in the budget to meet the target MSRP – who knows.
Furthermore, you get a volume control knob behind the right ear and it connects via two 3.5mm jacks. No software needed (Linux users, rejoice), and those wanting to utilize an adapter can if you're looking to bridge the connections for your console or mobile device. The cables are rubber and unfortunately not braided. The GSP 303's, or as I referred to it earlier as the "Need for Speed Payback" variant, have a cool colored cable that matches the rest of the set; it would have been nice to see a blue cable in the GSP 300's but black will do.
The sound profile is definitely something along the lines of being gamer-y. What I mean by that is that these feel quite engineered to be ideal for those people looking to have some edge over others in something like Overwatch or Counter-Strike; there is fantastic clarity in the sound where I can feel confident on relying on my ears to understand what is happening around me. But the drawback is that it isn't very natural feeling, almost a little tinny – so when you get listening to music or watching movies, it definitely isn't ideal in comparison. Messing with your software equalizer can get you some surprising results though.
The microphone quality is decent, something you'd expect from a headset in this price range. I didn't have to do any boosting in my VOIP software, which is nice considering this is coming in over a 3.5mm jack. I tried this out at a LAN and while they still picked up some of the surroundings, my voice was dominant overall and clear.
For 100 bucks, I'd say you are getting a quality Sennheiser product. You may be paying a little premium price for the brand name, I'd say it is otherwise well spent. The quality of the build is good (and not obnoxious looking), the sound profile is decent and is comfortable to wear for extended periods of time. While I'm still a fan of getting traditional headphones for everyday use, this is a great fit for those looking for that simple plugin-and-go solution that can be thrown in their LAN bag.
Sennheiser sent me this unit to review, I did not purchase this headset. If you'd like to check it out on Amazon, you may find it here.