Battlestations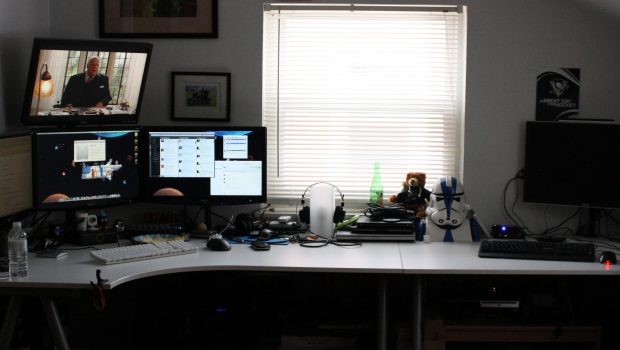 Published on January 6th, 2012 | by Bob
7
Bro Cave: @Hexidecimal
This featured Bro Cave comes from a friend of KBMOD and guest author,

Hexidecimal

.  Want to play pretty much every video game made ever? You might be able to do that here.  Maybe all at once.  Have a single monitor?  Gird your loins:
Welcome back to the stage of history. After a brief hiatus during which I was partially rebuilt as a cyborg, I am finally going to grace the pages of KBMOD.com with my Bro Cave. While all I have read about and viewed previously are awesome, I felt that everyone needed something to aspire to.
Remember when I said in my Indie Gaming article that I spend more money than is socially acceptable on PC parts and the games that go with them? This is the sum of those parts. Certain things here may not be overly popular with the KBMOD crowd, but in the end, I think you'll enjoy what you see. So here it is, my Bro Cave.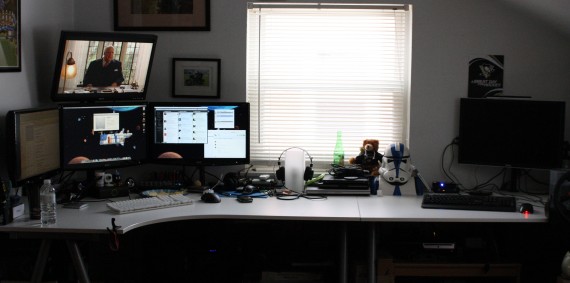 We'll start off with specifications:
Left PC (Proteus/ Jonathan Beck's Mac Pro)
CPU: Intel Core i7 920 @ 2.67 Ghz
Motherboard: Intel DX58SO 'Smackover'
CPU Cooler: Cooler Master Hyper 212+
RAM: 16GB Corsair Vengeance DDR3 1600Mhz
Video: XFX AMD HD6870 1GB Black Edition
Audio: Creative Fatal1ty HD Titanium Edition (PCI-e)
Monitors: 3 x Acer H233H (Bottom Array) 1 x Dell E248WFP (Top Center)
OS: Dual Boot OS X Lion 10.7.2 | Windows 7 Professional x64
Other: Behringer Xenyx 1202FX Mix Board, Monoprice 12×9 Graphics Tablet, Logitech USB Microphone, Behringer UCG102 USB Guitar Link, Xbox Live Vision Cam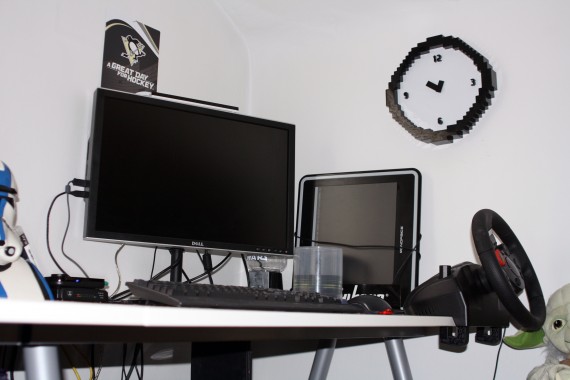 Right PC (Artemus)
CPU: Intel Q6700 @ 2.67 Ghz
Motherboard: Gigabyte GA-N650SLI-DS4
CPU Cooler: Stock Intel
RAM: 8GB G.Skill DDR2 1600Mhz
Video: XFX AMD HD6870 1GB
Audio: Creative Soundblaster SB1095 USB Audio
Monitor: Dell 24"
OS: Windows 7 Professional x64
Other: On the Dell Monitor, it has Dual DVI, HDMI, DisplayPort, Composite, Component & VGA inputs as well as a 4 port USB Hub & Card Reader.
So now that the hard specs are out of the way, let's get to the other stuff. The right computer is also my consololol station. With all the inputs the monitor has, I have my 360, PS3, PS2, and Gamecube hooked up to the far right monitor. Audio all runs through the Xenyx 1202FX Mix Board. I have a D-Link Gigabit Switch and a Dynex 10/100 switch to get Ethernet to all the consoles and PCs. This PC is also close to the Weighted Companion Cube I got from a friend last Christmas.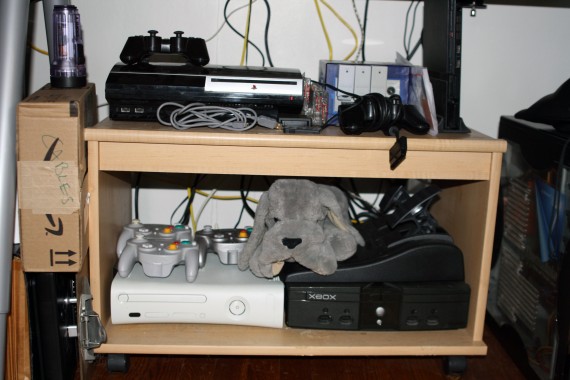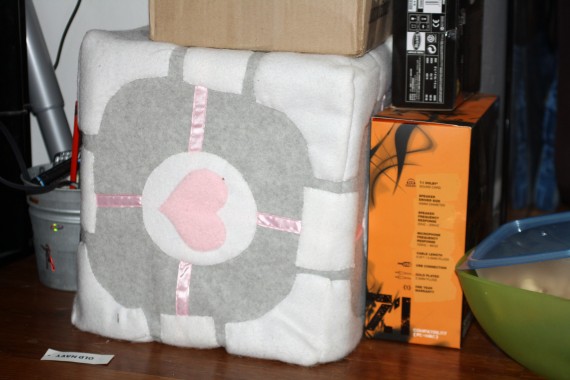 Most of the time, my audio is run through a couple different sets of headphones. Either my Shure SRH840s or a set of Grado SR225i do the heavy audio lifting. Otherwise, it's pumped through a set of JBL Monster III Speakers.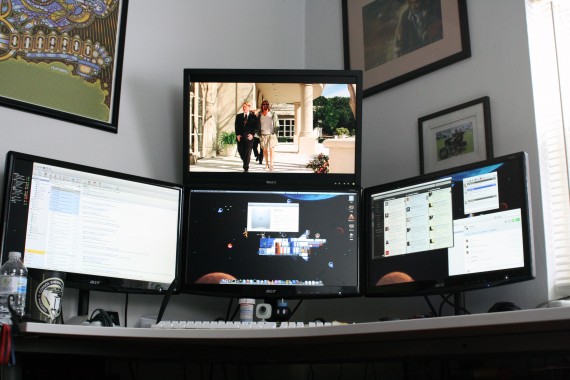 When I was a kid we weren't allowed to use the computer to play games. My parents were of the opinion that computers were a tool to work with and that was it. That was, until I had my own PC. I started PC gaming when I was around 13, and it had me hooked. I have vivid memories of playing Quake 2 when I was a teenager and then graduating on to Unreal Tournament, Starcraft, and loads of other games.
As I got older, my PCs grew. I spent 6 months learning Linux and used Fedora as my primary operating system. Learning to use Cedega as a DirectX wrapper, I spent months playing City of Heroes from a Linux installation. The challenge, as well as learning how every aspect of the PC worked to let you customize every part of the game, made it so much more interesting than the consoles my friends were playing on.
At one point in my PC gaming past, there were 3 21" CRT monitors on my desk. My bedroom was at least 25 degrees warmer than the rest of our house, but I didn't care. I loved gaming, and I loved doing it on the PC. Now my desk is flooded with LCDs, and while it isn't a sauna in my office anymore, gaming on a PC is still one of my favorite pastimes.
So this is my Bro Cave. I look forward to seeing who can match or best it. I'm sure someone out there will rise to the occasion. Happy Gaming!