Battlestations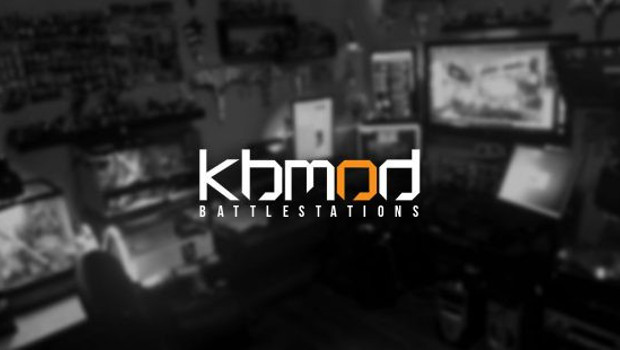 Published on September 30th, 2016 | by KBMOD Community
0
Battlestation – Mater
This week's battlestation comes from community member Mater! If you want to share your setup with the KBMOD community, check out the Battlestation Sumbmissions page.
When I am not saving the the USA one "my internet is broken" at a time as a Network Technician in the USAF or getting a second hand high from playing roller hockey with some Colorado pot heads at the local inline rink, I am getting sweet 360 ladder-stall no scopes on nuke with the Mag-7 or doing A-10 gun runs on fat nerds in ARMA 3. (or in this case watching the #CHNGBNG2016 CSGO stream on some Hutch wannabe's twitch stream)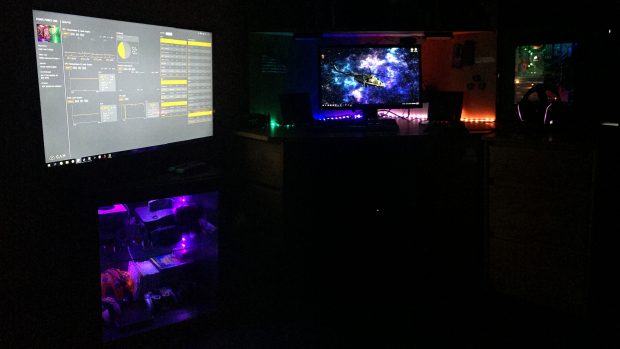 I go by Mater in real life and online and DMikeD in the twitch chat. Mater is the last half of my last name De La Mater, which is French for "Of The Meme". As I stated before I am in the Chair Force and just hit my 2 year mark and love it here. My job keeps me involved with a different side of tech (Switching and Routing) than I am used to since I have been interested in computers and PC gaming since my middle school years. I play roller hockey with some bros from the area of Denver and am looking to get into playing some ice hockey. Huge hockey fan if you cant tell (go Yotes!). During the hockey season the setup becomes my NHL center ice HQ. Now enough about me and more about the waste of a amount of cash so large that I had to have it blocked from my memory.
My Rig here is called Chair Force One as I try my best to live up to the great name of this military branch. I completed the build in February 2016 and unfortunately missed out on the GTX 1000 series but the parts in this machine still kick ass.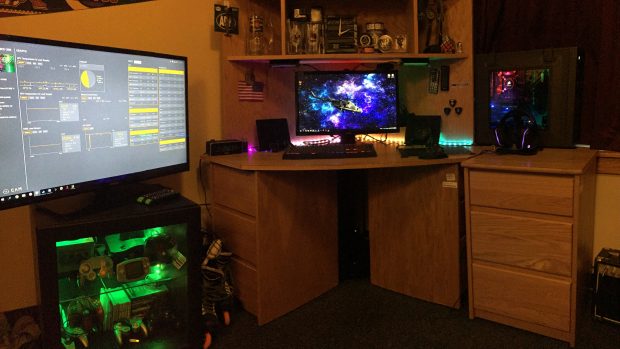 The specs:
| | |
| --- | --- |
| Processor: | Intel Core i7-6700k |
| GPU: | EVGA GTX 980 Ti |
| Mobo: | MSI Z170A |
| RAM: | 32 Gb Corsair Vengeance LPX clocked at 3000MHz |
| HDD: | WD 1tb casual HDD |
| Cooler: | Corsair H105 |
| PSU: | Corsair RM750i |
| Case: | Corsair C70 OD Green |
| Monitor: | Asus VG248QE 24″ 144Hz |
| Headset: | Logitech G633 (10/10 would recommend) |
| Keyboard: | Corsair K70RGB |
| Mouse: | Corsair M65 |
As you can see I have a bit of a crush on Corsair products. I love the feel and quality of the stuff they make. Except for their headsets. Trash. Garbage. I Opted for a military theme with this build and the C70 is a real nice case. At first I had put in orange LEDs to give it a more military look (not that any piece of military computer equipment looks like this). But the other day I picked up the NZXT Hue+ and I have to say I am in love. It was such a easy setup and the LED Strips hold on with magnets which is such a great idea. And the results are amazing. I might switch it out for something more elegant some time down the road since i really love the RGBs when they show off the the whole color spectrum, rather than just going with orange to match the case color.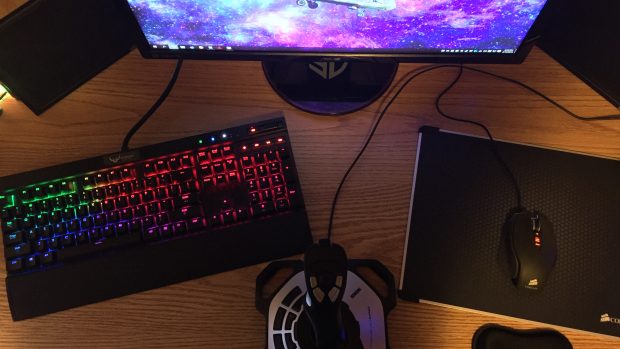 ARMA 3 is by far my favorite game with CS:GO a close second, so I use the Logitech Extreme 3D PRO joystick a lot. With CS:GO the 144Hz Monitor is a life changer. If you are playing any FPS you will benefit from 144Hz. Its like if Jesus was a monitor. I used to use an MSI Gaming laptop with this monitor before the build with a GTX 860m, so I stayed with a 1080p monitor rather than something higher. Like APL was content with his 1440×900, I am still content with it and have no reason to upgrade for now. The last thing I an looking to upgrade is to put a M.2 512 GB SSD in for my OS and select games, but that's $300 so I'll wait for a while before I make that jump.
Maybe I'll get VR if I decide I really hate money that much.
For my keyboard and mouse I use (you guessed it) Corsair products. The K70 is such an amazing feeling keyboard and it is my first mechanical keyboard after witching from the sidewinder x4 a year ago.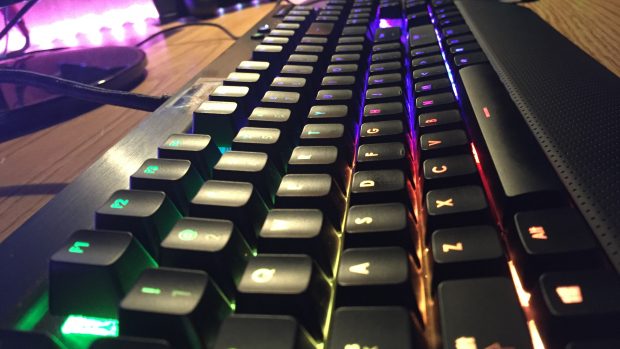 My mouse is the M65 and I got it when I got when I was planning the build and before the RGB version came out. If I ever do a second build I'll buy the RGB variant and swap them out but the mouse overall is solid.. I like a heavy mouse and the weight in the bottom gives it a great feel.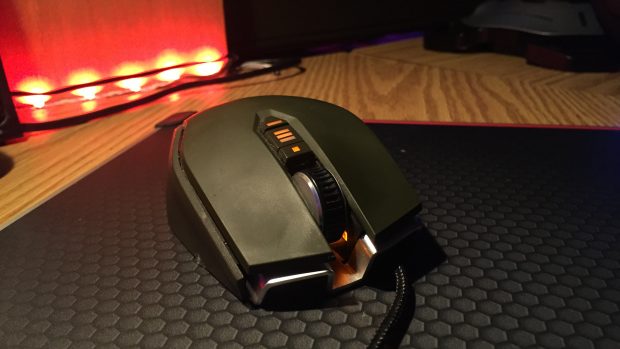 I use two controllers: PS3 for NHL 09 and the Steam for rocket league and Civ V.
The Steam controller is OK. Nothing too crazy, but if you can get it bundled with a game and you can see a use for it, you wont be disappointed.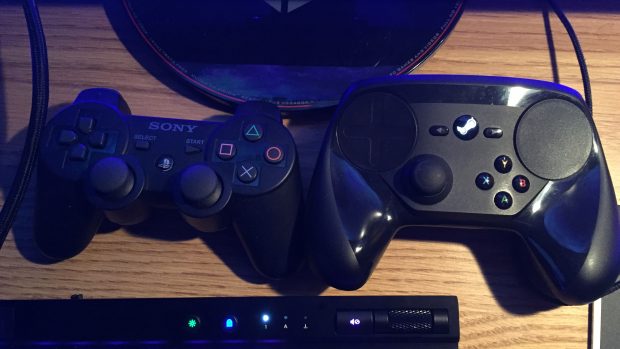 To my left I have a 40″ Samsung TV that I double as my second monitor and GameCube/N64 Setup. The two remaining consoles I have from my childhood. Rip Wii & Xbox360 never4get.
Above the desk I keep an ever growing collection of Blu-ray Movies and some hockey collectibles including a Roenick signed Coyotes Puck. (best sport in the world or go home)
I gotta rep my fav beer as well.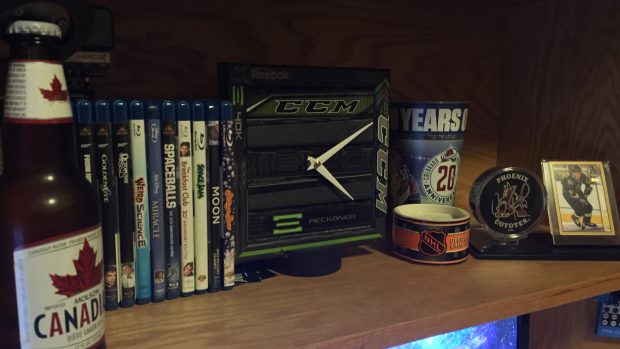 That's about it for my BattleStation. Its a wonderful system and will destroy (with the exception of still ARMA3 since you can max that thing out for a system built 5 years from and still be below a steady 60fps on max everything) with ease. I do have to thank KBMOD for helping me keep my interest in PC Gaming over the years fresh. I cant remember how I discovered the podcast but I have listened to them since the first one came out on what was it… Podbean?
GodBless & PapaBless
-Mater