Battlestations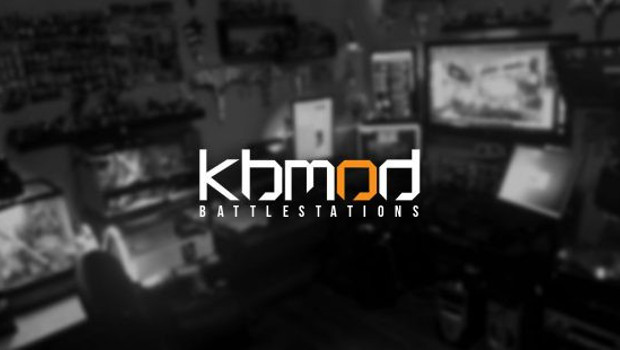 Published on September 23rd, 2016 | by KBMOD Community
12
Battlestation – Hunterantis
This week's battlestation comes from long-time community member Hunterantis (follow him on Twitter!).  With an impressive focus on audio — both enjoyment and production — while simultaneously sporting a screaming gaming rig and a minimalistic desk setup, this is a battlestation you'll draw plenty of inspiration from. If you want to share your setup with the KBMOD community, check out the Battlestation Sumbmissions page!
I'm Hunter, your favorite little bun full of hun. My introduction to video games was in the late '90s with Sonic Adventures and the beauty that is Jet Set Radio on my elder Brother's Sega Dreamcast. Since then, I've made my way through a couple generations of consoles: Nintendo 64, PS2, PS3, Xbox, and Xbox 360… until I finally found my way to PC (if you don't include Runescape back in '04) through a couple people that are now KBMOD Community members in 2011. This led me to games like DayZ Mod, Minecraft, and Promod, all of which were played on an AMD 1045t and a Radeon 6450. Looking back, I'm amazed at how much fun I was able to have while playing at a steady ~15fps.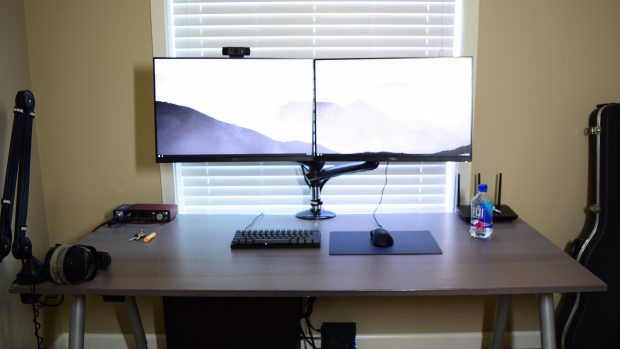 I've gone through 3 personal rigs, and one gaming laptop in the last 5-6 years. My current build is the result of a multitude of attempts to stop playing video games altogether, and repeatedly coming back. This serves as my primary workstation for everyday use, games, work, and content creation (e.g.video editing, music production, design, etc.) You may notice I'm using two 60hz monitors despite owning a perfectly fine 144hz monitor. Full disclosure, I did it for the aesthetic. I'm mostly doing this to satisfy my curiosity, because sometime in the near future I'll wind up switching back, and testing out how much of an effect transitioning back to a high refresh rate monitor has, and how much is really just placebo. Within the next few months I'll be going for a — quite frankly — stupid and completely unnecessary balls-to-the-wall mini-ITX build, but for now this is what I'm working with.
CPU:
Intel 3770k @3.8GHz
Cooler:
I'm sorry
Motherboard:
Asus P8Z77-V PRO
RAM:
16GB Corsair Dominator Platinum 1866 (8×2)
GPU:
EVGA GeForce GTX 970 SC GAMING ACX 2.0
SSD1:
Samsung 850 EVO 250GB
SSD2:
Samsung 840 EVO 250GB
HDD:
Western Digital Caviar Black 1TB (x3)
Monitors:
Dell U2415 1200p (x2)
BenQ XL2420Z
Audio:
Focusrite Scarlett 2i2
Beyerdynamic DT770 250ohm Pro
Audio Technica ATH-M50
Klipsche Image S4-II
Shure SM7B
Cloud Cloudlifter CL-1
Rode PSA-1
Audio Technica AT-2035
Blue Icicle
Peripherals:
KBC Poker 3 w/Cherry MX-Greens
Razer Deathadder Chroma
Razer Manticore
PS4 Controller
Logitech G27
Logitech C920
Ergotech Freedom Arm
Not only do I enjoy listening to music, but I love making it; So audio was a huge focus for this setup, and really shaped it into what it is now.. It might also be worth mentioning that I sound like an experiment gone wrong, so poor equipment just made me sound like a blown out tuba. After years of experimenting, I run a Shure SM7B through a Cloudfilter CL-1 to a Scarlett 2i2. Unfortunately the 2i2 is a huge bottleneck for such a beautiful microphone, so that's going to have to be quickly replaced with an RME Babyface Pro. The AT-2035 and Blue Icicle are backup equipment and provides a different sound when the necessity arises. I use my DT770s as monitoring headphones, and general use headphones. The ATH-M50s, S4-IIs, and Shure SE125-Ks are occasionally used when I want to verify that a track sounds good on other headphones and speakers. Ordinarily, you'd see a small midi controller, but I sold my great starter midi, the Samson Graphite M25 and ordered an Alesis VI49.
Similar to audio equipment, I waste way too much money on peripherals I really just don't need. After using countless mice, and keyboards alongs with pretty much any switch I've been able to get my hands on, I found the two that feel the best in my massive baby hands. The Poker 3 stays out of the way while it looks and feels amazing. The Deathadder's long and low shape lets me claw it without my pinkie dragging across the mousepad like it had with most mice, and has decent tracking. The Freedom Arm double-handedly made it so having two monitors on my desk wasn't a complete waste of space and disgusting to look at.
The Macbook is used almost exclusively for work, and the occasional movie on Netflix, but it usually finds its way onto my desk, so it felt necessary to include.
| | |
| --- | --- |
| Laptop: | Early 2015 13" Macbook Pro – i5/256GB/8GB |
| Audio: | Shure SE125-K |
| Peripherals: | Logitech MX Master |
If you have any suggestions for improving my setup, or any questions about it, feel free to @ me in the KBMOD Discord (hun) or on Twitter (@hunterantis).